Battered Brazil vs. vulnerable Germany
The weight of expectation that faces both Brazil and Germany in Belo Horizonte is, of course, momentous. As hosts, the tournament cannot be a success if Brazil do not win the whole caboodle; BH is a mere stepping stone. And it must be negotiated without Neymar, whose absence has been treated as a national tragedy.

Brazil
Germany
Game Details
For the Germans, meanwhile, 2014 represents the moment that the rebuilding process that began after Euro 2004 must bear fruit. A decade on, the Germans, and specifically their coach Joachim Low, have been nearly men for too long. They are the first country to reach four World Cup semifinals in a row. But only the 2002 final was actually reached, and that ended in defeat to Brazil in Yokohama. This is a time to deliver.
GOALKEEPER
Julio Cesar became a nation's hero with his penalty heroics against Chile, but is a far less reliable keeper than Manuel Neuer. Cesar is perhaps lucky to be even playing; some referees might have sent him off for the foul on Carlos Bacca that led to James Rodriguez's penalty. Luiz Felipe Scolari's continuing loyalty to Cesar confounds some, but his chosen goalie has, beyond the opening match, truly not let him down.
Neuer has played as the tournament's defining "sweeper keeper," and though his sudden rushes from his area can be heart-stopping moments, he is yet to be properly caught out. Once to the ball, he is no-nonsense, and the ball often ends in the stands; this is not Rene Higuita we're dealing with here. As for the usual goalkeepers' arts, the one-handed strong-arm save he made from Karim Benzema may be the best reflex effort of the tournament.
Edge: Germany
DEFENCE
The backline had been the bedrock of Brazil's tournament so far. Both David Luiz and Thiago Silva have been in their country's top three performers at this championship, and that appeal, sure to be denied, against Silva's suspension for a second yellow reflects the worry that the skipper's absence might bring. In his place will probably come Dante, talented but capable of putting fans through nine pillars of hell if his concentration fails him -- as it can. Maicon, against Colombia, looked far better at right-back than the ailing Dani Alves, but is still not the player he was four years ago.
Low has spent much of the tournament fielding questions about a defence that has never looked truly watertight in Brazil. Mats Hummels' scoring return against France was a definite lift, and that performance in Rio was Germany's finest defensively, even allowing for the late flurry that brought Benzema's big chance. It was surely little coincidence that Philipp Lahm's reluctant return to right-back gave them much greater security.
Edge: Even
MIDFIELDERS
After the Chile shoot-out, a visibly fired-up Scolari gave a "no more Mr Nice Guys" speech in his news conference, in which he asked his players to stop being so polite. How they answered him against Colombia. Rodriguez has the marks to show for that, where Fernandinho played with real bite, and Paulinho, at last, did not play as a bystander. The return of Luiz Gustavo will probably edge out the Spurs player to add further bite. With Neymar out, the pressure falls on Oscar to become the creative force, while Willian is likely to play in the star's place to add a further physical edge to a powerful unit.
It had been feared that Lahm's withdrawal from midfield would cause problems against the French. In fact, Bastian Schweinsteiger, Sami Khedira and Toni Kroos dominated. Brazil's hard edge might not be so easy to overpower, as they seek to serve Mesut Ozil, largely ineffectual in this tournament, though often energetic. Where Germany have failed in their semifinals and the Euro 2008 final in recent years is when facing teams who can keep the ball, like Spain and the Italians. Brazil are not such a team, usually relying on wildcat attacks rather than slow build-ups. That may fall into the Germans' hands.
Edge: Germany
FORWARDS
Oh, Fred! Oh no, not Jo? How did we get to the stage where Brazil's only strikers are among the leading comedy figures of a tournament? And now they will have to do without Neymar to prop them up and supply them. Those watching the Colombia game on TV were greeted to a view of Fred towards full-time; it truly was a surprise that he still remained on the pitch. One of the dynamic duo has to produce in Belo, or else infamy beckons.
After Miroslav Klose's rather weary showing in Rio, it seems likely that Low resorts to the false nine approach in which Thomas Muller is furthest forward. It has to be said, however, that there is very little false about Muller in that position; he attacks the spaces in the fashion the classic poacher Klose is supposed to. Maybe the moment Klose goes past Ronaldo's record may come against the Brazil striker's country; though as a sub seems more likely.
Edge: Germany
RESERVES
With Scolari so trusting of the team who won last year's Confederations Cup, the "others" in the squad are still pretty unknown quantities. The loss of Neymar may see greater involvement from the likes of Bernard and Hernanes.
Low is not so lucky with defenders, but should he want a creative attacking midfielder to call on, then he'll look no further than Andre Schurrle, Mario Goetze and even Julian Draxler. Strikers, meanwhile, fall to Lukas Podolski, if Klose starts. It truly is a squad of midfielders.
Edge: Germany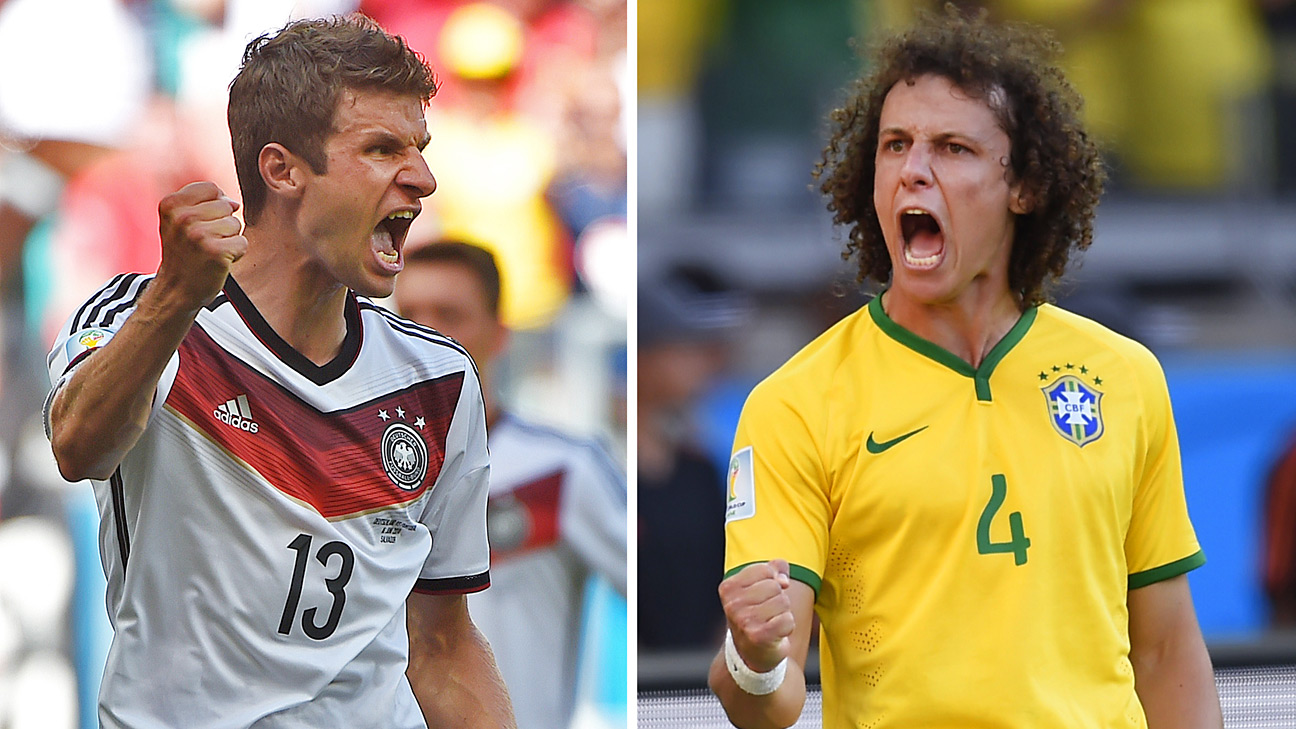 COACHES
Scolari has been there and done it in 2002, and is sticking to his formula, while Low has come close and not done it. It is here that Brazil may gain their edge. Scolari seems implacable, but is not afraid of making sweeping and ruthless changes. Low meanwhile, is sometimes guilty of making changes that seem like tinkering for change's sake.
Edge: Brazil
INTANGIBLES
The swell of support cannot be ruled out as key to Brazil's progress so far. It must be said that they have till now dealt well with the hysteria, while their opponents have wilted. Germany might need some old-style fortitude to be able to poop the party. They may also be concerned about officiating that at times has seemed to favour the hosts, though did not prevent the Neymar catastrophe.
PREDICTION
Germany to weather the storm of a much-weakened team, and to win in normal time. If it goes past there, then weariness may let in the hosts.
John Brewin is a staff writer for ESPN FC. Follow him on Twitter @JohnBrewinESPN.