Sneijder a man for the key moments
SALVADOR, Brazil -- Louis van Gaal meant it in a positive way, of course, but it did leave the question there to be asked.
The Netherlands manager was sitting in front of the world's media in Salvador's Arena Fonte Nova ahead of his side's World Cup quarterfinal with Costa Rica on Saturday evening. He was, by turns, gracious and bullish, wry and prickly, modest and confident, the only constant the vague impression that he had considerably better things to be doing than talking to a bunch of his intellectual subordinates. Van Gaal was, essentially, being Van Gaal.
- Born: Sneijder steps up for Netherlands
Towards the end, conversation turned to Wesley Sneijder. The furore over Arjen Robben's confession, after victory against Mexico in the round of 16 earlier this week, that he had dived in an attempt to win a penalty on at least one occasion in that game rather overshadowed his teammate's contribution, that fierce, vital shot that screamed past Guillermo Ochoa to draw the Dutch level.
That is the mark of big players, of course, that they deliver when their team needs them, that they come through in the clutch. By anybody's measure, that makes Sneijder a big player: he now has five goals in his last five World Cup knockout games. The only round he did not score in four years ago, as Netherlands finished as runners-up to Spain, was the final. Sneijder is a man for the key moments.
Netherlands

Costa Rica
Netherlands wins 4-3 on Penalty Kicks.
Match 59
Game Details
At the same time, though, the Galatasaray midfielder had been almost entirely anonymous for the 88 minutes that preceded that perfectly struck Exocet of a shot that he produced against the Mexicans. He had created little, offered scant threat, barely influenced the narrative at all. He seemed to have disappeared when his nation needed him most.
That is the thing with Sneijder. Nobody seems quite sure what they are going to get. And this is where Van Gaal's response, on Friday afternoon, was enlightening. The question was an innocuous enough one, something along the lines of how he feels the 30-year-old has performed so far.
He responded by praising his leadership qualities -- "he's one of five older players leading this team" -- and insisting that there are few better than him technically. "I was not surprised by his goal," said Van Gaal. "He has this technique. If he scores from a free kick against Costa Rica, that won't surprise me. He scored five in training the other day." There was, though, something that did surprise Van Gaal. This is where his response wandered away from the banal and into the intriguing. "He arrived at our training camp," said his manager. "He was in great physical shape. I was surprised."
That is the thing with Sneijder these days, it seems. Nobody is quite sure exactly what they are going to get. It is impossible not to draw the comparison to the same time four years ago, when Sneijder embarked on that remarkable run of knockout goals in South Africa.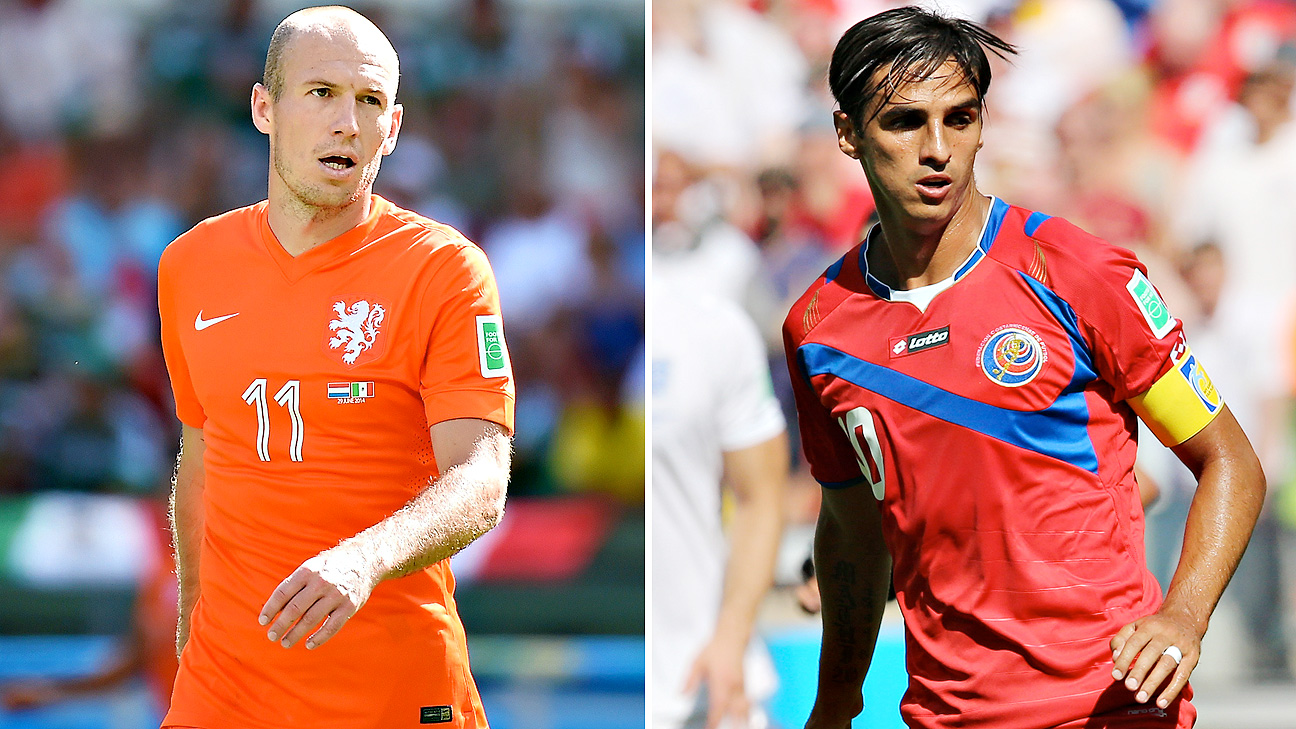 Then, Sneijder -- just turning 26 -- had the world at his feet. His move to Real Madrid might not have worked out quite as well as either party had wanted, but at Internazionale he was in the form of his life. He had been a crucial part of the team that helped the club to an unprecedented domestic and European treble; in Jose Mourinho, he had finally found a coach who knew exactly how to get the best out of him. It was a strange partnership, in many ways -- the manager who demands incessant work and the playmaker with the languid style -- but they made it work. Sneijder slipped a little deeper in that Inter team than he would ordinarily play, charged with orchestrating the team's counterattacks for a front line of Goran Pandev, Samuel Eto'o and Diego Milito.
Mourinho asked him to work, of course -- there is no such thing as a free role in a Mourinho team -- but there was no resentment on the Dutchman's part. Indeed, he has described the Portuguese as "the undisputed No. 1" in the world, and even recommended that he be given the Netherlands job at one point, so sure was he of the success he would have.
All of which begs the question: how did that Sneijder, the one who ranked as one of the most brilliant playmakers of his generation, become this Sneijder, the one whom nobody is quite able to fathom, the one that even Van Gaal, on the eve of the tournament, suggested he may have to exclude from his squad because "one through ball every game" is not contribution enough for any member of his side?
The answer seems to be found in what happened after Mourinho departed Inter. It is not a criticism of the Portuguese to suggest that he commands such loyalty in his players that he essentially salts the earth for his successor, who can never win the squad's affection.
So it was after the treble with Inter, too: Rafael Benitez found a dressing room that had little hunger, little desire, a group of players who were not prepared to do anything differently, to work for anyone other than Mourinho. Whether it is because Mourinho does not plan for the future or whether it is because anyone else is a pale imitation, it is certain that it was in his departure that Inter began to drift, and with them, Sneijder.
There was poor form, a spate of niggling injuries, a contractual dispute. He had offers from the Premier League, when it came time to leave Inter, but he chose Galatasaray instead: the natural inference is that he either went for money -- the Turks can offer a hugely favourable tax rate -- or for an easy life, a guaranteed place in the Champions League and a substantially less strenuous domestic campaign than he might find in one of the major leagues.
"He is a player who almost needs long stretches of anonymity before he explodes into life; it is in those moments that he comes alive."
At some point along the way, Sneijder's intensity appeared to wane. He has seemed a shadow of his former self at Galatasaray. There have been continual questions about his fitness. He was signed by a fiercely ambitious club to fire them to the latter stages of the Champions League; he has struggled to make any impact at all. Perhaps he has fallen out of love with the game.
The reality may be less fraught. Sneijder is a classic No. 10; that is what his game is suited to. He is a player who almost needs long stretches of anonymity before he explodes into life; it is in those moments that he comes alive.
It is just that football does not have so many of those players anymore; the vast majority of attacking midfielders are expected to ferry the ball to and fro; they are expected to be comfortable defending, too, or drifting out wide. There is no better example than Germany's Toni Kroos, the very model of the modern attacking midfield player. Sneijder is far less dynamic than Kroos. His place in the firmament is uncertain.
Then there is the issue of where he plays. At Galatasaray, he plays as a pure No. 10. At Inter, the finest season of his career, he was played deeper, certainly in the league. He was not there to score goals, but to create. At some point, Sneijder appears to have become confused about what he wants to do: he criticised Benitez for "playing him as a striker," but he has also complained about being asked to vacate the spot in the hole that he feels ought to be created for him.
Here, then, the crux: if Sneijder does not know what sort of player he is, if football is not sure what sort of player he is, then how on earth is anyone -- even Van Gaal -- supposed to know what sort of player he is? Sneijder has always had the talent and the vision to surprise; his technique, as Van Gaal says, is flawless. The problem is that you wonder whether he is now surprising himself, too.
Rory Smith is a columnist for ESPN FC and The Times. Follow him on Twitter @RorySmithTimes.