Joachim Low's leadership dilemma
RIO DE JANEIRO -- Do you know what leadership means, Lord Snow? It means that the person in charge gets second-guessed by every clever little [expletive] with a mouth. What if he starts second-guessing himself? That's the end; for him, for the clever little [expletive], for everyone.
Joachim Low, unlike Game of Throne's gruff, humourless Night Watch commander Alliser Thorne, doesn't have to contend with an army of murderous Wildlings in fortress Maracana on Friday -- only the French. The most vociferous criticism of the national manager's decisions hasn't come from his deputy or anyone else from inside the camp either, but from the German media. As parallels go, it's admittedly a ropey one. But Low will undoubtedly relate to the fundamental dilemma Thorne expressed so eloquently shortly before getting cut almost in two by a Wildling sword. Everyone wants their leader to second-guess himself, but nobody wants a leader who actually does second-guess himself.

France
Germany
Game Details
Many little, clever critics -- as well as many big, not so-clever ones -- are urging the 54-year-old to move captain Philipp Lahm from the central midfield back to his more traditional role on the right side of the defence. The argument is shaped by Lahm's strong performance after filling in as right-back for the injured Shkodran Mustafi against Algeria ("We know how good he is in that role," said keeper Manuel Neuer), and it's persuasive in light of the problems Germany have had, attacking-wise, with four full-backs who are all centre-backs by trade.
Low, however, sees things differently. "I have made my decision in relation to Philipp Lahm's role," he told Die Zeit, "and I stand by it, until the end." The interview was given before the unnervingly laborious win over the Fennec Foxes on Monday night, but authorised by the German FA on the morning after it. So we must assume that it still accurately reflects Low's thinking.
In subsequent statements to the media, the Bundestrainer stressed that criticism didn't influence him ("I free myself of it," he said) and joked that Lahm's position against the French would "be easy to see." But is it really that clear-cut? Goal-keeping coach Andreas Kopke revealed that the "L" question was being "discussed" internally; "no decision is set in stone forever," Low added at the pre-match news conference in Rio on Thursday night.
That small concession to his detractors shouldn't be interpreted as wavering, however. Low merely wanted to show that he's no Alliser Thorne -- a man who dismisses any valid suggestions out of sheer principle -- but that his stubbornness comes as a result of being utterly convinced by his own, careful deliberation. He has looked at the situation again, and he's concluded that the answer is still the same: Lahm, as the only fully functional, fully fit defensive midfielder whom Low fully trusts, is more valuable to him in that critical zone on the pitch than wide out on the right, where lesser players can also do a job. (Bild incidentally believe that Kevin Grosskreutz, of Borussia Dortmund, will be entrusted with the right-back role against Les Bleus.)
It's a straightforward matter of football priorities. Lahm's club-mate David Alaba, to use another example, plays left-back for Bayern but as a central midfielder for Austria. They don't have another player of his quality and thus simply can't afford to waste him at the back.
Sticking with Lahm in the middle in the face of so much criticism is risky for Low politically. It has made failure at this stage even more unforgivable. Football supporters and people in general are suspicious of change, and the natural reaction has been to blame Germany's less-than-convincing outings on Lahm's new(ish) central position. (Conversely, managers who lose with a tried and trusted formula are routinely admonished for lacking a "plan B" or being too inflexible tactically. It's how the human mind works.)
What seems to have been completely forgotten by the midfield-Lahm-dissidents is that Germany's problems in defensive midfield predate this World Cup by almost four years. Bastian Schweinsteiger and Sami Khedira combined well to protect the back four in South Africa, albeit from a much deeper, more reactive starting point. As Low's Germany have progressively become more possession-oriented and attack-minded, the lack of a true specialist in front of the defence has been painfully revealed many times. Neither Schweinsteiger nor Khedira have ever been wholly comfortable holding the midfield for each other -- their struggles echo that of Steven Gerrard and Frank Lampard in the English national team -- and Toni Kroos' attempts to play deeper reached a nadir in the 4-4 draw with Sweden in October 2012 (Germany had been 4-0 up).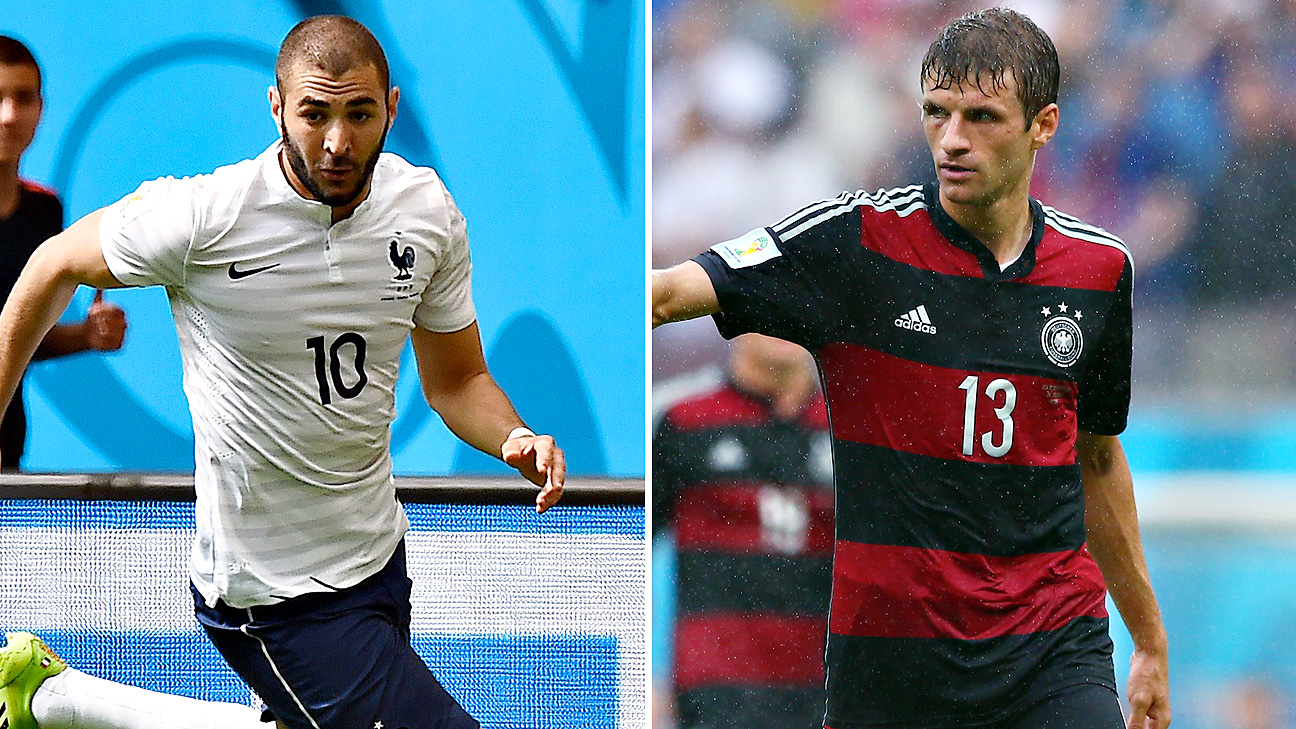 Lahm's move into midfield at Bayern under Pep Guardiola presented a solution for Low's most pressing need: the lack of balance in the centre. The 30-year-old has not quite lived up to his high standards in Brazil -- "he's a football robot," the former Mainz manager Thomas Tuchel had said in admiration earlier this season -- but all alternatives appeal even less to the manager. It's not as if he hasn't tried out different things. He started his reign with a 4-4-2, switched to 4-2-3-1 midway through Euro 2008, played 4-4-1-1 for most of the 2010 World Cup, then went back to 4-2-3-1 before adopting the current 4-3-3 system that's designed to afford more protection to the defence. Low isn't set in his ways but he only changes of his own volition, on his terms. It's exactly how a leader should behave.
But he, like all leaders before him, will ultimately not be judged on the validity of his battle plan anyway, only on the result. This psychological phenomenon is called outcome bias and Alliser Thorne would recognise it immediately. He ended up the heroic winner of the battle with the Wildlings, thanks to sheer luck.
Raphael Honigstein is ESPN FC's German football expert. Follow: @honigstein