France, Germany aim to rewrite history
RIO DE JANEIRO -- It is a quarterfinal, according to Hugo Lloris, where you should "expect just about everything."
The build-up to France-Germany at the Maracana has already seen a lot that could go a long way to deciding the actual game. Most conspicuously, there was the health of Jogi Low's squad, as the manager confirmed seven of them had suffered from "flu-like symptoms." More evocatively, there is the fact this match falls on the 60th anniversary of West Germany's 1954 World Cup win, "the miracle of Bern."
Most controversially, there were all the other mentions of history. Two nights before the match at the Maracana, Brazilian station SporTV ill-advisedly previewed the game by showing footage from 1940, with scenes of the Nazis occupying Paris gradually segueing into clips of the current football players tackling and scoring goals. It was a theme that continued in the pre-match press conference, with both Low and Lloris asked about it by local media. They obviously played it all down, and it thankfully went no further.
Most of the build-up, though, has been dominated by mentions of more-recent history. It is mercifully much more trivial, even if it did not quite feel like it at the time. The 1982 semifinal between the two countries has been mentioned repeatedly. That was a game that certainly had "everything." West Germany came back from 3-1 down to draw 3-3 and win the World Cup's first every penalty shootout, but only after goalkeeper Toni Schumacher had so controversially and so violently taken out France's Patrick Battiston.
It has become the defining fixture between the two teams, but partially because the fixture itself has been so rare. It is one other dimension to this enticing clash. For such a historic and highly tense rivalry, they have only met competitively three times.
As teams, they hardly know each other. That further conditions another engaging dimension to the game: right now, it's hard to know who is actually better. Recent history is irrelevant because there is none. Recent form makes things all the more complicated. France have defied a troubled past decade with some joyfully triumphant football. Germany have not quite been as formidable as the past four years.
For Toni Kroos, it is all so much simpler. There are no such questions or complications. If Germany return to that level, they win. "I think this match will be decided in midfield," Kroos said. "If we win the duels, this will say a lot about the possible result. If all of us deliver our performance, I believe we are the better team."
That may have been true for most of the past few years, but it doesn't feel quite so realistic now. It is no longer just about whether Germany apply themselves to the fullest. There is a strong argument France have a more balanced team, with greater cohesion, and in better mood. Yohan Cabaye and Mathieu Valbuena, meanwhile, also provide a control that is currently beyond the Germans.
As for Germany, a previously rampant attack has given way to something so much more ragged. If France keep possession, they may keep the Germans at bay much more easily than expected.
Lloris radiated their confidence.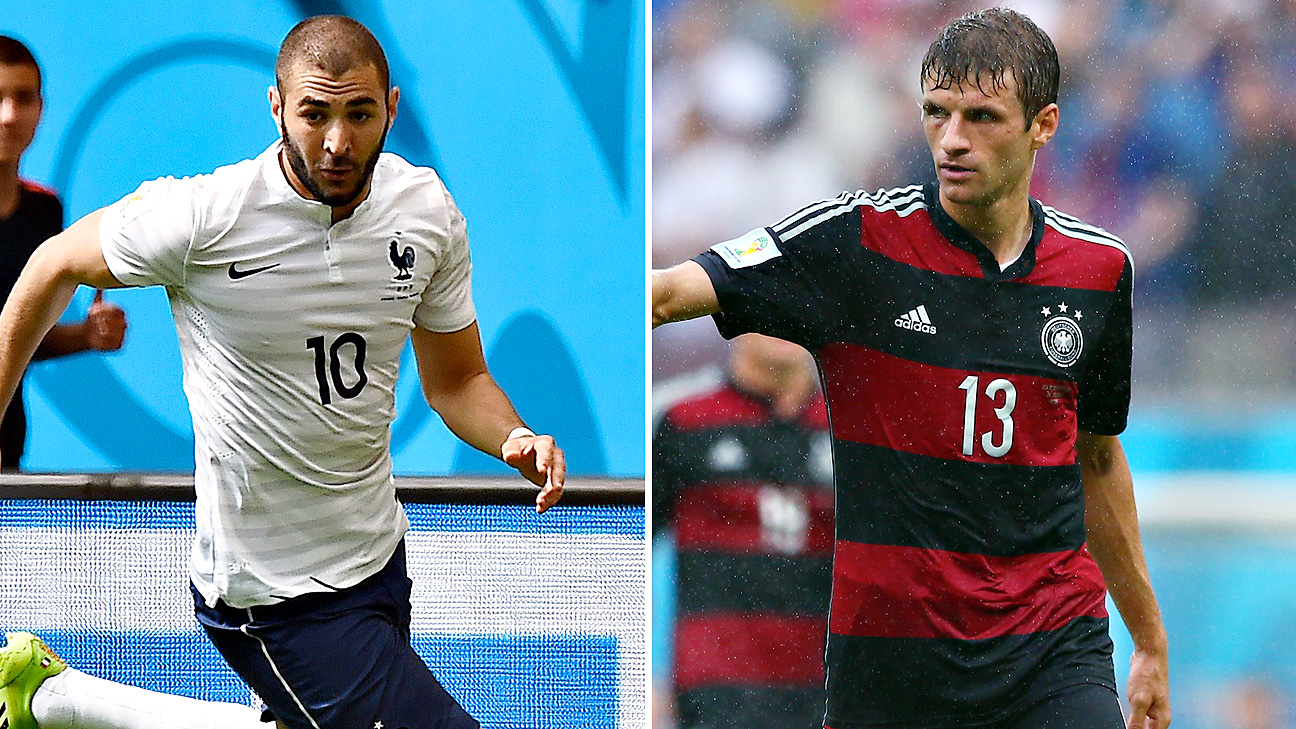 "We're not afraid of anything. We're fully aware of the fact that, in one match, anything is possible."
The goalkeeper also mentioned his team's excellent defensive displays, particularly an ability to keep games tight when they are actually on the line. That is in stark contrast to the Germans. Any balance they had has seemingly evaporated. One of the best attacks in the world has been offset by a genuinely poor defence, raising more questions about Low's tactical ability, as well as the capability of Philipp Lahm to play in midfield. It is far from unreasonable to suggest Didier Deschamps is a cannier and better manager. This tournament, at the very least, provides some evidence.
It is certainly difficult to remember a World Cup team who were so highly fancied but who also had such a porous defence. Germany are almost ludicrously open, and have been extremely fortunate to not concede far more goals. A dynamic France may rectify that. Their back line has endured far more thrills than the three they have conceded. Portugal could have scored four before losing 4-0. Ghana could have made for a far higher-scoring draw than 2-2. USA repeatedly caused panic. Algeria could have claimed a clear lead before halftime.
One of the enduring images from that round of 16 game was goalkeeper Manuel Neuer coming so manically off his line, and it has further echoed 1982. If the 28-year-old is hopefully unlikely to cause a dangerous collision, his surges may lead to mishaps of another kind. He has often looked on the brink of a major error.
Low responded to such questions with a laugh, referring to Neuer as possessing the technical ability of a midfielder. Much less jokingly, Kroos described the 28-year-old as the "11th outfield player."
Much will depend on Neuer remaining as focused as he has been so far -- especially with a defence like that.
It is the very issue of mentality, however, that may have further skewed perceptions.
France have been allowed to develop their newly positive mindset without a major challenge, facing Honduras, Ecuador and Switzerland in the group stage. But, despite being in the so-called group of death, Low claimed it was precisely the absence of tough tests that have deprived his team of their hardness. Against better opposition, he believes, they can restore the necessary intensity in defence and attack.
"I don't think we have shown a great consistency of performance so far," the manager argued. "Ghana, USA, these teams have nothing to lose, they have everything to win. It's the game of their lives, and sometimes it is a psychological advantage for smaller teams. They have to win. We have not yet delivered our best performance."
It is an interesting take because one of the longer-term questions about this German side has been whether they are actually capable of their best performances at the most exacting stages. They buckled in both World Cup 2010 and Euro 2012. Low feels something has changed, that they can produce when it most needs to be proved. He also felt the victory over Algeria illustrated that resilience.
"The team showed they can fight," Low said. "In extra time, we brought Algeria to their knees. Maybe not with technique, but with our fight and the will to win." That was a famous quality of the 1982 West Germany team. It was a match mentioned to Lloris. Again, he was dismissive.
"We want to concentrate on tomorrow's match and create our own history."
It may well make for another historic match.
Miguel Delaney is London correspondent for ESPN and also writes for the Irish Examiner, the Independent, Blizzard and assorted others. He is the author of an award-nominated book on the Irish national team called 'Stuttgart to Saipan' (Mentor) and was nominated for Irish sports journalist of the year in 2011.