Another midfield dilemma for Low
Remember the old maxim whereby you tell a toddler not to touch the stove because it's hot and he might burn himself?
Generally, the little tyke doesn't buy it. He reaches out, scalds himself and the lesson lasts a lifetime. Stoves get hot. Use caution. But then there are those cases when the kid burns himself and the memory sticks. Not only does he not touch hot stoves, the trauma is such that he doesn't even like going back into the kitchen unless he absolutely has to.
Joachim Low has been burned and he's been burned in big games. His hot stove is making changes to a settled lineup.
Two years ago at the European championships, he kept the same lineup throughout the first three games, except for a forced change at full-back in one game due to a suspended player. He then came up with an entirely new front three for the quarterfinal clash against Greece, and then revolutionized the attacking end in the semifinal against Italy.
Toni Kroos, who until that point had played just 21 minutes, all of them as a sub, came into the hole, with Mesut Ozil switching to the wing. Meanwhile, Lukas Podolski and Mario Gomez returned in place of Andre Schurrle and Miroslav Klose.
This time, the stove turned into Mario Balotelli and scalded him mercilessly. Germany were beaten 2-1 and, more important, beaten down for much of the 90 minutes. He had to yank Podolski and Gomez at halftime and run for cover but by that point, it was too late.
Low later explained that he wanted to counter Italy's possession tiki-taka and thought Germany could keep the ball better with an extra passer in the middle of the park. There was a thought process behind it -- it just didn't work. And given that this was Germany's fourth near-miss in four consecutive tournaments -- they had previously lost to Italy in 2006 (with Low as Jurgen Klinsmann's assistant and tactician) and Spain in 2010, both in World Cup semifinals, and Spain in the Euro 2008 final, outthought tactically in each game -- it amounted to first-degree damage.
That may be why once he's found a formula, he's more reluctant than most to mess with it. At the club level you can make changes knowing full well that, with very few exceptions, you get another shot just a few days later and damage can be healed quickly. But when you manage a nation in a major tournament you only get so many bites at the cherry. Get it wrong and the scars are deep and slow to heal.
Germany

Algeria
Game Details
That may be why last week he emphasized his belief in stability and underscored how he was unlikely to change his back four despite the fact that it's essentially made up of four centre-backs: Per Mertesacker and Mats Hummels in the middle, Benedikt Hoewedes and Jerome Boateng wide. The latter two have, of course, played before at full-back but in terms of physique, skill set and aptitude, they are very much central defenders.
It's a choice borne of necessity. Low has arguably the best full-back in the world at his disposal -- Philipp Lahm -- but he has spent the whole season in central midfield, masterminding Pep Guardiola's Bayern. (In a similar vein, Boateng has been deployed as a centerback in the past few seasons at club level). National team coaches are subordinate to their club colleagues; there is no way around it. And with his other options too green (Erik Durm has 14 Bundesliga starts to his name) or too inexperienced in the role (Kevin Grosskreutz only began deputizing at full-back this season), he's gone for the safe option.
So what to do in central midfield?
In the last two major tournaments, he had an automatic tandem in front of the back four that worked wonders: Bastian Schweinsteiger and Sami Khedira. With Lahm reinvented -- not by him, but by Guardiola -- there's one fewer slot available. Khedira got the first two starts against Portugal and Ghana; Schweinsteiger the other, against the United States.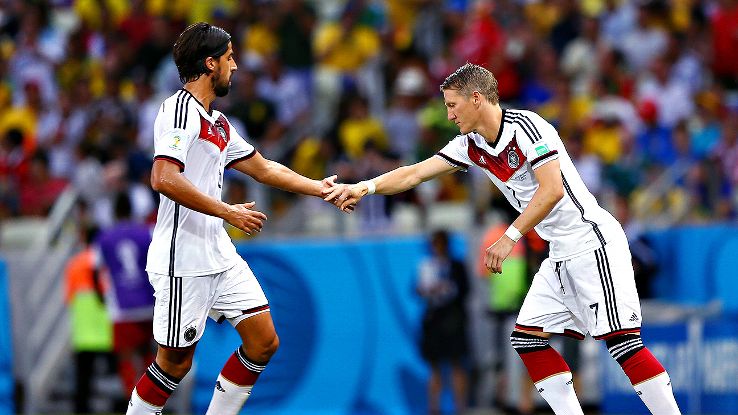 For a manager who has learned to like certainties, the conundrum is an unpleasant one. Both are central midfielders with different skill sets, which is why they complemented each other so well for so long before Lahm's reinvention upset the kartoffel cart. Khedira is big, physical and athletic, a spoiler with presence who can bully opponents, cover plenty of ground, provide a threat on set pieces and get forward as required. Schweinsteiger is a steady, charismatic passer who is a threat from distance but lacks a change of pace.
Which one of the two complements Lahm and Kroos best in the three-man midfield is the million Euro question.
- Raphael Honigstein: Germany won't repeat 1982 mistakes
- Men in Blazers: Germany vs. Algeria World Cupcakes
- Uli Hesse: Algeria eye revenge
- Stefan Uersfeld: Instincts serve Muller well
- 50-50 Challenge: Germany vs. Algeria
Were this a video game, it would be easy. CGI images don't have feelings. You don't generally form an emotional bond with them and more important, neither do the other players. Now, Low has to look one or the other in the eye and pick one or the other. All this while knowing full well both played a huge part in getting him to where he is now.
But there's another subtext. Along with Lahm, Schweinsteiger is one of the emotional leaders of Bayern Munich; it's not lost on anyone that five of his starting XI are his club teammates. What's more, the likes of Kroos, Lahm and Thomas Muller aren't just Bayern players -- they're Bayern products, like Schweinsteiger, steeped in the "Mia San Mia" club ethos.
Khedira, on the other hand, is from Stuttgart and left the Bundesliga four years ago. National teams, when they work as they should, are meant to be tight-knit units and Germany, given the success this team has enjoyed under Low and how long many of these men have been together, is probably more of a unit than most. And yet, the bonds of club teammates who work together every day are bound to be stronger.
It's the equivalent of a QB controversy in the NFL and it's not overly comfortable. Mats Hummels -- himself a Bayern boy albeit one who happily fled the nest at a young age and refused to go back -- turned on the diplomacy after the USA game: "If I say something positive about one now, it will be interpreted in a negative way as far as the other is concerned."
Khedira, on the other hand, didn't appear shy about making his case: "We were too slow against the USA. To advance in this tournament we need to raise the tempo and have more presence in the box."
When you consider that he didn't start against Klinsmann's crew and that he could have been describing himself when discussing what was lacking, it's just one more headache for Low.
Gabriele Marcotti is a senior writer for ESPN FC. Follow him on Twitter @Marcotti.