Ronaldo, Klose: Different to the finish
Miroslav Klose and the original Ronaldo could hardly be more different as players. Yet they share something else besides the record of 15 goals at World Cup finals. Both players always saved their best for this tournament.
Klose's club career comes nowhere near matching his achievements with the German national team; he never quite hit the heights at Bayern Munich. Ronaldo produced wonderful single seasons for Barcelona, Inter Milan and Real Madrid, but will always be recalled for wearing the yellow of Brazil, and the comeback kid story that was his triumph in 2002.
"Welcome to the club," tweeted a generous Ronaldo when Klose grabbed his 15th against Ghana in Fortaleza. Having failed to get on the scoresheet after playing the second half against U.S.A., Klose's next chance to break the record comes against Algeria in the amenable climate of Porto Alegre.
Ronaldo scored his 15 goals in 19 matches, while Klose, the only player to have scored four goals or more in three finals, and one of only two players to have scored five at two finals (the other is Teofilo Cubillas) has so far played 20 matches for his 15.
Here, ESPN FC breaks down the difference between the World Cup's greatest goal machines.
Occasions
There were differing pressures on the pair in their maiden finals matches. Though Ronaldo had been a non-playing squad member in 1994, he arrived at France '98 as "The Phenomenon", recognised at just 21 as the planet's best player, and celebrated as such by a global Nike advertising campaign. The weight of the world was already on his shoulders when he netted his first goal in Brazil's second match against Morocco.
Klose, by contrast, was a late-developer, a Polish-born immigrant who began his playing days in the lower divisions of German football and had only just broken into Rudi Voeller's lineup when the Germans arrived in the Far East in 2002. While Ronaldo failed to get on the scoresheet in the opener with Brazil, Klose's start was positively dreamy. Few teams have been as generous to opposition as Saudi Arabia, against whom Klose scored a headed hat trick in Sapporo. Having scored against both Ireland and Cameroon, Klose's goals in his first World Cup dried up after the group stage.
- Video: Klose ties all-time record vs. Ghana
- Honigstein: Klose breaks Muller's record
- Video: Top 10 World Cup goals so far
Meanwhile, Ronaldo saved some strikes for the knockout rounds in both 1998 and 2002. He has two semifinal strikes to his name -- versus Netherlands in Marseille, and Turkey in Saitama. Plus, of course, the two goals he scored against Klose's Germany in the 2002 final in Yokohama.
The deepest so far that Klose has scored in the competition is a quarterfinal goal -- an equaliser against Argentina in Berlin in 2006, and a brace against the same opponents in Germany's 4-0 devastation of them in 2010.
Opponents
While Klose would seem to be a tormentor of Argentina, most of his other goals came against lesser concerns, notwithstanding England in 2010. That same tournament saw him grab his opening strike against Australia. In 2006, he notched a pair of braces -- the first against Costa Rica in the curtain-raiser, and the second versus Ecuador on the way to becoming the top scorer in a tournament in which Germany finished third.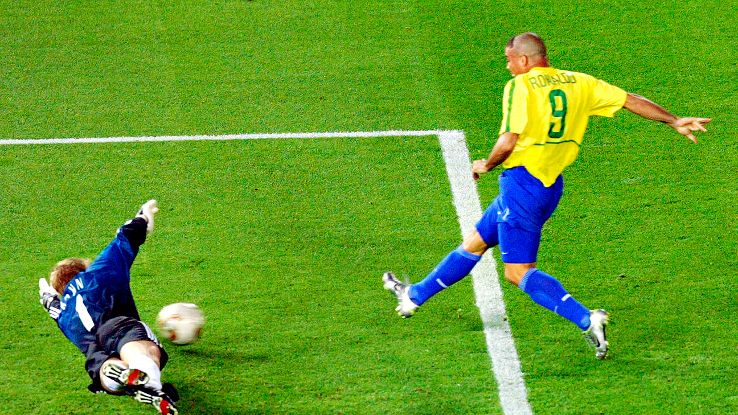 Ronaldo's roll of honour is not particularly different. He too knew how to make merry against the minnows. Goals against Turkey, Costa Rica and China set him on his way to an eight-goal haul in Japan and Korea. Germany and the Dutch were the highest-grade opponents that he scored against at a finals. Ronaldo played in two finals, but only scored in one of them. The tale of his shadowy performance in the 1998 final is often told, even if nobody has ever truly uncovered the truth about what caused the fit that he suffered before Paris.
Klose has played in one final, but could only watch on as Ronaldo scored both at the other end.
The strikes
Klose departed from 2002 having scored all five goals with his head; he has always been a traditional centre-forward, while Ronaldo, in his younger days, was known for pacy runs from deep, and was capable of a wider variety of finishes.
The goal that Klose scored against Ghana to tie the record was typical: a toe poke from just a couple of yards out, the finish of a poacher supreme. Not that Ronaldo would turn up his nose at a six-yard box finish. Though his typical type of finish is best shown by his first against Morocco in 1998 -- a run onto a lofted ball, and a withering lash of the ball. His pace then was almost irrepressible.
By 2002, after years of knee problems, he was no longer capable of such surges. Instead, he used timing to find scoring space. And there was also improvisation. The flick of a toe with which he bewitched Turkey keeper Rustu Recber was unique. Rustu was given zero chance to set himself.
Ronaldo's first in the 2002 final was a tap-in after an Oliver Kahn error. But the second was an exhibition of his cool. Receiving Kleberson's pass, he opened up his body, and then feinted to send Kahn the wrong way.
By 2006, now considerably bulkier, he was yet more immobile, but scored a long-ranger against Japan, and an old-style break of the offside trap for his final goal ever against Ghana in Dortmund.