Worst official calls of the group stage
This World Cup has seen some magnificent games, but a few of them have very nearly been ruined by some terrible refereeing decisions. Here are 10 of the worst...
10) Edin Dzeko is flagged offside, Bosnia-Herzegovina versus Nigeria
Some decisions are blatantly awful, the result of such rank incompetence one wonders how the official in question managed to dress himself to leave the house that morning, while others are honest mistakes, errors that look much worse on slow-motion replays than they did in real time.
In truth, Edin Dzeko's disallowed goal in Bosnia-Herzegovina's defeat to Nigeria fell into the latter category, but it was undoubtedly an error and such a crucial one that it belongs on this list. Dzeko latched onto a clever through ball by Miralem Pjanic, right on the shoulder of the last defender, and swept the finish home, only to be denied by the flag. Replays showed that Dzeko was at worst level with the defensive line, but the goal did not stand, Nigeria won 1-0 and eventually went through.
9) Nestor Pitana's combover
Not technically a decision that had any impact on the players or a match, but one that at least must be filed under "questionable."
Nestor Pitana is an Argentinian referee who has taken charge of three games thus far in the World Cup, but it is perhaps not his on-field calls that have attracted the most attention, but rather his hair. Or lack thereof. Or delicate arrangement of what hair remains to disguise the lack thereof. Or something.
While it is not the business of anyone at ESPNFC to offer personal grooming tips to anyone, we would politely and delicately suggest that perhaps a rather more graceful acceptance of the advancing years would be a better way to go.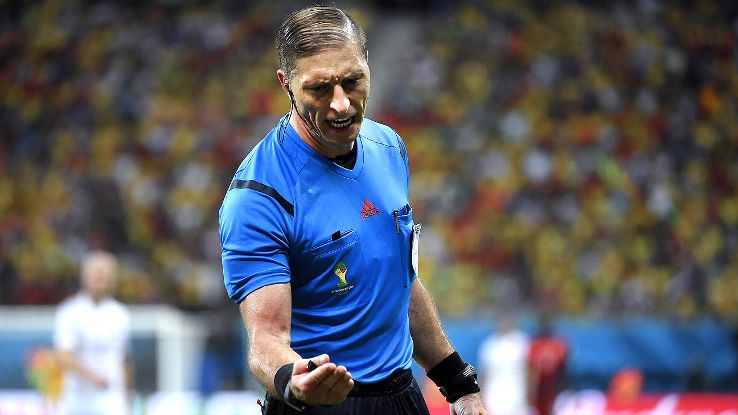 8) Karim Benzema's goal is denied, France versus Switzerland
Plenty of people will place wagers on this World Cup.
Apparently, no fewer than 167 people bet on Luis Suarez biting someone in Brazil, after a Norwegian bookmaker offered 175-1 on what they probably thought was a harmless, money- and publicity-making scheme.
However, a more frequent market on which to place money is who will finish as the tournament's top-scorer, and among the favourites for that title was Karim Benzema; therefore, punters around the world might have been screaming at their TV sets in the closing stages of France's win over Switzerland. Benzema unleashed a whipping, curling and frankly unstoppable shot into the top corner of the Swiss net, but Dutch referee and stickler for timekeeping Bjorn Kuipers had blown for full-time before the shot reached the net. It brought to mind Clive Thomas blowing for full-time as a header from Zico headed toward the net in Brazil's 1978 game against Sweden, although on that occasion it denied Brazil a win (the game finished 1-1), whereas in this case it was merely the difference between 6-2 and 5-2.
7) Only one Honduras player is sent off, France versus Honduras
This wasn't one particular incident, more a whole game of a referee making baffling decisions.
Indeed, this was the most prominent example of an apparent culture of leniency during this tournament, when previous finals have seen referees cracking down on dangerous challenges. In this ill-tempered game Honduras barely even tried to conceal their plan, which roughly consisted of kicking any passing Frenchman as high in the air as possible, as often as possible.
Only three Honduras players received yellow cards, with Wilson Palacios given two of them after an especially brainless barge from behind on Paul Pogba (who was shrewdly withdrawn by Didier Deschamps before he got himself sent off, which he himself was lucky to escape), and indeed the Stoke man could/should have walked well before that, as could/should a number of his colleagues. "There are certain aspects that we'll need to improve ahead of our next game," said Honduras coach Luis Fernando Suarez, when asked about his side's rather aggressive approach. Quite so.
6) Eder doesn't get a penalty, Germany versus Portugal
In terms of the result itself, it didn't matter a huge amount that Portugal weren't awarded a penalty in the closing stages of their defeat to Germany, given they were 3-0 and one man down at the time, but boy was this a howler of a decision. Eder broke through the Germany defence and was taken out in rather emphatic fashion by Benedikt Howedes, but for reasons known only to him the referee waved away the protests. However, if we ignore the grave injustice, there was something good to come from this, and that was a quite spectacular tantrum from Cristiano Ronaldo, who jumped up and down like a child denied extra pudding, to no avail. Enjoy.
5) Giovani dos Santos has two goals disallowed, Mexico versus Cameroon
Cameroon's 2014 World Cup was little short of a shambles, with appalling performances, Alex Song's bizarre running elbow rake on Mario Mandzukic, and of course Benoit Assou-Ekotto head-butting a teammate. It could have been even worse, for in their first game against Mexico, Giovani dos Santos had two goals disallowed, at least one of them (the second) very incorrectly, for offside. Had one/both of them been allowed, then what turned out to be a fairly dull 1-0 defeat could have been much worse, and dragged Volker Finke's side down even further than they eventually were.
4) Daryl Janmaat's penalty, Australia versus the Netherlands
In one of the tournament's many end-to-end, madcap, free-flowing and defensively-deficient games, there was more than enough in the Netherlands' 3-2 win over Australia to recommend it with simply the football. Tim Cahill's brilliant volley, Arjen Robben's raking runs, Robin van Persie's emphatic equaliser -- all superbly exciting, but a good refereeing controversy is always nice to spice things up a little.
So it came, when Australian substitute Oliver Bozanic jinked to the left side of the box, closely attended to by full-back Daryl Janmaat, his cross thwacked into the Dutchman's arm and a penalty (converted by Mile Jedinak) was awarded. Quite what the referee expected Janmaat -- who was no more than three yards away and with his hands by his sides -- to do is unclear, and it was perhaps telling that few Australians actually appealed.
3) Joel Campbell is denied a penalty, Costa Rica versus Italy
In the end, Costa Rica didn't need any help from the officials to produce a huge shock in Group D, and it was a pretty good job, too. Shortly before Bryan Ruiz scored their winning goal against Italy, Joel Campbell broke through the middle, skipping past Andrea Barzagli before he was simply shoved to the floor by a labouring Giorgio Chiellini. No foul was given by referee Enrique Osses, and Costa Rica coach Jorge Luis Pinto briefly lost his mind on the touchline, expressing a mixture of outrage and confusion through some elaborate hand gestures and some determined storming about. Pinto was later furious after seven of his players were called in for a drug test, but his rage was hopefully cooled a little by his side's shock progression.
2) Diego Godin's second yellow, Uruguay versus England
Sometimes managers or players hide behind refereeing decisions in order to distract from their own deficiencies, which is understandable if not defensible. However, some decisions can have a massive impact on not just one game, but a group and indeed an entire tournament. It was 0-0 in Uruguay's win over England when Wayne Rooney played in Daniel Sturridge, only for the Liverpool man's progress to be halted by Diego Godin's arm, right across his chest.
Referee Carlos Velasco Carballo awarded a free kick but didn't book the Uruguayan defender, who had been holding his side's defence together with his fingertips, but more importantly had already received a yellow card for a deliberate handball. Had he been given a second yellow and thus sent off, then what might have happened? Would England have broken down the Uruguay defence and claimed a draw or even defeat in that game? Would Italy have done the same in the next match? And would whoever played in place of Godin against the Italians have scored the goal that put them out? Of course we will never know, but there are parallel universes out there in which this World Cup took a very different turn.
1) Fred's penalty, Brazil versus Croatia
If we are to judge a bad decision in terms of its relevance and impact on the tournament as a whole, then there is only one choice for the No. 1.
Japanese referee Yuichi Nishimura had given hosts Brazil a few rather, shall we say, interesting decisions in the opening game against Croatia, which at least helped the nervous hosts to calm themselves down in the match that was supposed to be a joyous celebration of their World Cup jamboree. Indeed, it looked very much like the win that every home fan wanted wouldn't arrive as the Croatians played determinedly and the Brazilians skittishly, taking a 1-1 draw into the 71st minute, until the much-maligned Fred went down in the box under the vaguest of challenges from Dejan Lovren.
"I don't think this was a penalty. It will never be, this is ridiculous," spluttered Croatia coach Niko Kovac after the game. "If you continue like this you will have 100 penalties. I think 2.5 billion people watching on TV saw this was not a penalty. Fred is an 85 kilogram man and I don't believe he can be brought to the ground in such a manner." Had the penalty not been given, and Brazil failed to break the Croatian defence down, then who knows -- perhaps Brazil might already be out.