Neymar immune to World Cup pressure
BRASILIA, Brazil -- Dodgy defence, malfunctioning midfield? For everything else, there's Neymar. No wonder Brazilian fans wear his shirt number almost exclusively. The nation knows the simple equation: no Neymar, no nothing. He carries their hopes and his team on his slight, coat-hanger shoulders.
Only he looks capable of resisting the pressure, of not being blinded by the glare of expectation. The rest of Brazil's team looks all too capable of wilting. In the round of 16, the Chileans will not be so benevolent as Cameroon eventually proved, losing 4-1 in the final games of Group A. Indeed, Brazilian manager Luiz Felipe Scolari will need big performances in Belo Horizonte from others beyond Neymar. Perhaps Fred's second-half goal, celebrated with an open-mouthed expression that could only be relief, might finally bring the feckless forward to prominence.
"There is no pressure," confirmed the national hero in his post-match news conference. "I've always said in interviews there's no pressure when you are making a dream come true, something that you sought after as an objective when you were a kid.
"I am playing in matches I have always dreamed about," Neymar continued. "I want to help my fellow players not just to score goals but to do whatever it takes to score."
Those fellow players would be lost without him. When Neymar left the field with what looked a minor issue after a tackle with just over 15 minutes to play, the atmosphere dwindled such that the dreaded wave was employed; the capital's party had lost its organiser. Despite Fernandinho's goal lifting the mood, the occasion lacked the surges and impudence of its main man.

Brazil

Mexico
Game Details
Playing for Brazil at this World Cup is pressure incarnate. Every forward movement is cloaked in a deafening screech of anticipation, as if Brazil's players are attached to a police siren. Even 20 minutes before the match, the noise in Brasilia was akin to a rock concert crowd that knows the heartthrob headline act is imminent.
AC/DC's barnstorming "Thunderstruck," the intro song to each match at this tournament, could only warm up for a national anthem where decibel levels threatened to loosen masonry in the Estadio Nacional. Such a flood of emotion might serve to inspire some, but turn others to jitters.
Cameroon were supposed to be ideal, malleable opposition, but the eventual scoreline belied the threat they often presented Brazil. A brief exchange with an insider in the not-so-Indomitable Lions' camp brought a shake of the head at the shenanigans that have caused another winless World Cup, yet the Africans began dangerously. Then came some rank indiscipline, and Allan Nyom's utterly unnecessary shove on Neymar as they chased a loose ball in the corner.
Within seconds, Brazil's prince had scored, as if inspired by the assault. Nyom's negligence played its part in allowing Luiz Gustavo to power down the left. Neymar's angled finish took those shrill exhortations into a sonic boom of celebration.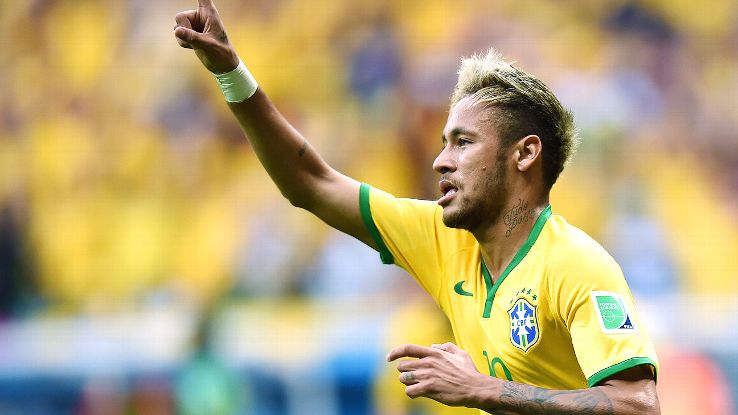 Neymar, usually furthest forward, yet at the same time almost everywhere else, soon began to wear down a Cameroon team that would not have been blamed for thinking about what film to watch on their return flight home. By halftime, a suspended and in civvies Alex Song was already making sure he had bagged his Barcelona colleague's shirt.
Fred, despite his fetching moustache, is in danger of fall-guy status for any possible failure. His halting movement and feeble finishing remind of Serginho, the hapless striker who struggled in front of one of the tournament's greatest-ever midfields in 1982. A golden chance arrived soon after Neymar's opener, but Fred's touch was loose. He ended up grounded, having attempted to improvise a headed finish from a worm-level height. Fred eventually got his goal, but history may recall that Serginho scored in Brazil's final first-round match in 1982, only to fail miserably the test of Italy in Barcelona.
That moment of temporary vindication followed Neymar before the break, giving a second lesson on how things should be done. Having been played into possession when at full pace by an otherwise quiet Oscar, he seared through Cameroon's defence, a weighty finish completing a sidewinder, pincer movement.
What lies behind Fred is nowhere near the quality of 1982. Neymar could maybe supplant Zico in that team, and those forefathers might have appreciated a defender like Thiago Silva, but this generation too often plods rather than bewitches. Scolari's stubborn persistence with Paulinho continued to mystify until Fernandinho replaced him, while David Luiz's defending always brinks catastrophe.
- Scolari: Neymar can't carry Brazil by himself
- Smith: All of Brazil but the Selecao celebrates
- Mitten: Flair returns as Brazil hammer Cameroon
When Nyom made amends for previous sins by setting up fellow defender Joel Matip for the equaliser, Dani Alves was caught flat-footed. Brazilian social networks crackled in worry at the Barcelona full-back's growing vulnerability. Neymar's first-half brilliance bought Brazil a pass to the next round.
"Do Argentina depend on Messi?" asked Scolari. "Other teams depend on one player or another and that's okay, players play differently. Star players make a difference for any team, not just in Brazil. Now he [Neymar] accepts not creating a chance, instead to do something for the team as a whole."
The burden that Brazil bear must be mind-melting; the last host team that played under such expectation of victory was most probably Italy in 1990, and before that Argentina in 1978. The Italians fell short, dreams soaked in tears as they lost their scoring touch. Argentina bore the burden, but Brazil's 2014 model looks much less equipped to go the distance than the team that Mario Kempes inspired.
For these hosts, only Neymar currently plays with the panache and belief of a World Cup winner. Euro snobs who don't get him, and were unconvinced by him at Barcelona, are receiving a withering answer. On the most prestigious stage of all, Neymar already suggests that he has greatness within himself. For him to be successful in reaching the destiny he may yet deserve, he needs far better, faster, stronger allies.