France form foretells deep run
SALVADOR, Brazil -- I hear tales of these matches, these one-goal wonders.
I hear of Costa Ricans weeping deliriously after upsetting Italy in Recife. I hear of Uruguayans Cheshire-grinning like Luis Suarez as their idol assassinates England in Porto Alegre. I hear of Americans bro-shrieking into cameras after witnessing game-winning headers against Ghana in Natal.
But I have not seen these wonders -- not in person, at least. Not with my own two eyes.
Understand: it is silly for me to complain about this particular World Cup, in this particular country, with this first week now in the books. After a generally horrifying prelude inspired journalists to hypothesize about so many tournament-related nightmares, Brazil has, somehow, seen zero major disasters come to pass.
At last check, the new arenas still stand -- possibly incomplete, but noticeably upright. Some rogue Chileans did briefly invade the media center in Rio on Wednesday, but it is telling that the biggest problem I encountered yesterday was the sanduiche vegeteriano I purchased at the Arena Fonte Nova -- my latest attempt to find and consume a vegetable of any kind. (It turned out, deliciously, to be a pile of cheese on a roll.)
But these games, man. These allegedly wondrous, best-group-stage-in-memory games. They vex, if only because thrillers seem to be everywhere in this country except for where I am.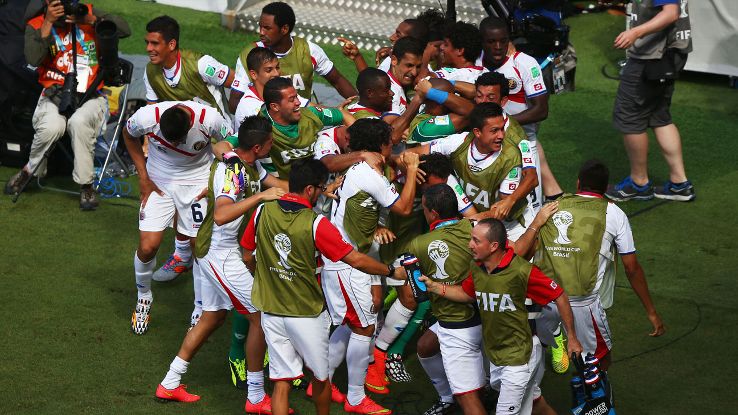 Over the first nine days of the World Cup, I've been to two cities -- Sao Paulo and Salvador -- that have hosted a total of four matches while I have stood within their limits. All four were lopsided, devoid of underdoggedness, primarily springboards for a potential tournament Goliath.
First came Brazil 3, Croatia 1. Then Netherlands 5, Spain 1. Then Germany 4, Portugal 0. And then, last night -- post-sanduiche -- France 5, Switzerland 2. As manager Didier Deschamps put it afterward, "It was almost absolutely perfect. It was an ideal outing."
How uneven were all those pairings? In sum, the losing team placed the ball into the net exactly zero times in non-penalty situations when the game was even vaguely in question. Against Brazil, remember, Croatia's lone goal was an own goal. Against the Netherlands, Xabi Alonso's 27th-minute score came on a penalty. And against France, Switzerland only came through when down 5-0.
By then, Olivier Giroud -- the early star of the game, the pomaded forward who'd scored a goal and assisted on another -- had long been subbed out by Deschamps to echoing whoops of "Allez, Allez, Allez." The laptops of the two despondent, polo-shirted Swiss journalists sitting near me on press row had already been reinserted into their backpacks. As promising as Giroud's backup, Paul Pogba, might be, the substitution felt like a human victory cigarette.
Which was, incidentally, how it felt when Brazil replaced Neymar and his two goals in the 88th minute against Croatia. And when the Netherlands replaced Robin van Persie and his two goals in the 79th minute against Spain. And when Germany replaced Thomas Muller and his three goals in the 82nd minute against Portugal.
There is, however, a conspicuous upside to all of this inequity.
- Laurens: France turning page on embarrassing past
- Cox: Howard ready for Portugal challenge
- Marcotti: Messi puts Sabella in the shadows
I may, just may, have cohabitated with contenders. I may, just may, have crossed paths with four teams -- all but assured spots in the knockout rounds -- who can make deep inroads into this tournament. And the deepest run of all of them, at this point? It should unfold to the tune of "Allez, Allez, Allez."
The host country still remains this World Cup's statistical favorite, if only because a self-interested referee would never, ever, ever, ever, ever want to show Brazil a red card inside any of these arenas. Yet given the Selecao's subsequent tie against Mexico, this Brazilian team, so Neymar-centric, has hardly played like heavyweights.
The Netherlands, meanwhile, for all their acrobatics against the defending champions, barely eked out a subsequent 3-2 win over Australia. (Hoary Spain, despite the name brand, was also the first squad to be sent home from Brazil, depreciating that first Dutch blowout.)
The dominance of Die Nationalmannschaft must also be mitigated by the fact that their victim was a Portugal side whose top defender, Pepe, received a red card in the 37th minute, and whose top player, Ronaldo, keeps fleeing training sessions early with his left leg encased in ice.
Yes, France's two wins, against Switzerland and Honduras, might leave you wanting as to degree of difficulty. But their magnitude of victory -- they'd beaten Los Catrachos 3-0 -- is unrivaled thus far.
In fact, France's best player is not the aforementioned Giroud but the mercurial Real Madrid striker Karim Benzema, who has doubled as the best player in this whole event. Against Honduras, he scored twice -- and might have had a third (had the goalkeeper not nudged the ball across the line for what was ruled, to some controversy, an own goal).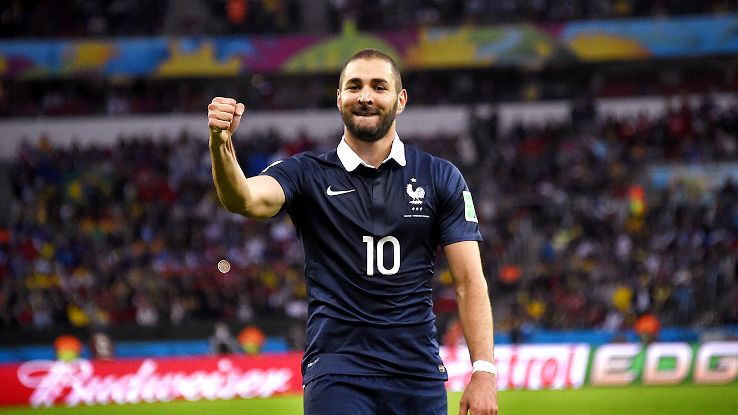 Then, against La Nati, Benzema scored once more -- and might have had a second and a third. The keeper deflected Benzema's penalty strike -- Yohan Cabaye's follow-up bounded off the crossbar -- and his golazo, at the very end, bulged the onion bag a second after the referee blew the whistle.
Overachieving France, in other words, has technically underachieved.
It is a terrifying thought as the winner of their group beats a probable path towards Iran, Nigeria or Bosnia-Herzegovina in the round of 16; the winner of Germany versus Belgium in the quarters; and Brazil, most likely, in the semifinals, with victory cigarettes in the Maracana hanging in the balance.
"We prepared well for the first two games, and we've played in an efficient manner," Deschamps said. "We need to finish the job against Ecuador, and then we'll be in a very different kind of competition."
The freshly aggressive Les Bleus have the depth of talent to proceed. They have the motivation, shadowed as they are by the most humiliating, altogether profane decade in French football history.
"We really are a team," Benzema said last night. "There's no sulking." And after the first week of this World Cup, they even have the ingredients to be a champion.
I saw that much, at least, with my own two eyes.