UEFA chief Aleksander Ceferin wants politicians to make game fairer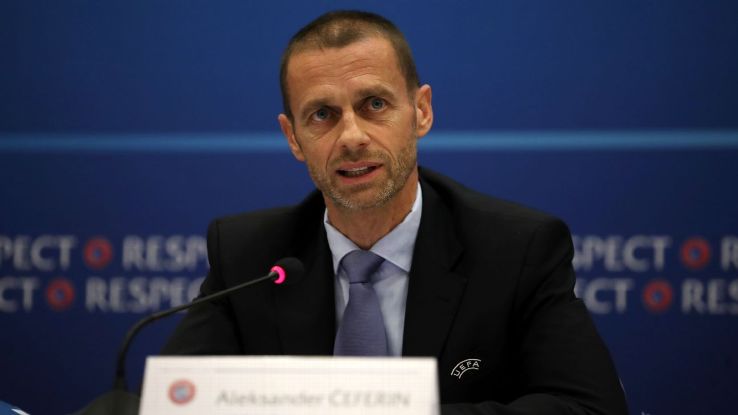 UEFA president Aleksander Ceferin has challenged European lawmakers to help make the business of football fairer.
Ceferin agrees with politicians who have criticised the game's finances after record offseason spending by wealthy clubs. Premier League clubs spent a record total of £1.413 billion over the course of the summer window, a rise of £293 million on last year's window.
The UEFA chief says he awaits "the green light from those who publicly condemn the current situation but have yet to enable us to put it right."
However, Ceferin added: "I cannot say that you have done much to help us set things straight so far."
The Slovenian lawyer wants "competitive balance" policies currently restricted by European labour and business laws.
They include salary caps, luxury tax, squad limits, transfer reform, a clearing house to control money flows, limiting player agent fees, solidarity tax on transfers to fund women's football, and preventing ownership of two clubs.
UEFA, meanwhile, approved a Memorandum of Understanding with the Association of European Professional Football League (EPFL) that will permit the group to nominate a representative to sit on the UEFA Executive Committee.
Commenting on the memorandum, Ceferin said: "I am pleased that today we have taken an important step by including the European Professional Football Leagues in our decision-making processes.
"They are an important stakeholder in European Football and I am looking forward to working closer with them in the future."
UEFA also has chosen Russia World Cup 2018 boss Alexey Sorokin to take the final European seat on FIFA's Council at an Extraordinary Congress in Geneva.
European football's governing body was left one representative short at FIFA when Sorokin's Russian compatriot Vitaly Mutko was blocked from standing for election by the global body's governance committee in March.
That decision, made because Mutko is Russia's deputy Prime Minister and therefore breaches FIFA's rules against governmental interference in football, led to FIFA president Gianni Infantino effectively sacking chairman of the governance committee Miguel Maduro.
Last week, the Portuguese academic and politician told MPs on the Digital, Culture, Media and Sport committee that FIFA's leadership had told him blocking Mutko risked the success of next year's World Cup, which would bring down Infantino's presidency.
That crisis, however, would appear to be averted as Russia now has its seat at football's top table.
Apart from Sorokin's uncontested election, the other decisions made on Wednesday were the ratification of Juventus president Andrea Agnelli and Arsenal chief executive Ivan Gazidis as UEFA executive committee members. The pair were proposed by the European Club Association earlier this month and will represent the interests of Europe's leading clubs.
Information from the Press Association was used in this report.