Mario Gotze may reunite with Jurgen Klopp at Liverpool; Lukaku to Chelsea?
The winter window might have shut, but the rumour mill rolls on. As always, Transfer Talk has its finger on the pulse when it comes to the latest rumours and gossip. See the latest deals here.
TOP STORY: Gotze on course for Klopp reunion?
It's going to be more than a bit worthwhile keeping an eye on Liverpool over the summer as Jurgen Klopp seeks to put his stamp on the Anfield squad.
Inevitably, Klopp has been linked with more than a few of the stars he created at his former club Borussia Dortmund -- and one of those is World Cup-winner Mario Gotze, now at Bayern Munich.
With many predicting a midfield shake-up at Liverpool -- Jordan Henderson is on his way out, some suggest -- could Gotze be on his way in?
Yes he could, says the Mirror, which quotes Gotze's Bayern and Germany colleague Thomas Muller as saying Gotze "might not be satisfied" with life at the Bundesliga champions.
And why might that be? Well, Gotze has started only five times in the German top flight this season after suffering another set of injury problems, and he might well be in the market for a fresh start.
And having worked so successfully with the mercurial Klopp at Dortmund, Gotze is likely to be tempted by the idea of renewing that working partnership at Liverpool, the Mirror reports.
Here's what Muller says: "I fully appreciate that he might not be satisfied at Bayern Munich.
"From a purely sporting point of view, of course you want to be on the pitch, you want to be showing the public what you can do.
"I would wish for him to stay at Bayern Munich -- but you never know in this world, so I don't talk about potential new clubs with Mario Gotze."
So if not Liverpool for Gotze, then where? Well, the Mirror reckons Dortmund could also move to bring him back, while incoming Bayern coach Carlo Ancelotti and Germany boss Joachim Low have discussed the situation.
Low has reportedly advised Gotze to wait and see what Ancelotti plans, adding: "There will, of course, be a new coach in Bayern next season, so the first thing he should do is talk to the new coach."
He added that Gotze would be on the bench when Germany play England on Saturday. But will Gotze also be facing a lot of those players in the Premier League next season?
Well, time will tell. Arsenal have also been linked with Gotze, having been interested in signing him during his days at Borussia Dortmund.
And Low, says the Mirror, feels that the player's "club form and lack of first-team chances because of injury and competition for places is a growing concern."
'Luk' who's back at Chelsea?
Nobody ever said buying and selling was easy to get right, did they? Plenty have opined that Chelsea got it badly wrong when they sold Romelu Lukaku to Everton, and it seems that heavily mooted incoming Stamford Bridge boss Antonio Conte thinks the same.
Well, so reports the Sun, which reckons Conte has "moved Lukaku to the top of Chelsea's summer transfer plans."
The Belgium international, the star of the show in a thoroughly erratic Everton season, has scored 25 times in the campaign, and Conte would make him target No. 1 as and when his managerial move from Italy to Fulham Broadway way is completed.
The paper reports that Chelsea owner Roman Abramovich "is convinced that axed boss Jose Mourinho made a mistake in shipping Lukaku out to the Toffees."
With uncertainty over the future of Diego Costa, linked with a return to Atletico Madrid, and the disappointment of Everton's Premier League position, Lukaku seems -- on the face of it -- to be a pretty natural fit back at Chelsea.
But what about the money? Show me that. Well (deep breath here), the Sun says Chelsea would have to pay at least (so probably more than) double the £28m Everton paid for the striker in 2014.
Is this the way to add Murillo?
There are lots of things we don't know about the immediate future at Manchester United, not least the rather basic question of who might be managing them come the start of next season.
But no matter -- that won't dampen the chitchat about who might be arriving at Old Trafford soon. Who's the latest? Inter Milan defender Jeison Murillo, says the Mirror, which reports that the 23-year-old could cost £15m or so.
Colombia international Murillo, who has made 16 appearances for his country, is on the list of targets for Louis van Gaal -- or, quite possibly, some other manager -- as United look to add some steel to a defence that has been alarmingly without it at times this season.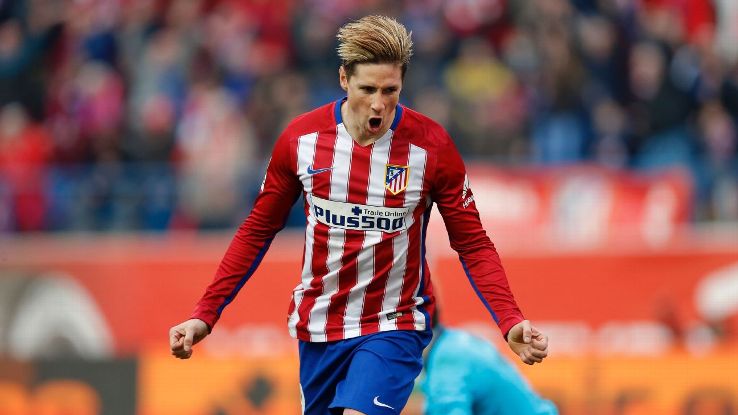 Tap-ins
- Could Fernando Torres be on his way to Italy? Corriere della Sera has reported that the former Liverpool and Chelsea man is a target for Lazio as it becomes increasingly unlikely that Atletico Madrid, to whom he is on loan from from AC Milan, will offer him a deal.
- Happy or unhappy? Staying or going? Germany defender Jonas Hector has said he is happy at Cologne but adds the caveat that he would be tempted if a phone call from Liverpool were to come his way. "I would start to think about it," Hector said. "You always have to consider whether you are ready to take the next step."
- The Mirror reckons Swansea are hot favourites to sign Reading's Wales international Hal Robson-Kanu on a free transfer once summer rolls around. It reports that Robson-Kanu, out of contract at the end of the season, has "shelved" talks about a potential new deal with the Championship club.