Edinson Cavani, Alex Teixeira and Sadio Mane potential deadline deals
The transfer window closes Monday. Before the deadline, there remain plenty of questions as clubs decide whether to enter the market late.
Will Premier League clubs come to life?
The transfer window hasn't been nearly as busy as Arsenal boss Arsene Wenger's words suggested it might be.
"I would say for the media, you could have some good news this transfer window," he said at the start of January. "I believe many clubs will be active. You go from the clubs down in the table to the top, and my prediction is that it could be one of the most active January windows you have seen."
That has not been the case. Instead, it has been a rather moderate January, with just more than £100 million spent by Premier League clubs. That will probably change over the final 24 hours, but it is highly unlikely to get anywhere near the £225m spent in January 2011. So far, this has been just the seventh-busiest window since the regulation was introduced in 2003.
Newcastle United and Norwich City have both spent more than £20m each as they seek to preserve Premier League status. If they are successful, this can be seen as essentially investing future broadcasting money in signings now.
Elsewhere, however, there hasn't been the same level of activity, and it is surprising that clubs have been so reticent to enter the market. There is a sense of irony that all the top clubs -- except Arsenal, who are so often accused of unwillingness to spend -- have been rather quiet.
The next two days will tell if there's anything big to add to Wenger's acquisition of Mohamed Elneny from Basel. If so, it could come down to one of the following storylines:
Will anyone take a chance on Edinson Cavani?
Arsenal, along with a number of other clubs, have been approached by Cavani's representatives over the past few weeks, with perhaps the biggest moves made toward Manchester United, who have long-standing interest in the Uruguayan.
As one Old Trafford source told ESPN FC: "We're well aware he is being hawked around everywhere."
Cavani has never really been able to play in his best position at Paris Saint-Germain, and he could do with a new challenge. Pretty much all the Premier League's top clubs could do with his pace to enhance their attacks, especially United and Arsenal and even Chelsea.
Cavani could yet be one of the biggest names to move in this window, but it would take a big statement from an English club to spend the required money on someone who is 28. Sources at United said they are unlikely to do business, but things can change when it comes to the final day.
Will Liverpool secure Alex Teixeira?
This seems like it's going to the wire, as Liverpool still refuse to meet Shakhtar Donetsk's £53m valuation of the Brazilian striker. That number represents the 26-year-old's release clause, and the Ukrainian club insist they will not sell for anything less.
Donetsk officials are said to feel they have sold stars such as Douglas Costa and Willian too cheaply in the past. Jurgen Klopp's attack, however, could clearly do with a higher level of energy. Although Klopp has done well with the side he has, Liverpool still don't fully look like a Klopp team.
This deal will come down to how much the German thinks he needs Teixeira, but so far, Liverpool's offers have not gone past £30 million. That means they have a long way to go in negotiations, and that could make Monday a long evening.
Will Leicester spend to boost their title bid?
Any surprise at Leicester's refusal to fall away from the top four has long since evaporated, especially now that they lead the table. The key to staying there could come down to how much they're willing to propel themselves.
This seems a unique opportunity and one with very little risk. The right buys could temporarily give Leicester enough fire to go the distance, and it's not like that money won't be made up when the new television deal kicks in.
So far, they've brought in £8 million worth of talent in Daniel Amartey of FC Copenhagen and Demarai Gray from Birmingham City. Those are clever signings, rather than shows of real clout, though that might change if interest in Milan's M'Baye Niang comes to something.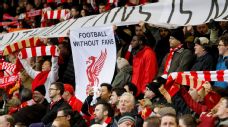 Will Southampton buckle?
Ronaldo Koeman has recently made it clear that he is not entirely committed to Southampton long-term, and sources say some of his dissatisfaction is due to the fact that he feels it is impossible to develop a side at the club, given the way they will sell anyone who attracts high-profile interest.
So far, Southampton have stood impressively firm amid interest in Victor Wanyama and Sadio Mane. The club have made it abundantly clear that teams such as Manchester United and Tottenham will have to put up huge money to take away either, having already rebuffed Old Trafford's interest in Mane.
Miguel Delaney covers the Premier League and Champions League for ESPN FC. Twitter: @MiguelDelaney.