Real Madrid turned down £110m PSG bid for Ronaldo; Januzaj for Reus?
The transfer window may be closed, but the rumours just keep ticking. As always, Transfer Talk has the latest and greatest. See all the summer deals right here.
TOP STORY: Real rejected £110m Ronaldo PSG bid
Cristiano Ronaldo will most likely be involved in fanciful transfer tales linking him away from Real Madrid until he hangs up his boots, though it seems there was serious -- and we do mean serious -- money on the table for the Portugal captain this summer.
Globo Esporte reports that French champions Paris Saint-Germain bid £110 million (€150m) for the 30-year-old, which is pretty much an unthinkable fee for anybody that age barring Ronaldo. The Brazilian outlet reports that Madrid rejected the monster offer out of hand, but concludes the mercurial forward could be available next summer.
Ronaldo would be the ideal replacement should Zlatan Ibrahimovic decide to depart PSG at the end of the current season, and the French capital looks a more likely destination than former club Manchester United given Madrid's very public dealings with the Red Devils of late.
PAPER ROUND
Reus-Januzaj swap deal lined up?
Manchester United fans who saw Adnan Januzaj's late loan move to Borussia Dortmund as a precursor for a big bid for one of BVB's stars were ultimately left disappointed, though the Daily Star reports that Marco Reus could still arrive at Old Trafford.
The paper says that while Januzaj is officially due to return to Manchester after his season-long loan in order to compete for a role in Louis van Gaal's side, "Dortmund may be prepared to discuss an exchange deal [involving Reus]" if the Belgian starlet impresses at the Westfalenstadion.
Sources told ESPN FC that United inquired about Reus during the Januzaj talks but baulked at a £60m asking price, though the prospect of Januzaj as a sweetener could see BVB lower that potential fee considerably.
Martial courted by England's elite
Van Gaal's £36m capture of Anthony Martial raised many eyebrows due to the colossal fee, but United's rivals were also apparently more than willing to shell out the same amount to land the Monaco starlet.
The Sunday Times reports "Roman Abramovich was ready to match United's record offer for the 19-year-old French forward only to be told the deal had been closed." The paper says that Chelsea had enquired about the France international earlier in 2015 with one eye on bringing him in for next season, but United were quick off the mark.
Meanwhile, The Sun reports that Martial visited Manchester City's Etihad Stadium for a tour at just 11 years old as United's rivals attempted to woo him at youth level. None of this guarantees that Martial will actually live up to his £36m price tag, but United fans may be given a little more comfort that other Premier League heavyweights seemed to want the forward just as badly.
Berahino must earn back respect
Tony Pulis has opened up about Saido Berahino's failed move to Tottenham, suggesting that the striker will play for West Brom again -- but has got to work hard to do so.
The Baggies head coach told the Daily Mail: "Respect has to be earned and Saido has to learn that lesson. West Brom have nurtured Saido's career for over a decade, the people in the club and on the terraces have supported him, and given him the platform from which he stands today. It will be difficult to integrate Saido into this group. His attitude will be questioned. The lads are very honest and hardworking and Saido will have to show that in abundance."
Pulis also revealed that Berahino brought him mum to one meeting with West Brom chairman Jeremy Peace, diplomatically adding that "I don't think that helped." You can't imagine Bastian Schweinsteiger doing the same with Louis van Gaal, can you?
Meanwhile, the Mirror reports that Berahino will withdraw his strike threat and return to training for his club this week -- Transfer Talk would bet on more than a few of his teammates giving him a hearty thumbs-up after his private jet debacle.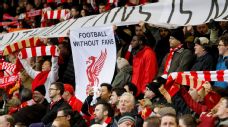 Chelsea in De Bruyne's sights
Jose Mourinho burnt his bridges with Kevin De Bruyne by suggesting that Chelsea were right to sell the Belgian to Wolfsburg in 2014 as "he was crying every day" about wanting to leave Stamford Bridge.
The 24-year-old playmaker may be more of a threat to Mourinho now having joined Premier League leaders Manchester City for £54m this summer, and the player's father says he will relish the chance of punishing the Portuguese coach.
De Bruyne's Sr. Herwig told the Daily Star: "Kevin will have no more to prove against Chelsea than he will against Swansea. But if he scores against Chelsea, he will say in his heart, 'Yes, now I have you.'"
Any father who stands up for their son by paraphrasing Darth Vader is good in our books.
TAP-INS
- Poor Michu. Swansea told their former star striker that he could leave Wales this summer to find a new club, and now The Sun reports that the Premier League club are willing to let the Spaniard leave on a free as he will not be considered for selection by Garry Monk. How times change.
- Newcastle United turned down a deadline-day deal for Charlie Austin that would have seen the QPR striker move to St James' Park for £10m and highly-rated Ronaldo Aarons move in the opposite direction, according to the Newcastle Evening Chronicle.