Man United's Gareth Bale bid rejected, Pedro requests Chelsea move
Most players in Europe have now made their way back to their clubs for the start of preseason training, meaning the rumour mill has cranked up a gear as teams plan their campaigns in earnest. As always, Transfer Talk has its finger on the pulse when it comes to all the latest rumours and gossip.
TOP STORIES: United eye Bale next
Fresh from landing Matteo Darmian and agreeing on a deal for Bastian Schweinsteiger, Manchester United are set to push the boat out on further signings to mould a title-challenging side.
A report from Cadena COPE's El Partido de las 12 suggests that United are now serious about landing Real Madrid's Gareth Bale, but have seen a world-record €140 million (£100 million) bid rejected.
Although Real fans were critical of Bale last season, Rafa Benitez reportedly wants Wales' talisman to play a more prominent role at the Bernabeu, dashing United's hopes of landing the 26-year-old.
The Daily Star reports that the next target on Louis van Gaal's list is Valencia centre-back Nicolas Otamendi, with Jorge Mendes brought in to broker a move for the 27-year-old.
STAR SPORT: Thrashes! #tomorrowspaperstoday #Ashes pic.twitter.com/PboqoW41f7

- Neil Henderson (@hendopolis) July 11, 2015
But Mendes wouldn't be a "super agent" without knowing when and where to sniff out the best deal, and he will reportedly sound out Manchester City and Chelsea to find the right price for the Argentina international.
Making way for Otamendi will be Jonny Evans, with the Mirror stating that Arsenal are surprise contenders for the centre-back's signature along with West Brom -- no prizes for guessing who will win that battle if it comes down to personal terms.
Pedro heading to Chelsea
It was reported on Saturday that Chelsea had joined the queue of clubs chasing Barcelona attacker Pedro.
Catalan newspaper Sport is now reporting that the Spain international -- who had reportedly rejected Arsenal, Liverpool and PSG to stay at the Camp Nou -- has changed his mind now Chelsea have made their move: he wants to go to Stamford Bridge.
Pedro se resigna y dirá 'sí' al Chelsea de Mourinho http://t.co/cZVLO3LHNt #fcblive pic.twitter.com/3brVJoApgT

- Diario SPORT (@sport) July 12, 2015
Jose Mourinho apparently called Pedro in recent days, and after his ex-Barca teammate Cesc Fabregas followed up with a further phone chat, the 27-year-old's Cule heart is now set on a move to West London, where he is more likely to play regular football ahead of Euro 2016.
Barca are obviously going to be reluctant to cash in before the transfer ban expires in January, but Pedro has a €30 million buyout clause in his contract, and Chelsea are said to be ready to pay it once Barca's presidential election takes place on July 18.
Watch this space.
LIVE BLOG:
22:35 BST: That's it from our live blog for the day folks, but check back shortly as we'll have a fresh look at tomorrow's paper rounds and start the whole thing over again in a few hours.
21.15 BST: Lyon striker Alexandre Lacazette could be nearing a move to Arsenal, according to this report in the Express. The 27-goal scorer in Ligue 1 last campaign favourited a tweet that read: "Wenger plans to take advantage of negotiations between Lyon & Lacazette." He later removed the favourite tag as it drew unwanted attention to the situation, which is still unsettled at best. The Gunners are linked with a reported £27 million move for Lacazette, but Manchester United and Paris Saint-Germain are also interested, while Lyon are keen to keep him as well.
20:36 BST: For those of you watching the future of Angel Di Maria at Manchester United closely, an update from the London Evening Standard here. The outlet cites French radio station RMC, who report a move for Di Maria to Paris Saint-Germain is in the works if the details can be agreed between the two clubs and the Argentine.
19.47 BST: Liverpool aren't wasting any time finding replacements for Raheem Sterling, who looks set for a move to Man City after the two clubs agreed a fee today. TalkSport cite Portuguese paper A Bola, who are reporting that Brendan Rodgers is plotting a shock move for Manchester United's Javier Hernandez. The Mexico international was on loan to Real Madrid last season and doesn't look to factor into Louis van Gaal's plans at Old Trafford this season.
Liverpool might have to move quickly if there's legitimate interest here, as other teams, including Orlando City SC in MLS, are reportedly pursuing the 27-year-old.
19.04 BST: After spending 25 years with Real Madrid, Iker Casillas was understandably upset as he said his goodbyes after his transfer to Porto was finalized.
18.33 BST: The Raheem Sterling saga may be nearing its end finally as ESPN FC sources have confirmed that Liverpool and Manchester City have agreed a £49 million fee for his transfer. That would represent a record fee paid for any English player and also a record-signing for Man City. Sterling is expected to undergo his medical exam on Monday and several British outlets are reporting a long-term deal worth £200,000-a-week is almost in place.
17.27 BST: Napoli are ready to offer up to €13 million to sign Barcelona defender Marc Bartra, Sport reports. The 23-year-old's representative earlier told told Napolicalciolive.com that Serie A is "very interesting" and added: "We can't rule anything out."
17.05 BST: Sir Alex Ferguson has advised Juventus to cash in on Paul Pogba, according to Tuttosport. You might recall that Pogba left Manchester United when his contract expired in 2012 and that the two weren't the best of friends. Anyway, story here.
16.55 BST: Fanatik in Turkey says Besiktas are planning to offer €3 million for Hull striker Dame N'Doye, who might not fancy a season in the Championship.
16.24 BST: Laurent Blanc says there was never any doubt that Zlatan Ibrahimovic would remain at Paris Saint-Germain this season and indicated that Edinson Cavani and Thiago Motta will also stay. Story here.
16.09 BST: At the risk of this transfer blog becoming an endless stream of Manchester United/aeroplane-related social media posts...
Persie Family on their way to Istanbul! pic.twitter.com/sytLmSVxN1

- Fenerbahce_EN (@Fenerbahce_EN) July 12, 2015
15.57 BST: And he says he's looking forward to the new challenge.
Ich freue mich riesig auf die neue Herausforderung bei @ManUtd. pic.twitter.com/U14r6xgh3H

- Basti Schweinsteiger (@BSchweinsteiger) July 12, 2015
15.35 BST: Bastian Schweinsteiger has written a message to the Bayern fans as he gets ready to join Manchester United. Story here.
140 characters cannot express how I feel for @FCBayern. #MiaSanMia pic.twitter.com/EFNX2Jvh00

- Basti Schweinsteiger (@BSchweinsteiger) July 12, 2015
15.00 BST DONE DEAL Stoke have finally confirmed the signing of former Liverpool defender Glen Johnson. Story here.
http://t.co/yUbA496eR1 - Glen Johnson has signed for Stoke City, subject to finalising the formalities. #WelcomeGlen

- Stoke City FC (@stokecity) July 12, 2015
14.46 BST: Robin van Persie is on his way to Istanbul...
Ready for take off ✈️ pic.twitter.com/FToAfnEGjv

- Robin van Persie (@Persie_Official) July 12, 2015
14.25 BST: Laurent Blanc has confirmed Paris Saint-Germain are interested in signing Angel Di Maria from Manchester United, although he suggested the deal may cost too much. Story here.
14.10 BST: Christian Stuani is set to leave Espanyol for Middlesbrough, according to our friends at AS.
13.48 BST: Norwich boss Alex Neil has confirmed he is still interested in signing Robbie Brady from Hull.
"We are working on things and I don't really like to get into individuals but, as everybody is aware, Robbie Brady is a player we like," Neil said. "We have made a few bids and there is interest but at the moment we have to wait and see what is going to happen."
13.26 BST: Click here for the full story on Ciro Immobile's imminent move to Sevilla.
13.18 BST: Sources have now confirmed to ESPN FC that Raheem Sterling has been withdrawn from Liverpool's preseason tour so that he can talk to Man City. He reported for training this morning, and it was the club's decision to withdraw him, so expect movement in the near future.
13.04 BST: BREAKING Borussia Dortmund striker Ciro Immobile is joining Sevilla.
.@ciroimmobile wechselt zum FC Sevilla http://t.co/TezQOHX0Rq pic.twitter.com/gW36GayOOC

- Borussia Dortmund (@BVB) July 12, 2015
13.01 BST: Italy defender Matteo Darmian said he did not have to think twice before agreeing to join Manchester United. Story here.
12.25 BST: For more details on the Raheem Sterling story, click here.
12.17 BST: Iker Casillas said goodbye to Real Madrid in an emotionally charged news conference on Sunday after agreeing a move to Porto. Story here.
12.02 BST: BREAKING Raheem Sterling will not travel with the Liverpool squad when they head out to Thailand on Sunday as transfer talks are ongoing with Manchester City, according to Press Association Sport. More to follow...
11.36 BST: Bursaspor are in the market for Bakary Sako, according to AMK. Leicester, Aston Villa and Everton have also been linked with the 27-year-old Mali attacker, whose Wolves contract has expired.
11.06 BST: Entertaining stuff from Napoli president Aurelio De Laurentiis, who has been insisting for a while that Gonzalo Higuain -- linked with Manchester City -- will only leave if his €90m release clause is paid. Asked by a fan if the Argentina international is off, he reportedly replied: "I wish! With €90m I'd buy eight players!"
10.49 BST: Inter Milan boss Roberto Mancini has played down speculation Zlatan Ibrahimovic could return to the club this summer. He's also spoken about Xherdan Shaqiri's decision not to join Stoke. Story here.
10.32 BST: Real Madrid don't seem to be doing a great job on the goalkeeping front this summer, given their frustrations in the David De Gea pursuit and their failed bid for Kiko Casilla yesterday, while Iker Casillas has finally headed off to Porto. According to Il Messaggero, Roma -- having failed to land Casillas -- will now move for Keylor Navas. Real Madrid may need to get their wallet out very soon.
10.00 BST: Fenerbahce have announced that Robin van Persie will be in Istanbul this evening ahead of his move from Manchester United. Story here.
ROBIN VAN PERSIE İLE İLGİLİ DUYURU | http://t.co/2X0km4Kr0f pic.twitter.com/LiPvWghrE6

- Fenerbahçe SK (@Fenerbahce) July 12, 2015
09.55 BST: Bayern Munich have dismissed the prospect of further players joining Manchester United -- namely Thomas Muller -- after they agreed a deal for Bastian Schweinsteiger. Story here.
09.42 BST: Former Manchester United defender Rio Ferdinand is backing the Bastian Schweinsteiger transfer. The Bayern midfielder is set for a medical today and could complete the switch within hours.
Bastian: now MUFC have someone who can fill in for Carrick if out(important). LVG wants possession football-he suits perfectly. Great player

- Rio Ferdinand (@rioferdy5) July 12, 2015
09.18 BST: Orlando City are in talks to sign Manchester United striker Javier Hernandez. For the full story, click here.
08.52 BST: Serie A expert James Horncastle explains why new Manchester United full-back Matteo Darmian looks a strong signing for Louis van Gaal. Read that here.
08.24 BST: Barcelona might yet be able to add to their options this summer despite the transfer ban. Sport reports that Denis Suarez might be able to play for the club if Sevilla cut short his two-year loan deal, but it will ultimately come down to FIFA's decision given that they can't register new players till January.
United eye Atletico starlet
With Real Madrid confirming that Iker Casillas will join Porto, that opens up a David De Gea-shaped slot at the Bernabeu, which needs to be filled.
With Real near-certain to step up their pursuit of the Manchester United goalkeeper, AS reports that United will turn to Atletico Madrid for salvation once again, with Jan Oblak lined up as a replacement.
According to the Spanish paper, Louis van Gaal is said to rate the 22-year-old Slovenian as an ever better prospect than De Gea, though United will have to pay the keeper's €45 million release clause given that the player is happy in the Spanish capital.
But hold your horses -- the Mirror reports that with United intent on landing the talented youngster, Atleti would let him go for a bid of around €30 million (£21.5 million).
While Real eye De Gea, Marca suggests that United have demanded an "impossible" two-for-one deal with both Sergio Ramos and Keylor Navas in exchange for their star stopper -- good luck with that one.
Pogba return to Manchester stalls
Manchester City have been given a free run at Paul Pogba with Barcelona not inclined to raise their €80 million offer for the 22-year-old this year, though a prospective move back to Manchester is being held up by the fine print.
The Star reports that the deal is currently on hold due to a former representative of Pogba having a stake in the player's image rights.
City are seeking control of the situation given that the Juventus star will likely cost them a staggering £155 million in transfer fees and wages over the course of a five-year deal, which is fair enough when all considered.
The paper states that City are still confident of pushing a deal through, though it may take a while before they can announce the signing of the former Manchester United academy starlet and duly lord it over their city rivals.
Tottenham eye Schneiderlin and McCarthy
While Man United fans may be giddy at the news that Germany captain Schweinsteiger is set to move to Old Trafford, they may end up losing out on another priority signing for midfield.
The Mail reports that Tottenham have re-entered the race for Morgan Schneiderlin, with Mauricio Pochettino being kept informed of the Southampton star's future ahead of a possible bid.
The 25-year-old's potential move to United is allegedly in doubt due to United's capture of Schweinsteiger, and the guarantee of first-team football at White Hart Lane alongside a coach he trusts could help sway a possible move in Spurs' favour.
Meanwhile, the Express says that Spurs must move out "deadwood" to prepare for Schneiderlin, with up to six players on their way out. Vlad Chiriches, Federico Fazio, Younes Kaboul, Benjamin Stambouli, Emmanuel Adebayor and Roberto Soldado are all set for the chop with Daniel Levy looking to raise funds for high-profile targets such as Schneiderlin.
However, the Manchester Evening News reports that United are still keen on Schneiderlin despite their move for Schweinsteiger, and will try to push through a deal for the France international.
Should Schneiderlin not be moving to North London, the Mirror reports that Spurs will launch a £20 million bid for Everton's James McCarthy.
The 24-year-old midfielder is said to be frustrated that his impressive Toffees form hasn't been rewarded with a new contract, while the same paper also reports that Pochettino will try to add another Everton star -- and another Belgian -- in Kevin Mirallas.
Everton would seemingly get over all this disappointment by signing Nemanja Vidic -- who wouldn't? -- with the Star reporting that Roberto Martinez will seek to take the former Man United captain from Inter.
Liverpool line up Real winger
Rafa Benitez has plenty to ponder after taking the Real Madrid hot seat, and the Mirror reports that the former Liverpool coach is now considering a £22 million offer from Anfield for winger Denis Cheryshev.
The 24-year-old attacker spent last season on loan at Villarreal, and a big fee for the Russia international would be a boost for Real given their embarrassment of riches in forward positions.
Meanwhile, the Mirror has more on a former Liverpool player, with Glen Johnson set to join Stoke on a two-year deal after his Anfield contract expired this summer.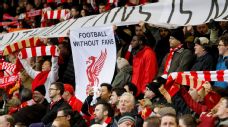 Tap-ins
- It's been a very poorly kept secret that LA Galaxy will sign Giovani Dos Santos as soon as they can restructure Omar Gonzalez's contract. Media Tempo says that a four-year deal is agreed for around $7 million a year, which would be among the highest in MLS.
Mexico manager Miguel Herrera, though, says that Gio is yet to decide on his future.
Miguel Herrera confirming he's spoken to Giovani Dos Santos and said he hasn't been told there is any definite decision on his future.

- ESPN Tri (@ESPNFCtri) July 12, 2015
- Arsenal fans hoping for a fleet-footed forward this summer will be delighted with reports from Tuttomercatoweb that suggest the Gunners are moving decisively for Lyon striker Alexandre Lacazette.
- The Mail reports that Middlesbrough are hoping to finalise a £6 million move for Stewart Downing, with the West Ham midfielder set on a return home to the north-east of England.
- Mike Ashley will kick-start Newcastle's flagging summer transfer window with a £40 million splurge, according to the Express.
EXPRESS SPORT: Smashing! #tomorrowspaperstoday pic.twitter.com/pTn1WYqPmj

- Neil Henderson (@hendopolis) July 11, 2015
The paper reports that having completed a £14.4 million signing of Netherlands midfielder Georginio Wijnaldum from PSV Eindhoven, Ashley will green-light a £13 million move for Anderlecht forward Aleksandar Mitrovic.
Along with those two, the Magpies are also after Schalke's versatile Joel Matip and QPR striker Charlie Austin -- quite a shopping list.