Eleven players looking for a new start
With the World Cup all wrapped up, clubs across the globe are frantically trying to finalise their squad lists before the new season starts. Nick Miller takes a look at the best 11 players currently available as free agents.
Goalkeeper: Guillermo Ochoa
Of course, the dangers of signing a player based on a good World Cup are well known. Not least because the tournament is such a world in itself where unlikely and frankly unrepresentative things happen, and because three to seven games is an extraordinarily small sample size that it's impossible to judge a player based only on the tournament.
That said, Guillermo Ochoa's reputation was strong even before his terrific performances in Brazil, performing well for Ajaccio last season despite their relegation from Ligue 1. An alternative name for the goalkeeping spot might be Victor Valdes, but the knee injury that caused him to miss the second half of the season at Barcelona and fail a medical at Monaco makes him even more of a risk than Ochoa.
Right-back: Carlos Cuellar
In truth, the free-agent market for defenders is a little thin. If this list was written a few weeks ago, then a back four of Bacary Sagna, Rio Ferdinand, Joleon Lescott and Ashley Cole would have looked very impressive indeed, but three of those have found new clubs while Ferdinand seems set to join QPR, so we're left with decidedly slim pickings.
That said, Carlos Cuellar is a versatile defender who can play anywhere along the back four, and at 32 still has a couple more years left in his legs yet, despite being released by Sunderland at the end of the season.
Left-back: John Arne Riise
While he is no longer the storming full-back of old with a left foot seemingly powered by Thor's hammer, John Arne Riise could still do a decent job for a club new to the Premier League. His know-how would be valuable for someone like Burnley, whose squad is thin on real top-flight experience.
Obviously nobody who played for Fulham last season is likely to have the highest reputation, but if Riise's parting shot after being released by the club is anything to go by, there may well have been extenuating circumstances for their relegation.
"Good luck, the team needs support, not people thinking they know everything," he said, addressing the Cottagers' fans. "And if you knew what went on behind the scenes you might have kept your mouths shut!"
Centre-back: Walter Samuel
Of course, this has the potential to be a complete calamity. Even in his peak years, Walter Samuel was hardly fleet of foot, a defender who relied on his positioning, his strength in the air and his physical presence to keep out attackers, rather than any sort of pace.
However, after spending the majority of his career in Italy, he might want a change of league to finish his career after leaving Internazionale, and a team looking for some experience at the back might want to consider the 36-year-old. They may have to move quickly, though, as the big Argentinean has been linked with Sampdoria in recent weeks.
Centre-back: Brede Hangeland
A few years ago, Brede Hangeland was hailed as one of the better central defenders in the Premier League, and strongly linked with moves to the likes of Arsenal. Now, he has been released by Fulham after their relegation, under a cloud of recriminations and blame-tossing.
Hangeland was upset at being informed of his release by email, going on to criticise Felix Magath's managerial style by saying the German tries to "mentally and physically batter his players."
That said, Hangeland was one of Fulham's better players last season, and could prove to be a shrewd acquisition for someone looking for a towering presence in their defence.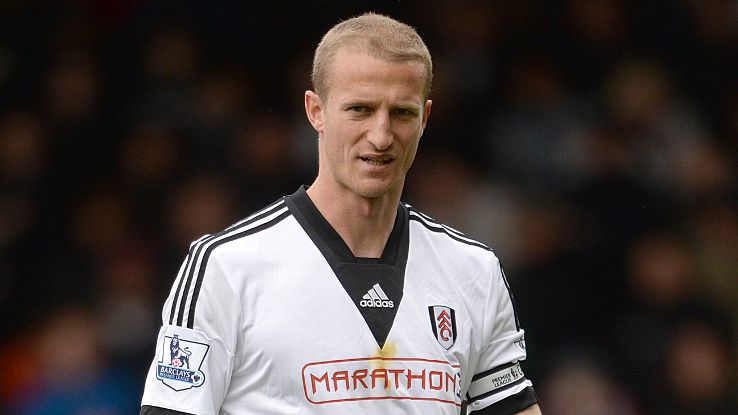 Midfield: Esteban Cambiasso
There's a case for Esteban Cambiasso to be considered the most underrated player of his generation.
In a position that is generally not given too many headlines, the Argentinean spoiler has been a dogged presence at the base of Inter's midfield for a decade, and it was perhaps surprising that he was allowed to leave at the end of the season, with plenty of life left in the 33-year-old yet.
He has been linked with a move to join his countryman Mauricio Pochettino at Tottenham, which would seem to be an ideal fit, given that in the absence of Sandro, Spurs lacked a genuine tackler in midfield last season.
Midfield: Frank Lampard
Obviously, the suggestions are that Frank Lampard will confirm a move to the newly-formed New York City in due course, probably spending some of next season playing on loan at their affiliate club Melbourne City (formerly Melbourne Heart).
However, at the time of writing nothing has been confirmed, so there might still be time for another club to swoop and offer him a role a little closer to home.
While Lampard would of course cost a fair whack in wages, one of the many plus-points to having him around is his adaptability, both in terms of his positional play -- dropping into a deeper midfield role for Chelsea last season -- but also his role in a team as a player, a quasi-coach and someone who can teach some youngsters a thing or two about midfield play.
Midfield: Matthew Etherington
Perhaps a victim of a change of manager more than anything else, Etherington was a regular at Stoke under Tony Pulis, but only featured 11 times after Mark Hughes took charge last season.
"I am 32," he said after his release. "I don't expect my career to be stopping, I am pretty confident of getting a club soon. If I'm lucky I have three or four years left. I might even go abroad, we will have to see what happens, but it is something I would look into."
Etherington won't trouble the left wings of any title contenders, but he would be a perfectly decent, cheap and experienced option for a side aiming for Premier League survival.
Forward: Didier Drogba
He's still got it, has Didier Drogba. Not every time he plays, not consistently, and the glory days of 2009-10 when he scored 29 league goals are gone, but every now and then he provides a little reminder of what made him so brilliant.
After leaving Galatasaray at the end of the season, he's a free agent. There has been talk of a return to Chelsea in a player-coach capacity, and a reunion with Jose Mourinho certainly makes sense.
However, one wonders what Drogba might do if he was given another chance to be the main man for another year, to spearhead an attack, perhaps with some other younger forwards. There's still time and other Premier League clubs ...
Forward: Samuel Eto'o
Jose Mourinho might not be sure how old he is, but while Samuel Eto'o perhaps wasn't the striker Chelsea needed last season, his record was actually perfectly respectable.
He scored 12 goals in 23 starts in all competitions, meaning that at 33 he is still at worst an above-average top-level forward.
The one danger might be if Eto'o is signed by a club with few other strong characters, where he is allowed to dictate to a damaging degree, as he did at the World Cup for Cameroon and perhaps to a slightly lesser extent at Anzhi.
Still, if he is managed correctly, Eto'o is still a valuable asset.
Forward: Nicklas Bendtner
Stop laughing at the back!
One wonders what would have become of Nicklas Bendtner if it wasn't for his colossal ego, because there's a perfectly decent striker lurking in there somewhere. Somewhere.
Given the right set of circumstances, with the right manager and the right teammates, he could be a good Premier League forward, although that is admittedly something of a long shot.
Still, one does wonder about his state of mind if Bendtner really did think he was part of the World Cup ...
Fantastic to be a part of the World Cup in Brazil. great memories. #WC2014Brasil

- Nicklas Bendtner (@bendtnerb52) July 14, 2014