With the summer transfer window now open, join us for the latest updates from across Europe.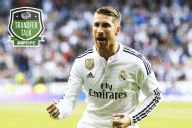 TOP STORY: Pogba not Barca-bound yet...
The Paul Pogba plot thickens -- La Gazzetta dello Sport reports that Juventus have rejected an €80 million Barcelona bid for the French midfielder.
Juve's CEO Giuseppe Marotta is quoted as saying: "Yes, we received an offer of €80 million. But I can confirm Pogba was not sold."
This rebuttal came in direct response to earlier reports in the Spanish...