With the summer transfer window now open, join us for the latest updates from across Europe.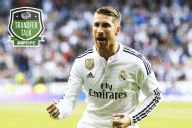 Find all completed transfers here if you're looking to catch up with the latest deals.
TOP STORY: Pogba not Barca-bound yet...
The Paul Pogba plot thickens -- La Gazzetta dello Sport reports that Juventus have rejected an €80 million Barcelona bid for the French midfielder.
Juve's CEO Giuseppe Marotta is quoted as saying: "Yes, we received an offer of €80 million. But I can confirm...