ESPN FC's Halloween XI: Spooky selection of Premier League stars
"Darkness falls across the land. The midnight hour is close at hand ..."
That's right -- it's that time of year again. Halloween is a time when the temperature is dropping, the nights are drawing in, and the barrier between our world and the realm of ghosts and spirits is at its thinnest.
To mark the spookiest day of the year, the Toe Poke has assembled its annual terrifying team of Premier League stars.
Fear these petrifying puns on the names of players who are spending Oct. 31 in England for the first time.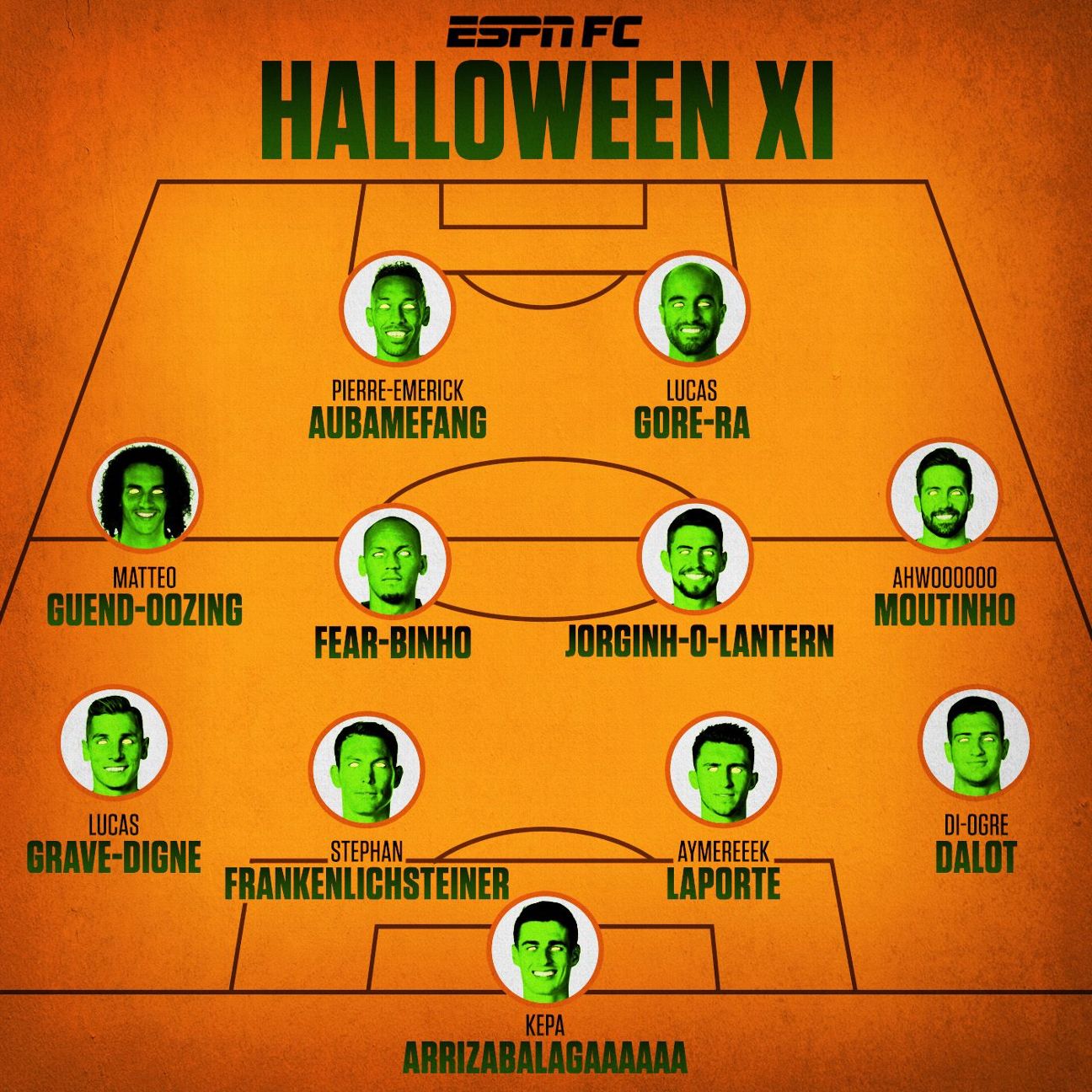 Kepa Arrizabalagaaaaaa
As if the lurid green kit weren't off-putting enough, strikers beware the fearsome wail of Chelsea's ghoulish goalkeeper.
Lucas Grave-Digne
Never happier than when he's ploughing down the left flank and into space (where no one can hear you scream).
Stephan Frankenlichsteiner
Arsenal's grizzled, veteran full-back is so old, he is held together by nuts and bolts.
Aymereeek Laporte
The Manchester City defender is certainly a frightful sight for any opposing forward.
Di-ogre Dalot
He might be young, but Manchester United look like they've signed a monster of a defender.
Matteo Guend-oozing
He might be oozing class, or he might be oozing mysterious ectoplasm. Either way, he's definitely oozing something.
Fear-binho
The Brazilian midfielder has given opponents another reason to be afraid -- very afraid -- when they arrive at Anfield.
Jorginh-o-lantern
Chelsea's midfield maestro slices through the opposition with his eerily accurate passing as easily as a knife through a Halloween pumpkin.
Ahwoooooo Moutinho
The Portuguese playmaker might have asked "Where? Wolves?" when the bid from Molineux came, but he left Manchester United fans howling with his late equaliser.
Pierre-Emerick Aubame-fang
The Arsenal man has wasted little time sinking his teeth into defenders as he feasts on goals, goals, goals.
Lucas Gore-ra
The Tottenham winger has left many a quivering defence with twisted blood after one of his diabolical dribbling runs.
Graphics created by Aurelien Huet