Ronaldo's bust, social media transfer unveilings lead best of the Toe Poke in 2017
1. Bale, Modric, Ronaldo dumbstruck by lack of trophy
It seems a long time ago now but Real Madrid sealed the 2016-17 La Liga title on the very last day of the season, winning against Malaga to pip rivals Barcelona to the summit by three points.
Of course, securing a first championship in five years sparked delirious celebrations on the pitch at La Rosaleda, right up until the moment the Real players realised they had no trophy to actually celebrate with.
Genial las caras de Modric y Bale cuando se enteran de que el trofeo de @laliga no se entrega hasta el año que viene 😂😂Puro @ElDiaDespues pic.twitter.com/A97HH2vE1t

— Ricardo Sierra (@Rsierraplus) May 22, 2017
Spanish television show "El Dia Despues" caught Gareth Bale and Luka Modric looking completely dumbstruck when Real's press officer informed them that the trophy would be officially presented in several months' time.
Bale then broke the news to Cristiano Ronaldo who replied, rather curtly: "It's a f---ing joke."
Can't really blame him for the expletive given the circumstances.
2. Zlatan's grand return
When Zlatan Ibrahimovic succumbed to a nasty knee injury at the tail end of last season, it looked like his adventure with Manchester United was over.
Indeed, the club released him shortly thereafter but, as the weeks passed, rumours began to circulate that a grand return to Old Trafford might just be in the pipeline.
Zlatan first tipped off fans with an Instagram workout video of his re-stitched ligaments being rigorously tested during a gym session at the end of which he announced that the "king of football" was close to a return.
I UNITED it @ManUtd pic.twitter.com/2rgvuvoT0m

— Zlatan Ibrahimović (@Ibra_official) August 24, 2017
The following month came the announcement that almost everybody was expecting by that point: Zlatan was coming back to United, with a fresh short-term deal successfully negotiated.
As ever, the Swedish striker chose to break the news with all the humility we've come to expect from him over the years.
3. Ronaldo's bust
No recap of 2017's footballing miscellany would be complete without a doff of the cap to the truly spectacular artistic handiwork of one Emanuel Santos.
Santos, of course, was the Portuguese sculptor tasked with making a bronze bust of Cristiano Ronaldo to go on show outside the Madeira International Airport -- a tribute to the island's most famous son.
The statue was immediately pilloried by all and sundry, with social media users suggesting the likes of Niall Quinn and Brock Lesnar as more suitable lookalikes.
Costa, however, remained undeterred by the criticism his work provoked, telling Globo: "This is a matter of taste. Even Jesus did not please everybody."
4. Ronaldo Jr. scores CR7-style free kick
In a year that has seen Cristiano Ronaldo welcome yet another sprog into his ever-growing brood, his first-born son, Cristiano Ronaldo Jr., showed that he's ready to follow his father into the football world.
Back in April, doting Dad proudly shared a video of the then six-year-old dispatching a powerful free kick from range during a youth game.
On this evidence, the apple really hasn't fallen from the tree.
5. Messi lookalike
Reza Parastesh is an Iranian gentleman who had a big year simply by looking virtually identical to Lionel Messi.
Indeed, he looks so much like Messi that he even had to be detained by the police at one point. Yes, you read that correctly.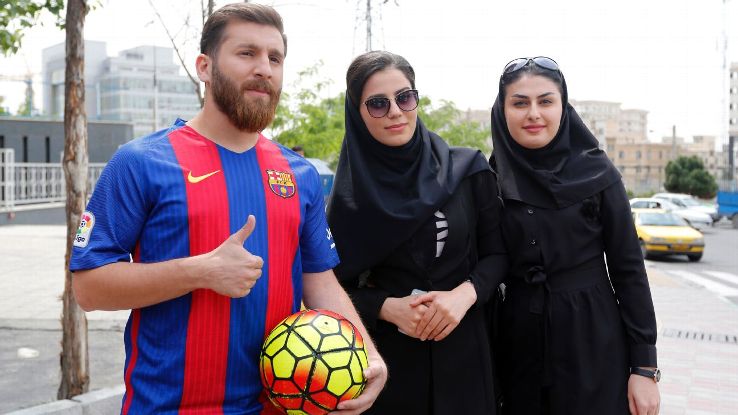 Officers in the city of Hamaden brought Reza to their station and even impounded his car because of the commotion he was causing due to people mistaking him for the Barcelona superstar.
Apparently so many selfie-hunting fans were crowding around the doppelganger, stopping him and asking him for photographs that it began to genuinely disturb the peace.
It shouldn't come as a surprise that Reza is now working as a professional Messi look-a-like, though we're informed that, unfortunately, his football skills still remain some way short of the real thing.
6. Open Goal Miss of the Year
As always, we've seen some stinkers this calendar year when it comes to opportunities being spurned directly in front of entirely open goals.
However, one looms larger in the memory than most so it's only fair that we should all laugh at Harkemase Boys midfielder Dennis van Duinen one more time.
#if #anything #Clive #he #almost #hit #that #too #well pic.twitter.com/BuySSH45bO

— Adam Hurrey (@FootballCliches) October 8, 2017
Clean through, goal gaping, zero pressure, over the crossbar. Phenomenal.
Just to make matters several times worse, Harkemase went on to lose the game 3-2, with the winner coming in the 95th minute.
7. African player thanks wife and girlfriend
The "Biggest Post-Match Gaffe of the Year" honours for 2017 belong to one man and one man only: Ghanaian striker Mohammed Anas.
Back in March, Anas scored twice in Free State Stars' 2-2 draw against Ajax Cape Town and as such landed the Man of the Match award.
Unfortunately, he forgot to engage his brain while receiving the trophy live on air after the final whistle, thanking both his wife and his girlfriend during his acceptance speech.
Anas first attempted to rectify the situation by claiming that his wife and his girlfriend are in fact the same person, before later telling CNN that his "girlfriend" is actually the pet name he gives to his young daughter.
Nice (double) save.
8. Carrick's name misspelled at own testimonial
Manchester United gave stalwart midfielder Michael Carrick a testimonial in June which saw the club's 2008 Champions League-winning side reconvene for the occasion.
However, the match didn't get off to the best start after it was noticed that United had somehow managed to spell the long-serving veteran's name incorrectly on the official team sheet.
United expecting nearly 70,000 for Carrick's testimonial. Wayne Rooney starting. Could be his last game at Old Trafford. pic.twitter.com/HCCj79yt54

— Rob Dawson (@RobDawsonESPN) June 4, 2017
Lining up alongside Ryan Giggs, Paul Scholes and Wayne Rooney at Old Trafford, a certain "Michael Carrtick" began the match as captain.
Just to rub it in, Graeme Carrick, Michael's younger brother, had his name spelled perfectly correctly after being included among the substitutes.
Over a decade of loyal service and that's all the thanks you get!
9. Worst dive of the year
Pretty unanimous, this one.
We probably should point out that this fiendish flop actually took place during a charity match, so is quite possibly more than a little tongue-in-cheek, but still...
10. Transfer unveiling videos
While the craze has seemingly already come and gone, let it be known that for a brief moment in the summer of 2017, the massively elaborate social media transfer unveiling video was king.
During the off-season, clubs around the world were suddenly falling over themselves to find new and increasingly well-produced ways to reveal their new signings to fans online.
Aston Villa created a clever WhatsApp conversation to welcome John Terry, Manchester United put Paul "Agent P" Pogba to work and Chelsea stashed Antonio Rudiger in a storeroom inside their club shop,
But for our money, Sevilla produced the finest of the bunch by staging a full, movie-quality "kidnapping" to announce Jesus Navas' return to the Ramon Sanchez Pizjuan
Chris covers the funny side of the game for ESPN FC in the Toe Poke blog.