Neymar: I'd rather have Lionel Messi's left foot than Cristiano Ronaldo's right
While he's arguably doing alright for himself using the two legs he was born with, Neymar has admitted that there is one limb out there that he wouldn't mind swapping his own out for.
Speaking during a light-hearted Q&A session with UOL's Mauro Beting, the Barcelona star was asked which body part he'd prefer to pilfer from his La Liga contemporaries.
"I'd take Lionel Messi's left foot, with all due respect to Cristiano Ronaldo, because my right foot is pretty handy too," Neymar said.
Among other things, we also learned that Neymar finds defenders more annoying than journalists and that he prefers beating Real Madrid to the thought of beating Manchester City.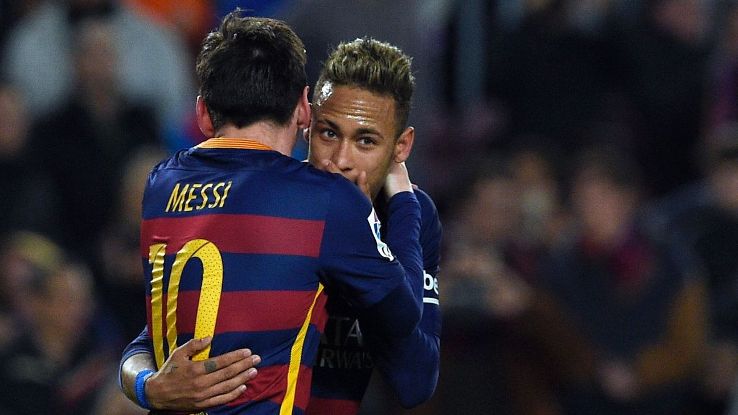 The Brazilian striker was also asked to choose between Pele and his buddy Messi in the all-time great stakes. His answer was non-decisively statesmanlike.
"Unfortunately I never saw Pele play," the 24-year-old replied. "What I know of him is through my grandfather, my dad's dad, who used to talk to me and tell me about how he played.
"It's a difficult question for me, because I've seen Messi play and have had the chance to play alongside him. They're both geniuses, though."
Fair enough, we suppose.