Liverpool dig deep, show fighting spirit once again to keep Premier League title hopes alive
It was Vince Lombardi, the legendary Green Bay Packers coach, who claimed that his team didn't lose, but merely ran out of time. Lombardi would have enjoyed watching Jurgen Klopp's Liverpool -- the team that is doing its best to prove that it can always beat the clock.
After 37 Premier League games, the clock is ticking on Liverpool's title bid. Saturday's 3-2 victory at Newcastle, secured with yet another late winner by Divock Origi, means they have just 90 minutes left to wrestle the Premier League trophy from Manchester City, who can reclaim top spot with a win at home to Leicester City on Monday.
-- Liverpool ratings: Origi, Robertson rescue Liverpool's title hopes
But this has been such a remarkable season for the Anfield club that nobody can argue with any conviction that they won't beat the clock again next Sunday by somehow winning the title on the final day of the season at home to Wolves.
This Liverpool team is blessed with many qualities -- strength in every department, desire, energy, clinical forwards -- but their resolve in the face of adversity and ability to fight until the end are the reasons why they are still locked in the fight with City at this late stage of the season.
Liverpool might have to overturn a 3-0 Champions League semifinal deficit against Barcelona on Tuesday without Mohamed Salah and Roberto Firmino; but if anyone still doubts the ability of Klopp's team to beat the odds and come up with a result, this dramatic late win at Newcastle must surely have convinced even the most sceptical observer that this side is capable of anything.
"In our situation, people were maybe expecting us to show nerves, but we didn't," Klopp said.
"To run so many kilometres in Barcelona and then come to Newcastle, for what is not a friendly game, with all the long balls and chaos from [Salomon] Rondon, means you have to do it with legs, and that makes it even more intense. We showed real heart and passion."
Right now, it has to be hope rather than expectation that Liverpool will finish the campaign with silverware.
In the Premier League, City know they will retain the title if they win their final two games against Leicester and Brighton, regardless of what Liverpool do against Wolves.
But Leicester are a dangerous opponent, and any manager will tell you that, at this stage of a season, games in hand are only more valuable than points on the board if you actually win them.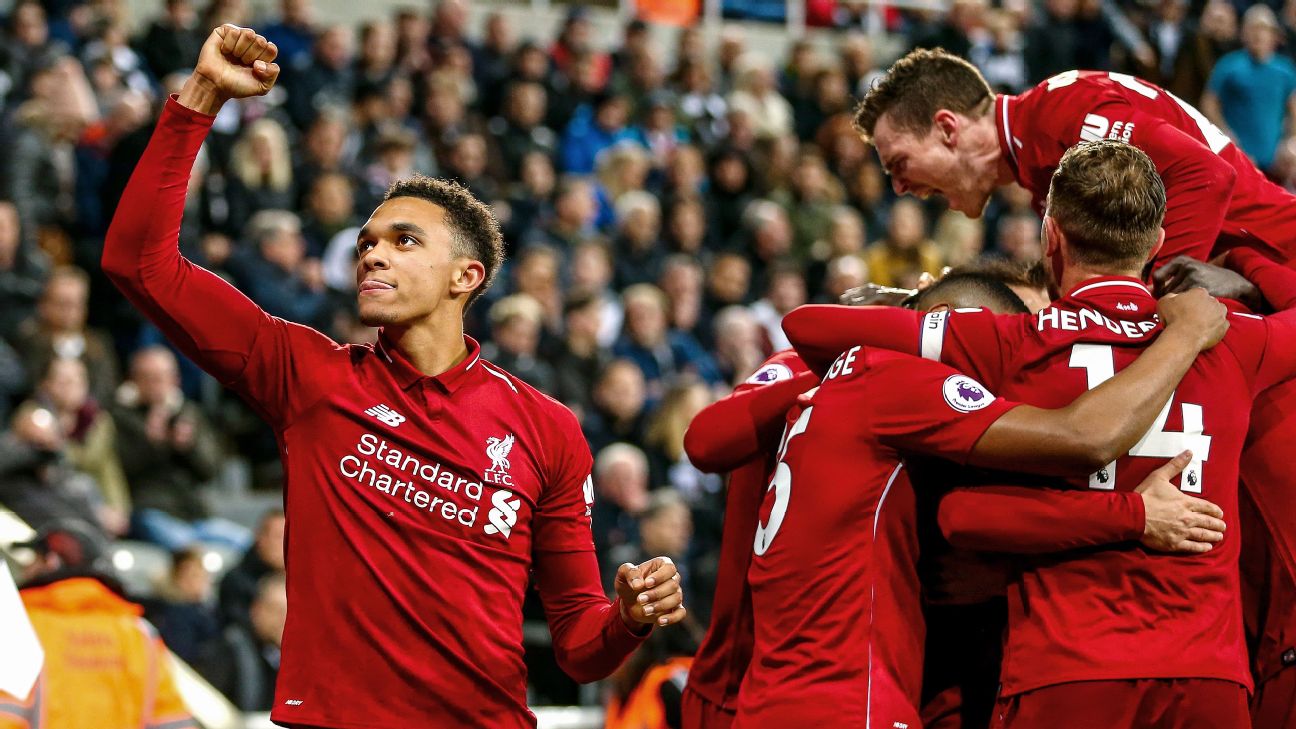 As for the Champions League, overturning a 3-0 deficit against Barcelona is a mountain to climb for anybody, but after seeing Salah carried off following a blow to the head after a collision with Newcastle goalkeeper Martin Dubravka, Liverpool might have to do it without their Egyptian star.
"[Salah] got hit off the goalie's hip on his head and we had to make a decision, on or off the pitch," Klopp said. "But he was sitting watching the game in the dressing room.
"We have to wait [before knowing if he will face Barcelona], but Firmino won't be ready."
Klopp added that Firmino, sidelined with a muscular injury, is unlikely to be fit to face Wolves next Sunday either, so Liverpool are entering what could be the final week of a remarkable season -- they will continue until June 1 if they can book a place in the Champions League final -- with plenty of bumps and bruises.
But they are hardly limping to the finishing line. Origi, who scored a crucial stoppage-time winner against Everton in December, ensured that they will fight on for the title by heading in Xherdan Shaqiri's 86th-minute free kick at St James' Park.
Liverpool had previously twice conceded the lead, with goals from Virgil van Dijk and Salah cancelled out by Christian Atsu and Rondon, respectively. Rafael Benitez looked on course to deliver the hammer blow to his old team's title ambitions that many Liverpool fans feared, but unlikely hero Origi was in the right place at the right time once again.
"When the free kick came in, I was just trying to flick it on, give it a light touch," Origi said. "It was a good centre by Shaq [Shaqiri], and in the end, it went in, so I'm super happy for the team.
"Today was a big fight; we knew that beforehand. It wasn't easy, but in the end, we showed our fighting spirit and got the three points."
So, Liverpool fight on, and they have taken the race to the very last game of the season. They might yet start the final day on top, if Leicester can avoid defeat at the Etihad. But no matter how it all plays out, nobody can suggest that Klopp and his players have lost their nerve in the final straight.
"We have done everything," Klopp said. "We cannot do more. Whoever wins the league, it will be destiny."