Man City prove they're too good to let title slip from their grasp by outclassing United
MANCHESTER, England -- Manchester City have played 27 games in 2019, and walked off the pitch as winners after 25 of them. They have not fallen behind in a Premier League fixture since the end of January and they are on course to end the season with 98 points.
Yet most of the talk in this title race has centred on the unbreakable spirit of Liverpool.
City, perhaps because they set the bar so high last season by amassing 100 points, have found themselves slipping under the radar due to the drama and romance of Liverpool's bid to win their first championship since 1990. Liverpool have grabbed the sporting world's attention with their last-gasp winners and majestic goals from the likes of Mohamed Salah and Sadio Mane, while City have, more prosaically, been relentlessly taking care of business.
Yet after reclaiming the top spot and taking a firm grip of their destiny with a 2-0 win at Manchester United on Wednesday -- a victory that ensures they will retain the title by winning their three remaining games against Burnley, Leicester and Brighton -- it is perhaps time to celebrate the incredible quality of Pep Guardiola's team. Perhaps it would be premature to herald them as champions, because misfortune could still strike during their remaining games, but few would expect City to stumble now and it is unlikely that many Liverpool supporters believe their rivals' march to the title will falter sufficiently for the Premier League trophy to head instead to Anfield.
City might not tug at the heart strings of the neutrals as Liverpool have done, but Guardiola's team deserve due credit for their ability to keep pace with Jurgen Klopp's side, having been seven points behind on New Year's Day, and move ahead of them with the win at Old Trafford. They have become a machine. During the 11-game winning run in the league that has kept City on Liverpool's heels, City have conceded just three goals and scored 26.
From back to front, they are formidable.
In goal, Ederson gives his defenders immense confidence by coming for every aerial ball in the penalty area, and usually catching it. Aymeric Laporte, most City watchers will tell you, has been majestic at centre-half and every bit as impressive as Virgil van Dijk, who signed for Liverpool 18 months ago after Guardiola decided that €75 million was too much for the Dutch defender. Fernandinho remains crucial in midfield, with the 33-year-old providing the grit that enables the likes of David Silva, Bernardo Silva, Raheem Sterling and Kevin De Bruyne to make their contributions in the attacking third. And Sergio Aguero has once again delivered goals up front, especially in the bigger games when it matters most.
Collectively, City are every bit the sum of their parts, and more.
In contrast, Wednesday's opponents United are an expensively assembled team of individuals and it would be impossible to suggest that any of Ole Gunnar Solskjaer's players would make it into Guardiola's side. Paul Pogba has the talent, but his work rate would not be good enough for Guardiola. Marcus Rashford is perhaps the one United player who could rise to City's level, but he wouldn't shift Aguero.
---
- Man City Player Ratings: Bernardo 9/10 as City go top
- Man United Player Ratings: De Gea 4/10 in derby defeat
- Man United Keep or dump: Who should stay? Who should go?
---
"There is a difference in quality," Solskjaer said when asked about the gulf between the two sides. "That is why they are top and we are where we are. They have set the standard.
"Living in Manchester, we cannot be happy with that. It is up to us to close that gap and overtake them."
The same applies to the rest, though. Liverpool have so far matched City step for step, and they can reclaim the top spot by beating relegated Huddersfield at Anfield on Friday before City visit Burnley on Saturday, but Klopp's team have been pushed to the limit and strained every sinew to stay alive in the title race.
City have coasted through most of their 11-game streak, which included a 6-0 rout of Chelsea, and given the impression that they have been holding something back. It was the same against United, where they could have emerged with a much bigger winning margin than that given by goals from Bernardo Silva and Leroy Sane.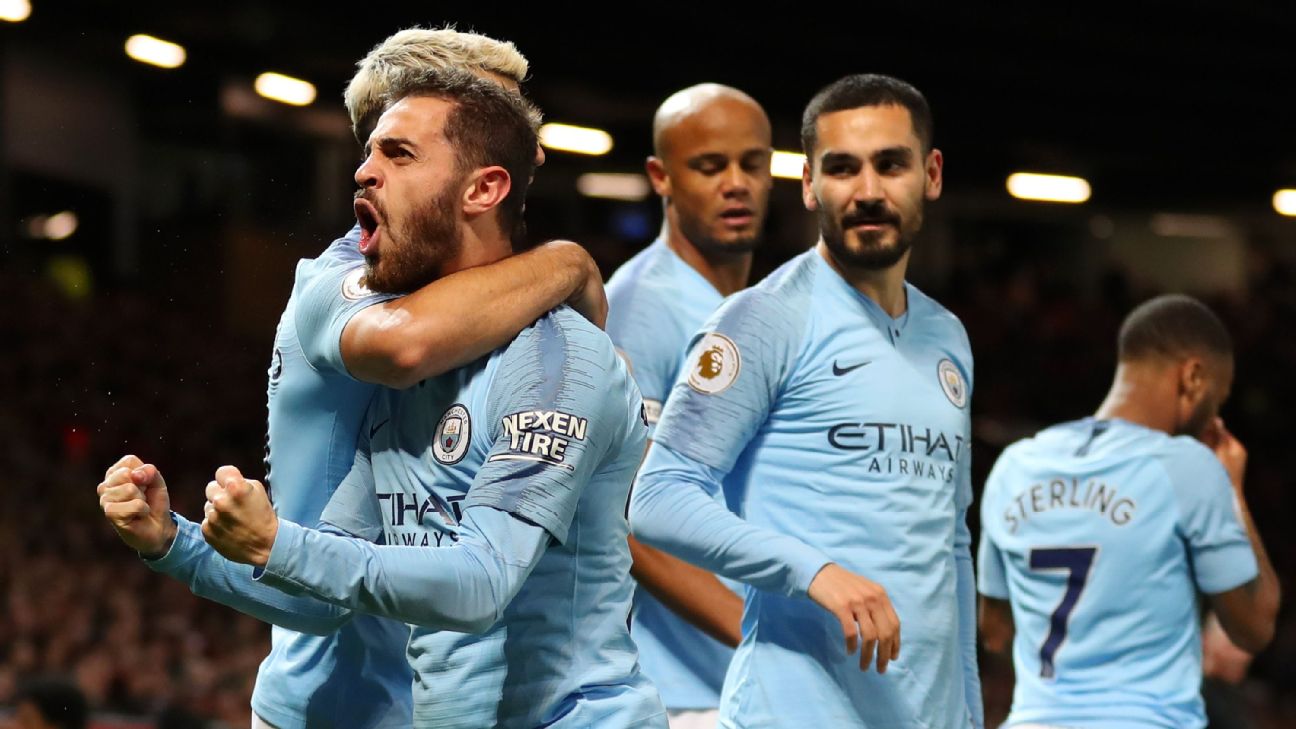 But because they were so good last season, winning the title with a 19-point lead over their closest challengers, their involvement in a tight title race this time around lends itself to the suggestion that City have regressed. The reality is that they have stepped up another level in order to hold off a formidable rival.
"We increased the level for the Premier League last season with 100 points," Guardiola said. "That's the level.
"Liverpool are chasing and what they have done is incredible. They are not going to drop too many points, but it's in our hands.
"It's incredible what our players have done. They have my massive respect for what they achieved this season. Manchester City has to be so proud of these players."
The title isn't in the bag just yet, but they can start to put the blue ribbons on the trophy. This City team is simply too good, too clinical, too ruthless to make a mess of everything now.