Liverpool winning with style, joy as important as the three points vs. Watford
LIVERPOOL. England -- There was no hiding Jurgen Klopp's emotions after Liverpool beat Watford 5-0 at Anfield to put the brakes on their recent title wobble. The German strode out toward The Kop, clenched his fist and celebrated as though the Premier League trophy had just been dressed in red ribbons.
There is plenty of work to be done before that happens. Liverpool remain a point clear of Manchester City at the top of the table after this win -- City kept pace with a 1-0 home win against West Ham -- and both teams have 30 points to play for over the final 10 games of the campaign.
But there are times when the manner of the performance is as important as the result, and Liverpool answered some questions and silenced plenty of doubters with this one.
"The boys showed how much they enjoyed the game and the situation," Klopp said. "It was such an important sign after what was said and written about us -- one-dimensional, only one way to play and all those things.
"It is not like this, and today we showed how smart and intelligent we are. We want to play like this, use our power and our skills. That's how it is."
There will be twists and turns -- Liverpool will hope there are no slips -- but after a run of three draws in their past four league games, Klopp's team blew away the title tension and restored belief and hope of a first championship since 1990 by recording their biggest win of the season against Javi Gracia's Hornets.
Watford went into this game in seventh position, the best of the rest outside the top six, yet they were swatted aside by a rampant Liverpool who never looked back after opening the scoring through Sadio Mane's ninth-minute header.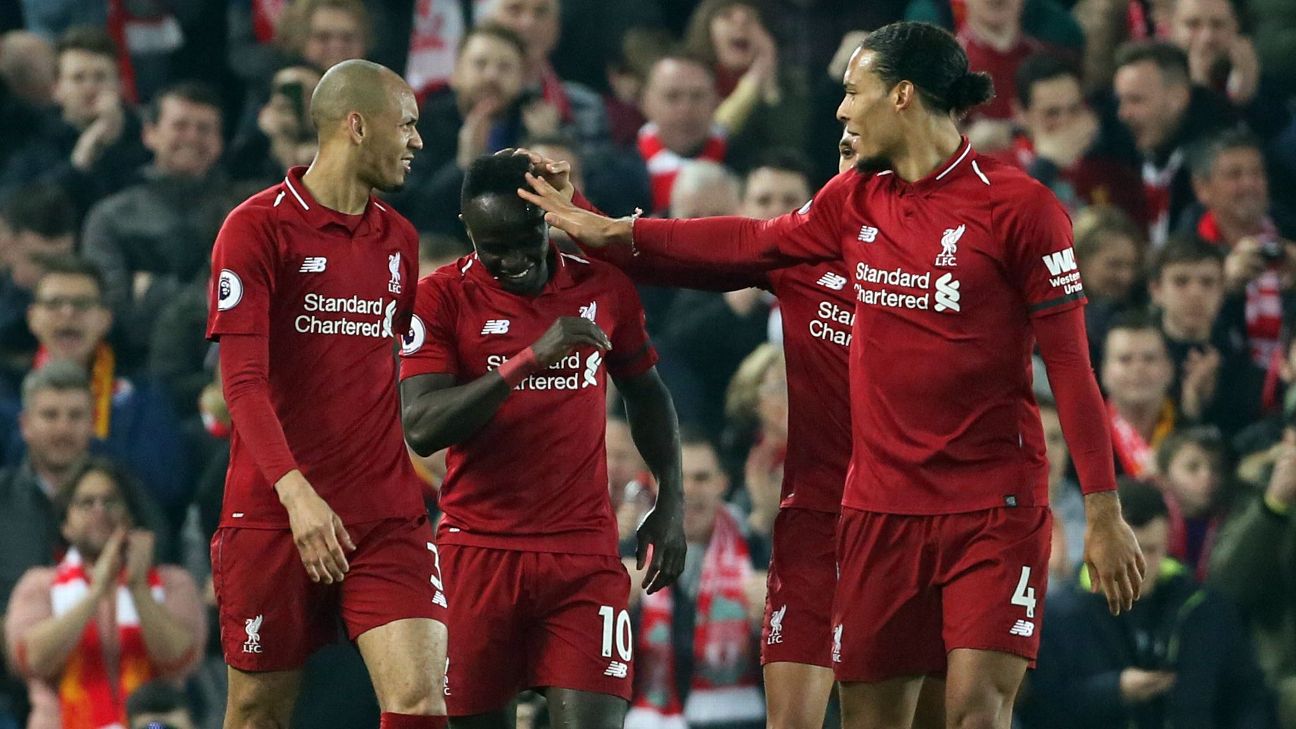 It could have been a nervous 90 minutes for the home fans, with Watford a dangerous opponent, but the manner of Liverpool's victory was crucial in the sense of ending their recent poor run and laying a blueprint for the run-in.
Games against the so-called "lesser teams" are always a hazard during the final weeks of a season, and with eight of their final 10 games due to be against sides outside the top six (including fixtures against the current bottom four), Liverpool's run-in could be regarded as a daunting obstacle course strewn with plenty of hidden dangers.
But against Watford, they set the benchmark for what they must do against the likes of Cardiff, Huddersfield, Fulham and Everton in the coming weeks: Don't allow the opposition to get a foothold in the game, knock them over early, and be ruthless when it comes to finishing them off.
- Liverpool ratings: Mane 9/10 in Liverpool's biggest win of season
So far this season, Liverpool have dropped just four points in games against teams outside the top six. Those draws, against Leicester City and West Ham United, came at the start of the recent run of three draws in four games and raised questions about Liverpool's ability to roll over those opponents who will do everything possible to keep it tight and suffocate the game.
Watford could have been another Leicester or West Ham, especially with Liverpool's confidence and energy levels drained by Sunday's dismal 0-0 draw with Manchester United at Old Trafford.
Gracia's team had also had an extra two days of rest after winning at Cardiff last Friday. Liverpool, though, overcame all the negativity and did what they had to do in emphatic fashion, dominating midfield, breaking with pace and purpose, and scoring almost at will.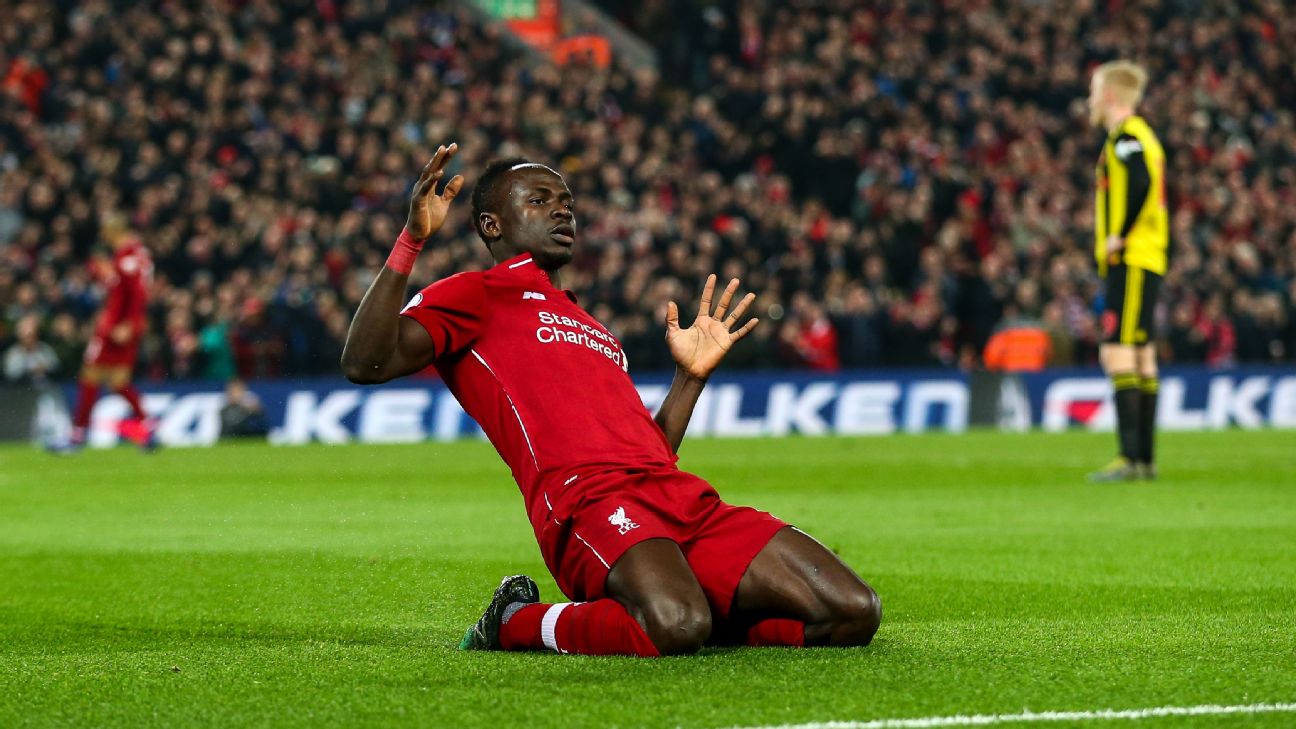 Mane's two goals -- both created by Trent Alexander-Arnold -- inside the opening 19 minutes set the tone for the game, with Divock Origi making it 3-0 on 66 minutes before two Virgil van Dijk headers pushed the lead to 5-0.
Thirty-five miles away, City were labouring to a 1-0 win against West Ham, thanks to a Sergio Aguero second-half penalty, but ultimately, the two title-chasers ended the night with the all-important three points.
Winning ugly is as important as winning with style in a title run-in, but Liverpool really needed to win with style after their recent run, and they accomplished that and more vs. Watford.
With only Tottenham and Chelsea to play from within the top six -- both at home -- the signs are pointing to a Liverpool title if they can treat the rest of their opponents with the same clinical fashion with which they dealt with Watford.
As for the pressure, Klopp insists that that is being felt only by those outside the club.
"I am not aware of the noise from outside," he said. "I realise from the press conferences how the mood is because journalists in Liverpool are quite passionate, and I can see the mood from their eyes.
"But we have played a really good season. Let's enjoy it and enjoy the ride as far as it takes us."