Pochettino's rage at ref was Tottenham's title woes at Burnley personified
BURNLEY, England -- All of the pressure, all of the expectation he had heaped upon this game, overwhelmed Mauricio Pochettino for a telling minute. He had described Tottenham's visit to Turf Moor as a "cup final" and now, having lost, the emotions spilled over.
As the teams left the pitch after Burnley beat Spurs 2-1, he marched up to referee Mike Dean -- who had awarded a debatable corner for the hosts' first goal but in truth played a minor role in the outcome -- and confronted him head-on. His face inches from Dean's, fingers jabbing, Pochettino said his piece before being ushered away by Burnley defender Phil Bardsley. As verbal broadsides go, it was entirely out of character -- but then Spurs' performance had been, too, and Pochettino knew exactly what that meant.
What a missed opportunity this was. On the face of things, a Saturday lunchtime in Lancashire looked the perfect assignment for Tottenham. This should have been an afternoon in which they got their job done efficiently and quietly, announcing themselves emphatically as protagonists in a three-way title race while the spotlight shone on Sunday's heavyweight clashes at Old Trafford and Wembley. But they fell short and it is hard not to think that, come May, Turf Moor will be pinpointed as the venue at which their dreams of winning the Premier League unravelled.
By the time he emerged for his postmatch news conference, Pochettino had calmed down. He knew his full-time outburst had been a spate of referred anger: frustration at his own mistakes and those of his team, the bursting of a bubble when his side could have gained irresistible momentum over the next two-and-a-half months.
"If someone is to blame, it's myself and us," he admitted. "We had in our hands the capacity, the opportunity, to win this game and we didn't. I knew during the week that this game would be key to put pressure on our opponents. We cannot think now that we are contenders. It is a massive opportunity lost for us."
- Ratings: Kane 7/10 on scoring return but Spurs slip up
What went wrong? Tottenham were undone here for two fundamental reasons: One is that they fell well short of their usual fluency and ingenuity; the other is that they encountered a Burnley side that has rediscovered its best dogged, attritional habits and looks once more like the team that used to bloody big-name noses for fun. It is a combination that meant Tottenham never looked convincing -- not even in the spells either side of half-time when they found a degree of passing rhythm, or in the moments after the returning Harry Kane's equaliser when every indication suggested their heads had cleared. That's why they could ultimately only look at themselves in defeat.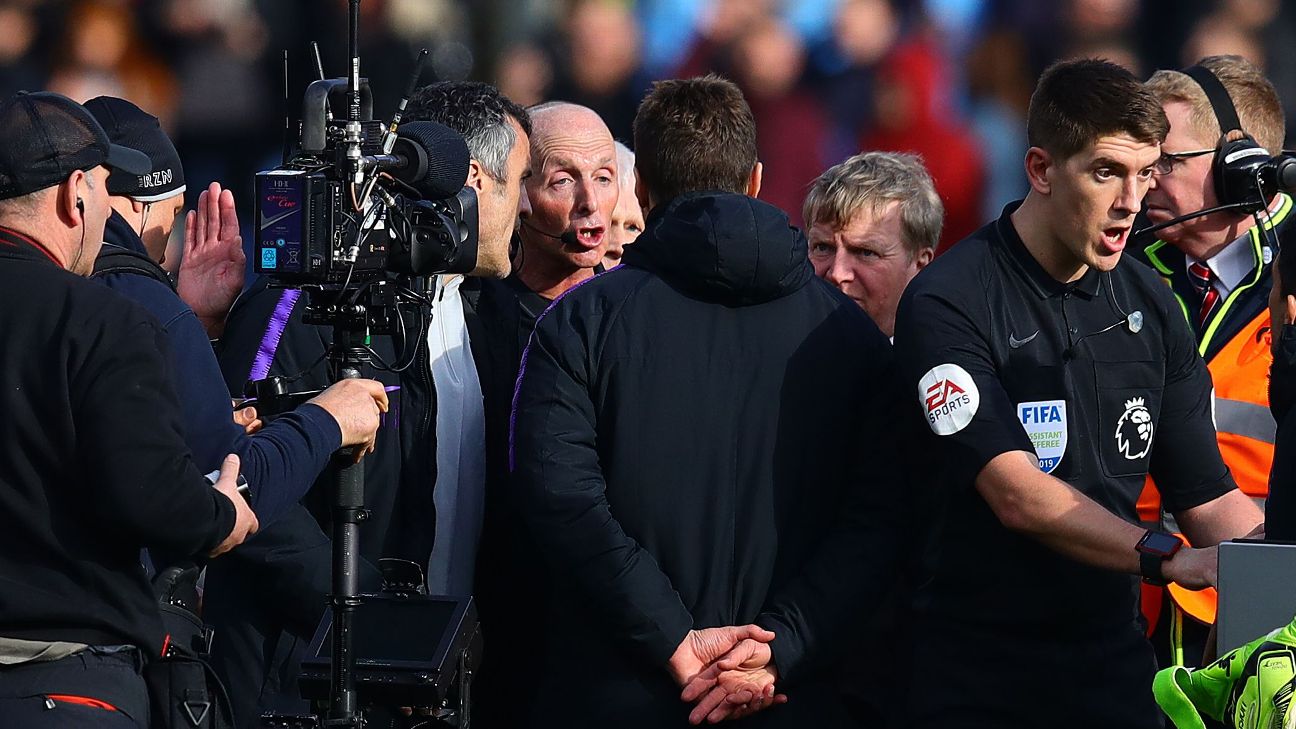 A third factor was that Pochettino's attempts to turn the game worked against him this time. Against Newcastle three weeks ago, he brought on Fernando Llorente for Lucas Moura and saw things turn Spurs' way with a 1-0 win. Here the Spaniard replaced Harry Winks after 62 minutes and, almost instantly, Kane equalised; those facts were not linked, though, and Pochettino made an even bolder move when, with 14 minutes to play, Pochettino introduced Erik Lamela in place of the uncertain Juan Foyth. This was a virtually all-out attack, with Lamela and Son Heung-Min playing as advanced wingers with Christian Eriksen behind the two centre-forwards, but Spurs lost their way badly. It was Burnley who took advantage of the open spaces to look more threatening in the moments before Ashley Barnes scored their winner; Tottenham never looked like finding a way back and the sense lingered that their manager had been too impatient.
"The game was never under control," Pochettino said afterward. That was even more the case after going gung-ho, and it cost Spurs. But Pochettino had a wider point about his team's inability to dictate against a Burnley side that ran, chased, harried, hassled, niggled and threw bodies in front of everything, in all areas of the pitch. Their front two, Barnes and the first goal-scorer Chris Wood, make up for what they lack in nuance with sheer awkwardness; their shape was impeccable off the ball, and it is some achievement for Sean Dyche to, effectively, reset a side that appeared to be plunging toward relegation a mere two months ago when Everton won 5-1 here on Boxing Day.
Pochettino had wanted his side to arrive with the command and swagger of title contenders, but they left feeling battered and bruised. An obvious silver lining was the impact of Kane, whose very presence in the starting lineup after a six-week absence was a measure of the importance placed on this fixture. He has traditionally scored freely after returning from ankle problems but looked particularly sharp this time, almost scoring twice before running on to a quick Danny Rose throw -- Dyche and Burnley were frustrated that he had been allowed to take it several yards up from where the ball went out -- for that leveller. It bodes well for Spurs' future assignments, with Chelsea and Arsenal up in the next seven days, but was ultimately of little help in Lancashire.
"Crossed cables in my mind," was how Pochettino described his set-to with Dean. But loose connections on the pitch were what did the biggest damage here. Tottenham must wait 24 hours to discover just how costly this defeat was but Pochettino knew, and so did everybody else, that whatever else happens this weekend will be cold comfort now.