Atletico spoil Cristiano Ronaldo's return to Madrid, Juve's UCL hopes
MADRID -- "I've got five Champions Leagues, you have none," was Cristiano Ronaldo's icy response as he rushed through Atletico Madrid's Wanda Metropolitano mixed zone Wednesday night, after the former Real Madrid star's return to his old city had gone disastrously for both him and his new team, Juventus.
A rip-roaring second-half display that ranks with any from Diego Simeone's eight years as Atletico coach brought a 2-0 victory, both goals courtesy set pieces from centre-backs Jose Maria Gimenez and Diego Godin. And it is now clear that their focus for this season is on winning the only trophy the Argentine has yet to claim at the club.
Both Juventus and Ronaldo had kept things as low key as possible, with the Portuguese not given any official media duties. There was also a stoic face when he was met with jeers and apparent insults during the warm-up, with his every touch whistled loudly once the game began. Ronaldo's first real intervention came on eight minutes, when he assumed his familiar stance over a 25-yard free kick, then struck the ball accurately and powerfully toward the top corner, only for Atletico goalkeeper Jan Oblak to make one of his customary excellent saves.
The first half was more open than expected, with both teams leaving more space than usual in midfield, but neither creating many clear chances in front of goal. Then came two VAR (video assistant referee) decisions, either side of the break, which seemed to have dealt a big blow to Atletico's chances. First, Diego Costa was sent sprawling by Mattia De Sciglio, and German referee Felix Zwayer pointed to the spot, but the replay showed the contact was outside the box. Then Alvaro Morata -- on for the not-100-percent Costa -- headed powerfully to the net from 6 yards, before the VAR spotted a slight push that his former Juve teammate Giorgio Chiellini made the most of.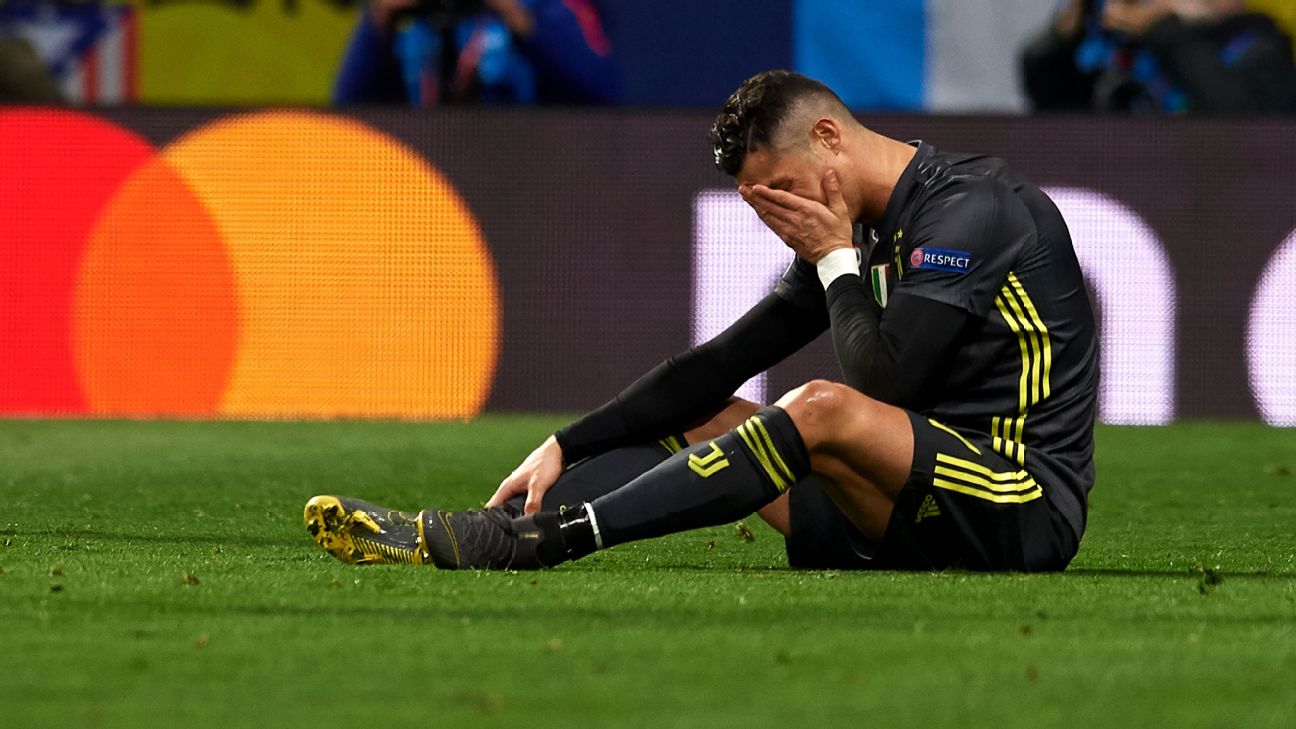 The biggest Ronaldo flashpoint came late in the opening period, when he rolled around dramatically on the turf after being kicked in an ankle by marker Juanfran. There was no sympathy from the stands, as a number of different chants rang out, many of which are unfit for print. Ronaldo himself responded by showing his five fingers to the stadium, a precursor to his mixed-zone comments. Two of those five Champions Leagues, of course, came in the finals with Madrid against Atletico, who the home fans did not need reminding have never won the trophy.
Simeone's side now look to have a great chance of doing so this season, though, if they can keep upping their game as they did in the second half here. The much-maligned Morata was key to the opening goal, out-jumping the entire Juve defence at a corner, with Gimenez reacting quickest to slam home the loose ball. Soon afterward, Wojciech Szczesny came for a free kick but didn't get there, and Godin gleefully guided the ball into the empty net -- via a deflection off Ronaldo's hip.
Up two goals to none and it was game over, and probably tie over too, considering Atletico's defensive record in this competition under Simeone. Although the past few weeks had brought some serious doubts about the Argentine's project, with a limp Copa del Rey exit to Girona and a weak 1-3 derbi defeat to neighbours Real all but ending their La Liga chances.
But this was the old Atletico back to their rugged and implacable best, with two goals from set pieces, both scored by teak-tough Uruguayan centre-backs. There was also some trademark Simeone machismo during his raucous celebration on the sideline. This was the best night by far in the 18 months since the Wanda Metropolitano opened. That this year's Champions League final is back here at the shiny new stadium may be a reason why everyone at the club is quite happy to have just one competition to focus on for the next few months.
"The players are humans," Simeone said afterward when asked to explain where this performance came from. "To keep winning all the time is very difficult. These players represent the feeling which is Atletico Madrid. We will not change, always trying to improve, but in our own way."
The feeling on full time was that Juventus' hopes were already done, with the way their renowned defence crumbled under the pressure in the second half quite shocking. The statisticians soon pointed out that the Bianconeri have never before overturned a 0-2 first-leg defeat in a UEFA tie, from five previous attempts. And also that, under Simeone, Atletico have won a knockout competition first leg on 25 occasions and always gone through.
"We knew they were very dangerous at set pieces," lamented Chiellini afterward, before sounding like he was trying to convince himself they were still in the tie. "We must keep our calm now as we can still do it. We must reset our minds rapidly."
That will be difficult. And that it was Ronaldo who was trying to close down Godin for the second goal, actually deflecting the ball to the net, was a real irony. Juventus pushed themselves to the financial limit to get the 34-year-old to Turin last summer, believing he was the final piece to take them to glory in this competition. Just one goal in six European games this season is not what was expected, even if problems elsewhere in the team were the main issue on this night.
Simeone tried to keep calm too, saying the tie was far from over, and his team would suffer in the second leg in Turin on March 12. On Wednesday, all the pain was felt by Juve, and especially their biggest star, who looks very unlikely now to add to his five Champions League titles this season.