Son Heung-min's play since replacing injured Harry Kane has saved Tottenham's season
Until recently, the absence of Harry Kane prompted a full-on panic from Tottenham Hotspur supporters -- and with good reason.
Spurs' reliance on Kane in terms of goal scoring was obvious, and Mauricio Pochettino's lack of faith in various back-ups over the years -- Roberto Soldado, Vincent Janssen and Fernando Llorente have all struggled when asked to deputise -- meant a Kane injury was considered disastrous. It's still a significant blow ahead of this week's Champions League tie against a hugely impressive, table-topping Borussia Dortmund side at Wembley. But suddenly, it feels like Spurs have hope despite being down their prolific frontman.
The reason they can now cope is simple: Son Heung-min. The South Korean has been a steady and occasionally brilliant performer since arriving at Tottenham three and a half years ago, but over the past couple of months, he's showcased the most consistent form of his career: 10 goals and five assists in his last 11 matches.
Some of those came when playing in the same side as Kane, generally starting from a wider position, but now Son has managed three goals in three games without Kane, acting as Spurs' primary goal-scoring threat. It turns out that Spurs' best Plan B upfront wasn't a bench-warmer asked to step up into the first team, but an existing first-teamer simply playing a different role.
This is a lesson for many other clubs. The desire for a Plan B -- often a taller, more physical alternative to the main centre-forward and capable of providing an aerial threat late on -- is understandable, but it's actually very difficult to sign a designated "alternative" striker. You need to find someone who possesses the requisite quality to play upfront on occasion, but you don't want to break the bank for a mere backup.
Besides, which top-quality player is happy to sign for a new club purely to become a reserve -- shouldn't a player in his prime be more ambitious? With that in mind, maybe you should sign someone who can genuinely rival your existing centre-forward and sometimes play up front -- but what if that completely changes the side's approach in possession?
Then comes the issue of precisely how you integrate a backup properly and get them up to speed tactically. Players require minutes on the pitch to understand their responsibilities, and yet the entire point of a Plan B is that they're not supposed to play much.
This, of course, is the beauty of Son. By using him upfront, Spurs aren't completely changing their default approach; they're not depending on someone unaccustomed to playing in a high-pressing system. Yes, Llorente has featured in recent weeks, particularly when Son was away at the Asian Cup, and his back-to-goal play has occasionally been effective. But it's Son who has led Spurs' goal-scoring threat, meaning the players stepping up into Spurs' first XI have been attacking midfielders, where Pochettino has more depth and more trusted options.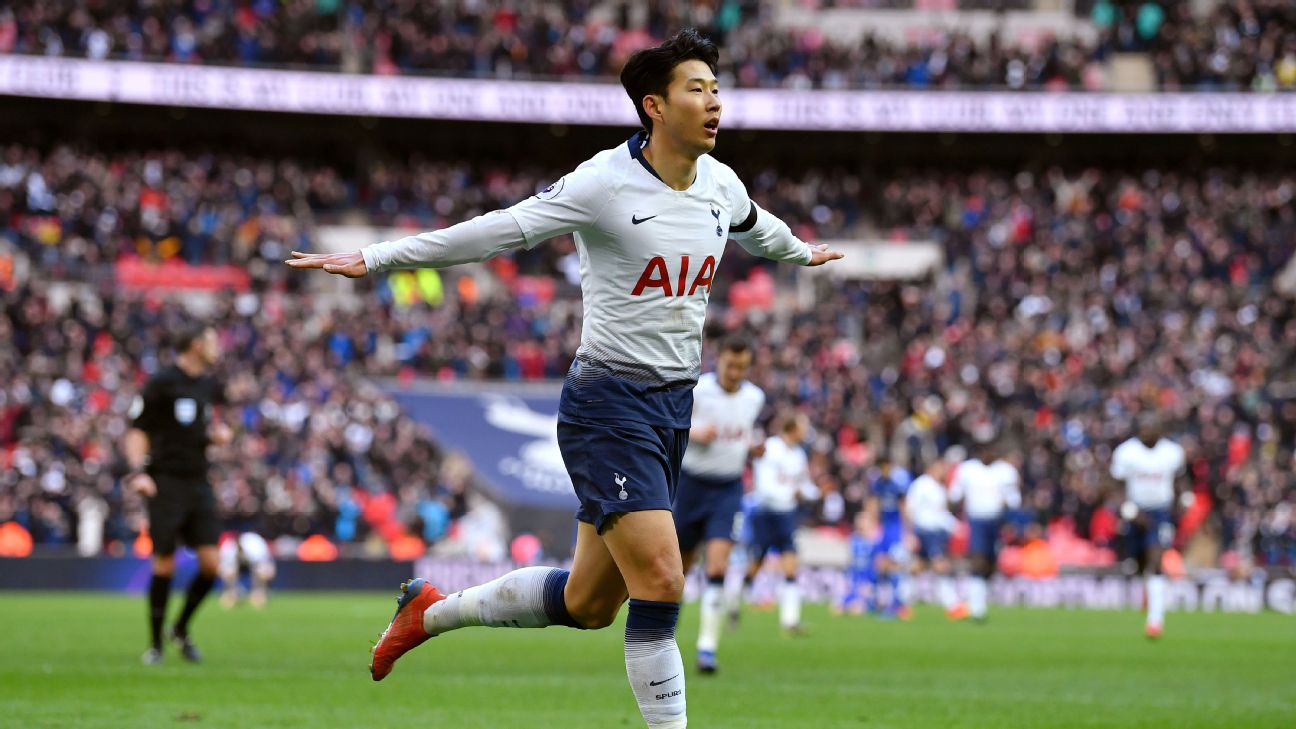 Son's Asian Cup participation is arguably the most impressive aspect of his recent good form. He surprisingly failed to score in three matches against China, Bahrain and Qatar but returned to England swiftly and promptly picked up where he left off. It was Son's second international tournament of the season (not including last summer's World Cup), the South Korean having won the Asian Games back in the fall. So far, it's the only medal of his professional career, but it was a crucial success, as it guarantees his exemption from mandatory military service.
Whereas Kane feels like something of a throwback -- a ruthless penalty-box poacher with a knack for arriving in the right place at the right time to provide a confident finish -- Son is every inch the modern centre-forward: speedy, versatile and tactically intelligent.
Indeed, it's difficult to deduce where Son's optimum position is, partly because he's among the most ambidextrous footballers around. Only Pedro, Sadio Mane and Raheem Sterling are more "balanced" in terms of their attempts at goal this season, and they tend to pull the trigger from closer range, where it's more about composure than technique, where solid contact rather than technical perfection is required. Son is a serious long-range threat with both feet, a rare quality -- although teammates Kane and Christian Eriksen are both handy in that respect as well.
But Son's recent goal-scoring run has come, in part, because he can play up front. Not only is this another string to Son's bow, it's worked out perfectly for Tottenham, who now have two entirely different alternatives to Kane: the sturdy Llorente and the speedy Son. Pochettino has deployed them intelligently. Even when Llorente has erred in front of goal, he's often created space or chances for Son against teams deploying a low block -- Son's equaliser against Watford and his winner against Newcastle both came virtue of Llorente causing a nuisance.
Against Dortmund, though, it will almost certainly be Son alone upfront -- and the German league leaders are his favourite opponents. He's scored eight goals in nine appearances against them. It was a winner for Leverkusen at Dortmund back in 2013-14 that confirmed Son's status as one of the Bundesliga's most dangerous attackers, and he notched both home and away against them in the Champions League last season, causing particular problems in the 3-1 home victory. It seems that Dortmund's high-energy, intense tactics creates fast-paced games that suit Son, and their tendency to push up and leave space in behind means plenty of opportunities for him to race onto through-balls. It's not the type of game that favours Llorente.
It still feels like Son goes slightly under the radar. He's rarely linked with a move to one of Europe's genuine giants, despite being a versatile, creative and increasingly prolific player. He's hard-working, humble and popular with teammates and supporters, too. Maybe this almost counts against Son: There's no controversy, no fallouts, nothing that will prompt frenzied debate about his deployment.
But Son is a genuine superstar, a player who has been crowned Best Footballer in Asia in four of the past five seasons. It's even highly likely that Son will end his career as the greatest Asian player of all time, and if he ends this season with a Champions League medal, there's a good argument he'll have gotten there already.