Man City need Aguero to keep scoring if they want to overtake Liverpool and win the league
MANCHESTER -- Sergio Aguero already defines one Manchester City Premier League title triumph, but the Argentine forward is beginning to display the kind of form for Pep Guardiola's team that suggests he might be about to define another one.
Nothing that Aguero does will ever eclipse the drama of his title-winning goal for Roberto Mancini's City, on the final day of the 2011-12 season, when he scored in the fourth minute of stoppage time against Queens Park Rangers to seal the 3-2 victory which secured the title on goal difference from Manchester United. The 30-year-old has gained two more Premier League winners' medals since that first triumph, yet winning a fourth this season will require perhaps the best goal-scoring run of his career in order for City to overhaul Liverpool and successfully defend the title.
Aguero's hat-trick against Arsenal on Sunday -- he has now scored 10 goals in 12 games against Arsenal -- moved City to within two points of Jurgen Klopp's Liverpool, who can restore their five-point lead with a win at West Ham on Monday. But Aguero's contribution against the Gunners, who slipped to sixth position with Sunday's 3-1 defeat, saw him take his 2019 goals tally to seven in seven games in all competitions.
Guardiola, who has always demanded more than just goals from Aguero, has never been one to heap undue praise on the former Atletico Madrid forward, but even he conceded after the Arsenal game that Aguero is a special talent. "He was born with that talent and he will die with that talent," Guardiola said after Sunday's victory. "Today, he fought and did everything for the team."
Aguero is hitting form at just the right time for Guardiola's team and, City will hope, could go on the kind of scoring streak that Mohamed Salah had for Liverpool in the second half of last season. Twelve months ago, Salah started 2018 like a train and his goals (the Egyptian scored 21 between the beginning of January and the end of May) propelled Liverpool to the Champions League final and earned the former Chelsea forward the honour of being named Footballer of the Year.
Man City have a number of players who are capable of having a Salah-like impact between now and the end of the season, but none are quite so reliable and crucial to the team as Aguero.
There will be plenty of ups and downs in the title race over the coming months but it may ultimately boil down to who, between Salah and Aguero, scores most goals between now and the end of the season. In that particular head-to-head, Aguero is in front, with Salah scoring a mere three goals in five games for Liverpool since Jan. 1.
Aguero's statistics are incredible and he has now been City's main man in front of goal for seven-and-a-half seasons. Strike partners have come and gone -- Edin Dzeko, Carlos Tevez, Mario Balotelli, Alvaro Negredo to name just four -- but Aguero has consistently topped the club's scoring charts, year after year. His hat-trick against Arsenal was his 14th for City -- a club record -- and his 10th in the Premier League. Only Alan Shearer (11) has scored more.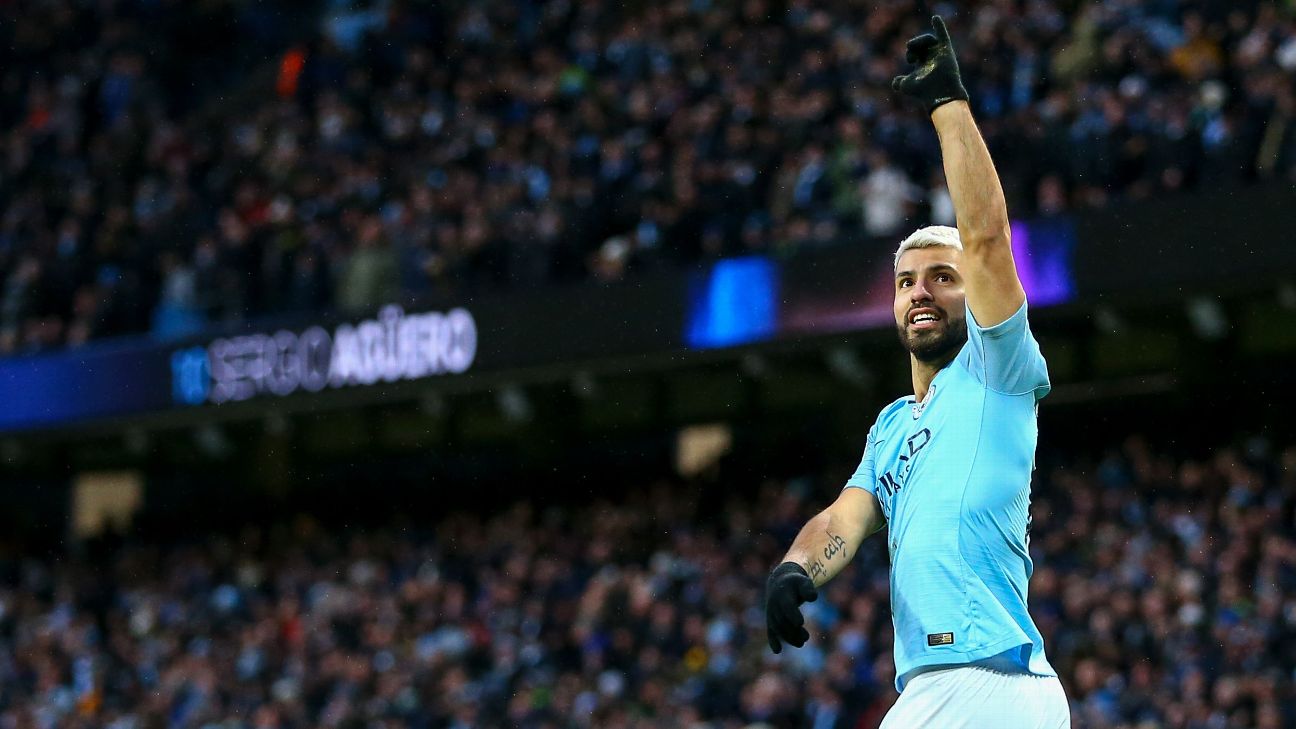 Since arriving at City from Atletico Madrid in August 2011, Aguero has scored 42 goals in games against the so-called "Big Six." Over the same period, Harry Kane is second on that list with 21, so Aguero is head and shoulders above his contemporaries when it comes to delivering in the big matches.
But where City have always been able to rely on Aguero's goals when it matters, his susceptibility to muscular injuries has seen him miss key stretches of most of his seasons at the Etihad. This season, however, Aguero has been free of injury and his hat-trick against Arsenal took him to 20 goals in all competitions.
Aguero is on form, fit and displaying consistency, so he is City's key man in their bid to retain the title. But you are only as strong as your weakest link and the problem for City and Guardiola is that the options beyond Aguero are worryingly unconvincing.
If Aguero does get hit by an injury lay-off, City will have to rely on Gabriel Jesus to fill the void and the Brazilian is struggling to reproduce the form he initially displayed when he arrived in January 2017. Jesus has 15 goals in all competitions this season, but six of those have come against Oxford, Burton and Rotherham, so he is not delivering against the calibre of opponent that Aguero regularly hurts.
Against Arsenal, Aguero was hardly spectacular, with all three of his goals coming from inside the 6-yard box. His hat-trick goal, as Aguero confirmed, came off his left arm as he bundled Raheem Sterling's pass over the line, but it was more accidental than deliberate and it did not prompt any kind of anger from Arsenal coach Unai Emery after the game.
There may have been more consternation in Liverpool, with that goal confirming City's victory and ensuring they would close the gap at the top. Liverpool and Salah have the opportunity to respond on Monday, but if Aguero stays fit, his goals will shadow them all the way and might just score enough to deny Klopp's men the title.