Unai Emery's formation, personnel alterations pay off again for Arsenal
LONDON -- They used to speak about "The Arsenal Way" at the Emirates Stadium, boasting about style of play without actually needing to describe it. For 20 years, Arsenal would intently play positive, possession-based football, taking the game to the opposition without worrying about tactical plans.
Until the final years of his reign as manager, Arsene Wenger, made no attempt to mention the other side in his pregame team talks and would rarely change system, either during games or between them. As a result, Arsenal often produced spectacular football against weaker sides, only for tactical naivety to cost them against fellow title challengers.
The reign of Unai Emery, though, is evidently very different. Wenger's successor has no obvious default tactical plan and, what is more, has changed formation almost every week in this, his first season in charge.
For the impressive 2-0 victory over Chelsea on Jan. 19, Emery selected a diamond midfield that worked excellently. It was deployed primarily to disrupt Jorginho's passing, but Arsenal's offensive play was fluent enough that it seemed a template for future games.
However, Emery moved to 4-3-3 for the FA Cup defeat to Manchester United, before Tuesday's 2-1 win vs. Cardiff saw the diamond used from the outset switch to 4-2-3-1 for the second half, when defensive midfielder Mohamed Elneny was replaced by winger Alex Iwobi.
"In the first half, if one team deserved to score, it was them," Emery said. "In the dressing room we spoke about that, and the first half result [0-0] was a good result for us because we had conceded chances to them. But in the second half we had the opportunity to change this situation, but it's not easy because they were playing one-versus-one across the pitch, and it's not easy to find space, but Cardiff tired, and with patience we were able to score."
Emery has made, by a distance, the most half-time substitutions in the Premier League and, while he introduced himself to Arsenal fans as a lover of possession play and attacking football, he is a more studious, analytical coach who considers the opposition's strengths as much as those of his own side.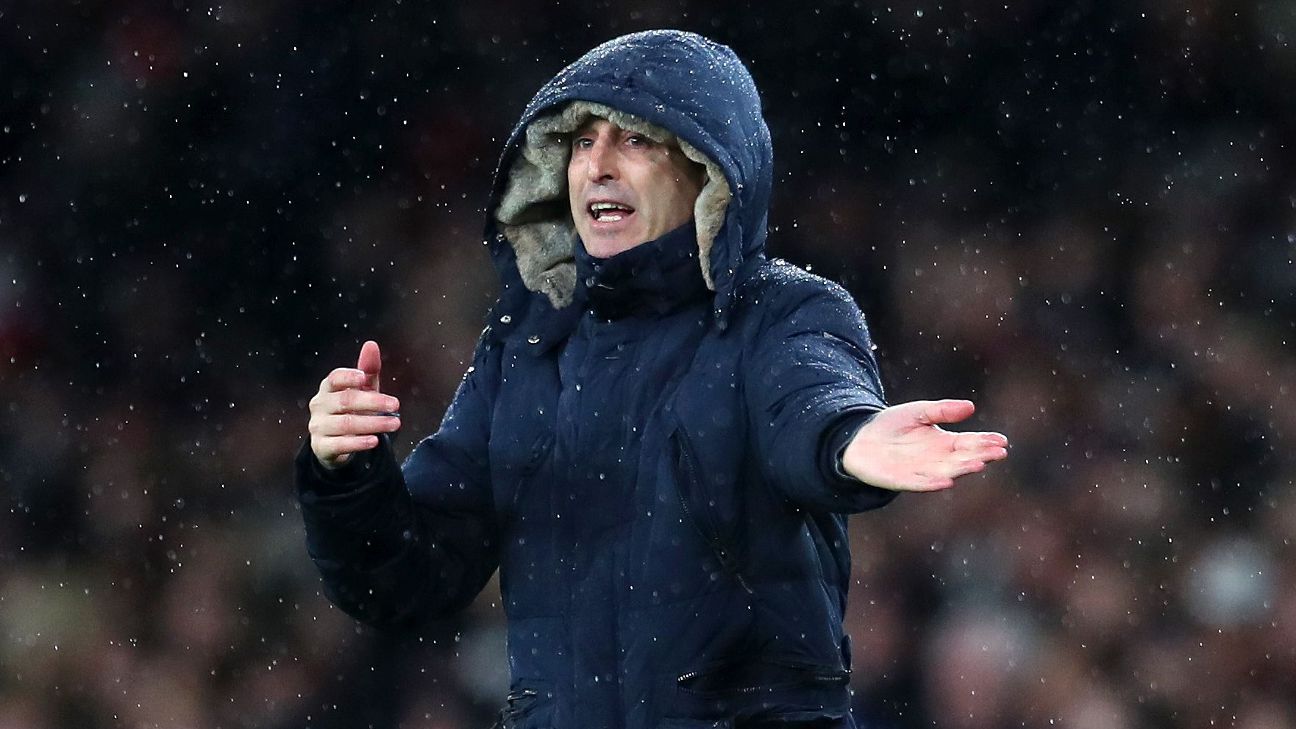 That becomes a problem against a team like Cardiff. Neil Warnock's side are not the worst in the Premier League, but they are the least ambitious in terms of strategic approach. They average the lowest possession share and the lowest pass completion rate in the league, and their main source of chances is set pieces.
Indeed, Cardiff's leading assister this season is Sean Morrison, a centre-back who specialises in near-post flick-ons. He was absent at The Emirates, as it happens, but his impact is a microcosm of Cardiff's style: They largely let opponents dominate open play, then try to win dead-ball situations.
Despite that, though, Arsenal were still unable to impose themselves in the first half. They had two elegant playmakers in midfield: The diminutive Lucas Torreira, who played to the right, and Mesut Ozil, occupying his preferred No. 10 role. However, though both provided flashes of excitement when exchanging a give-and-go with a teammate, they found themselves without an obvious pass in the final third and lost possession.
Torreira seems to be suffering a loss of form, which is hardly unusual for technical players who often are exhausted in their first Premier League season by the schedule around Christmas and New Year.
Ozil, meanwhile, is in a peculiar situation: Omitted one week, the side can be built around him the next. Moreover, he does not have any obvious relationship with Alexandre Lacazette or Pierre-Emerick Aubameyang.
It was goalless at half-time, a familiar pattern from Arsenal's season; in the "first-half league table," they are 16th. After the break, though, they are behind only Liverpool, and Emery's change at the break meant his best partnership -- Iwobi and Sead Kolasinac -- could take the game to Cardiff.
In the opening stages of the 4-1 win over Fulham on New Year's Day, the pair completely dominated down the left; after Kolasinac dribbled forward and played in Iwobi, he chipped into the box for Granit Xhaka's opener. At West Ham, they also carried Arsenal's main threat, forcing Manuel Pellegrini to adapt his team's shape.
Just past the hour mark on Tuesday, Iwobi received possession in his customary inside-left position and played the ball on to the eternally overlapping Kolasinac, who pushed forward for a cut-back only to be clumsily fouled by Bruno Manga. It was a clear penalty and one that Aubameyang converted with a low shot down the middle.
That Iwobi and Kolasinac work so well together is somewhat inconvenient, because there is a good chance neither would get into Arsenal's first-choice XI. Nacho Monreal is a better left-back than Kolasinac defensively, while Iwobi is talented but lacks the class of Ozil or Henrikh Mkhitaryan.
Lacazette sealed the victory seven minutes from time. Collecting the ball wide on the right, he was initially sent to the floor by Sol Bamba's tackle, but picked himself up and drove toward goal before striking a powerful low shot that goalkeeper Neil Etheridge could only help into the far corner.
Cardiff substitute Nathaniel Mendez-Laing curled in a fine effort to reduce the deficit, but it was too late to launch a comeback. The hosts saw out the game, having been relatively comfortable in the second half after looking entirely average before the break. That, it seems, is the new "Arsenal Way."