Without Kane and Son, Pochettino facing toughest task yet with Spurs
LONDON -- With about 10 minutes left at Craven Cottage, a fizzing cross was delivered into the Fulham area from Tottenham's left flank, the sort of ball a centre-forward dreams of. Fernando Llorente rose to meet the header but seemed to just hold back very slightly as the ball arrived. The ball skimmed off his forehead and missed the far post. Had he jabbed his head forwards just a little, he would have made more forceful contact and almost certainly have at least put his effort on target. He was in the middle of a crowded area, but for the want of a few inches of neck movement a chance disappeared.
A few moments later, Dele Alli skidded off the pitch, his hand clutching his hamstring before he had even reached the turf, the telltale sign of a man who can see three to four weeks on the treatment table in his future. Just up the touchline, Mauricio Pochettino sighed, puffed out his cheeks and reluctantly told Georges-Kevin Nkoudou to ready himself, with the look of someone about to entrust a plumbing repair to a man with a hammer and some tape.
As it turned out, he need not have been so pessimistic. As injury time ticked down and Tottenham's first draw of the season looked certain, Nkoudou pinged in the most perfect ball for Harry Winks to head in a winner. If Pochettino can make a player of Nkoudou, adding to his assorted other conjuring tricks and MacGyver-esque solutions, he truly is a wizard.
But even though they won this, even though a 93rd-minute winner is the very antithesis of "Spursy," even though they eventually punched through a surprisingly scrappy Fulham side, this was not a day for cartwheels and joy.
This was Tottenham's first game without Harry Kane -- the best striker in the world, according to the 2018 edition of ESPN FC 100 -- and Son Heung-Min, and therefore a look at what their attack will look like for the next month or so. And, well, it doesn't look great. Llorente started and looked like a man who hasn't started a league game in more than a year, which isn't surprising as that's exactly what he is.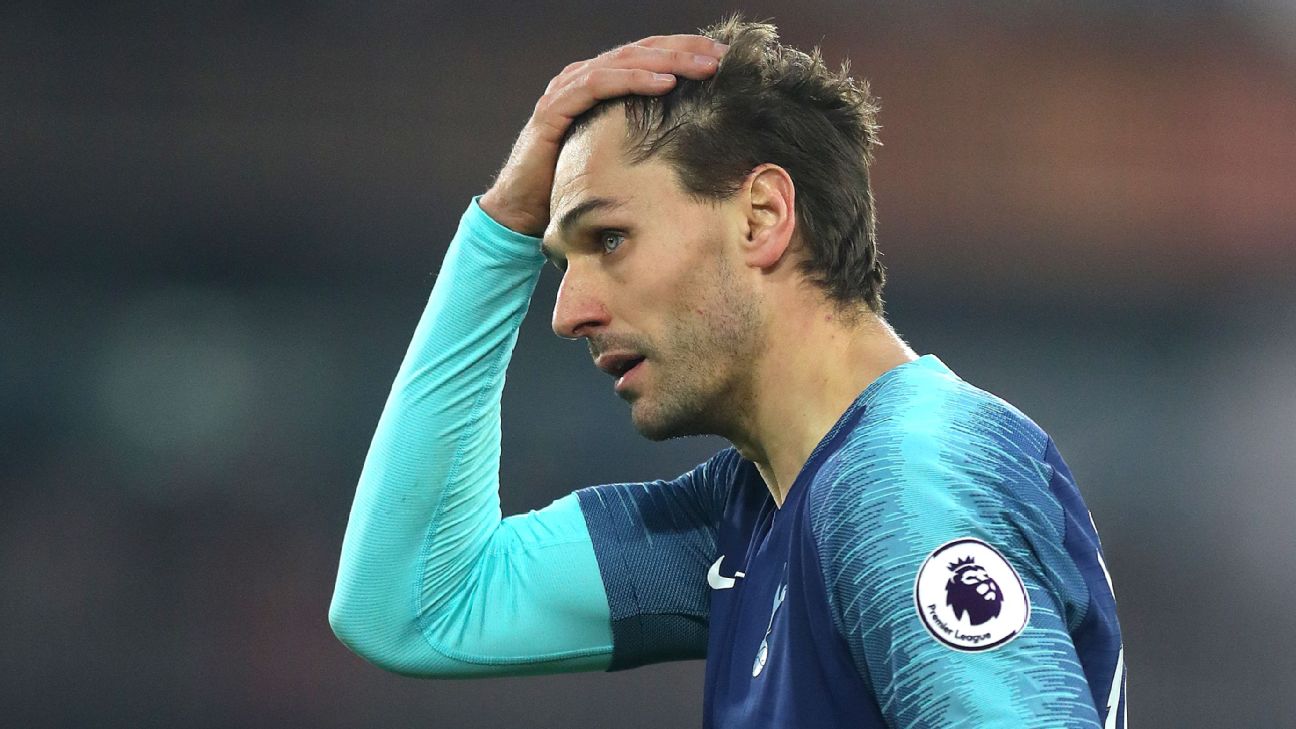 There were quite a few moments of the game when you felt pretty sorry for Llorente. He's not a fundamentally bad player. He's just a man entirely bereft of confidence trying to fill the shoes of the best striker in the world. A tough gig.
Part of the problem with trying to replace Kane is that he's not only probably the finest No. 9 around, but he's among the Premier League's better No. 10s too. And, remarkably, he manages to do both at the same time. The old line about N'Golo Kante being two players in one applies here: you'll often find Kane dropping deep to collect the ball and link play, giving the likes of Son and Alli space to run in behind the defence, while at the same time not vacating his duties as a centre-forward.
Llorente tried to do that here. He really did. But he couldn't. It's not his fault; "not being Harry Kane" is pretty low down on the list of faults a footballer can have. It's like blaming the various singers employed by Queen in the past few years for not being Freddie Mercury.
"I am very happy," said Pochettino after the game, when asked about Llorente's performance, stoically finding the silver lining on a pretty grim-looking cloud. "He fought for the 90 minutes. He had a few chances to score and was a little bit unlucky."
Unlucky he was with the own-goal as well, turned in as he tried to help out his defence from a corner. But it summed up his contribution rather neatly: well intentioned, but ultimately counterproductive.
Indeed, as the game progressed there was plenty of evidence for the case that with Kane and Son absent, Alli would be a better choice as a striker than Llorente. He's strong, good in the air (nobody in the Premier League has scored more than his four headed goals this season), uses the ball smartly and will naturally try Kane's trick of dropping deep as much as he leads the line.
Of course, that theory went bang with his hamstring. Afterwards Pochettino, like a man reacting to torrential rain by exclaiming what a great chance to wear his new coat this is, looked for the positives ahead of Thursday's Carabao Cup semifinal against Chelsea. "It's a massive opportunity for different players to play," he said. "The most important thing is to believe."
There is a way to turn all of this adversity into fuel, to use the assorted minor calamities as motivation to prove the gods of fate wrong. Pochettino basically said as much, citing various things that have gone against him and his team this season -- lack of transfer activity last summer, the delays with their new stadium -- and intimating they can help create that "us against the world" mentality that every team in the world tries to build.
It'll have to work, too. Because with that Chelsea game, the Champions League restarting soon and a title race to somehow keep in touch with, Spurs are down to the barest of bones. They battled through this one but at the risk of being uncharitable, they needed two defensive lapses to beat a side almost certain to be relegated.
With a floundering Llorente up front trying to do things he simply isn't capable of, and injuries cutting though an already thin squad, Pochettino must amplify those positives through the loudest speaker he can find. If he can, it will be among his finest achievements yet.