Man United vs. Arsenal is no longer the fiery, title-decider it once was
MANCHESTER, England -- There was a touch of class to the way Manchester United saw Arsene Wenger off. The Old Trafford supporters giving the Arsenal manager not one standing ovation but two, while Sir Alex Ferguson handed his old foe a silver vase in a prematch presentation.
Quite rightly, Wenger was treated like the legendary figure that he is, and it probably meant more that the fond farewell was afforded by United and Ferguson considering the battles between the two clubs and managers over the past 20 years. But ultimately, the glad-handing and pats on the back were symbolic of Wenger's decline and that of his team since the good old days of titanic tussles, pitch brawls and tunnel bust-ups between these two clubs.
Wenger even acknowledged that himself, joking after the game. "That shows you that once you are not a danger anymore, people love you. I am programmed to try to win football games, and I don't think that changes, but I am thankful to United.
"[Man United] had a nice gesture before the game and it's the first time I get a trophy before a game. It's very classy from them."
Not so long ago, United vs. Arsenal was the most important fixture on the Premier League calendar. For almost a decade, their clashes would determine the champions, and the rivalry between the two managers and both sets of players was so intense and acrimonious that their collisions defined an era.
Aside from Wenger vs. Ferguson, it was also Roy Keane against Patrick Vieira, Ruud van Nistelrooy against Martin Keown and Paul Scholes vs. Cesc Fabregas. There was also the day when Phil and Gary Neville kicked Jose Antonio Reyes off the Old Trafford pitch after being told by Ferguson that the Spanish forward would shrivel in the face of physical intimidation.
Arsenal and Wenger had Thierry Henry and Dennis Bergkamp, United had Cristiano Ronaldo and Wayne Rooney; who can ever forget the 1999 FA Cup semifinal that ended with Ryan Giggs's stunning solo goal to win the game for United at Villa Park?
Whenever these two teams met in those days, steam would rise from the pitch due to the heat between the two sets of players. But those days are gone, and Sunday's encounter, Wenger's last visit to Old Trafford as Arsenal manager, only served to show us all how far both clubs have fallen since the glory days.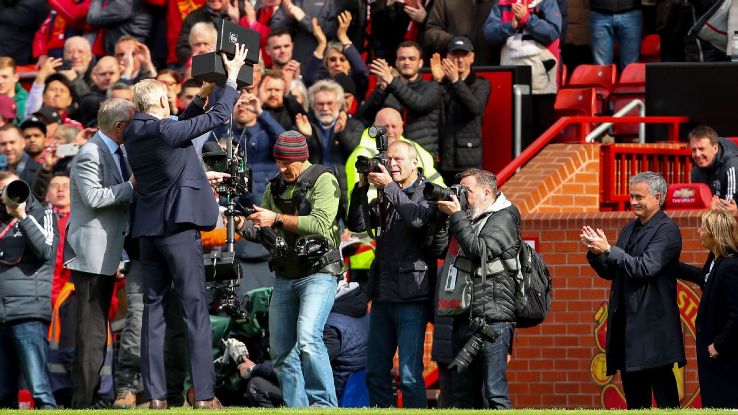 Under Jose Mourinho, United are still attempting to navigate their way out of the post-Ferguson fog, almost five years after the Scot vacated his position as manager. Arsenal are now heading into a dense fog of their own with Wenger's departure, but some would argue that they've been in the darkness for the past five years anyway due to the drift overseen by their out-of-date manager.
It's no wonder that Ferguson and the United supporters were so eager to send Wenger on his way with such bonhomie. Would they have been so accommodating had Arsenal been the rival of old in recent years, rather than a pale imitation of what had gone before?
You could ask any football supporter familiar with the Premier League over the past 20 years to name their favourite United-Arsenal moment and they could come up with five in an instant. The Keane-Vieira tunnel row at Highbury, Giggs's goal in the semifinal, Henry's chip and volley from 20 yards, Van Nistelrooy's penalty hitting the bar in the final minute in 2003 and United's stunning breakaway goal at the Emirates involving Rooney and Ronaldo.
There are countless other golden moments but none from recent seasons and certainly none from this game, unless Marouane Fellaini's stoppage time back-headed winner floats your boat.
Fellaini's goal perhaps summed up what this game has now become compared to what it was in the past: A scruffy, long-ball winner is what we have in 2018. So long, the glorious goals from Henry, Giggs, Rooney or Marc Overmars.
Even the supporters sang wistfully of days gone by. There were no chants for current players, just songs about Robin van Persie, Vieira, Keane and one from the Arsenal fans about winning the title at Old Trafford in 2002. It sounded like they'd dusted the cobwebs off the song sheets from 15 years ago. But this kind of faded rivalry between United and Arsenal cannot go on forever. It is one of the most deep-rooted in English football, and perhaps the changing of the guard at the Emirates will help breathe new life into the fixture.
The days of bad blood predate the Ferguson-Wenger era, with United and Arsenal each docked points in 1990-91 for a 21-man brawl on the pitch at Old Trafford. There were also famously brutal clashes in the 1960s and 1970s.
This current state of everyone being friends is not one that sits easily for two of England's most powerful clubs. Sooner or later, it will get edgy and tense again and the two sides will go back to not particularly liking each other. That's what both will want too because when those days return, it will mean that United and Arsenal are slugging it out for the biggest trophies again.
The past few years have been an uncomfortable lull, which explains why it was all so nice before the game. Yet Wenger's exit might just reignite the fighting spirit of old.
Mark Ogden is a senior football writer for ESPN FC. Follow him @MarkOgden_