West Brom mood is surprisingly positive despite imminent relegation
WEST BROMWICH, England -- "Hope is a dangerous thing. Hope can drive a man insane."
Ellis Boyd "Red" Redding's lecture to Andy Dufresne in "The Shawshank Redemption" applied, odd as it might seem, to a small part of the West Midlands on Saturday. For a while, West Brom had hope of a victory, but even after that was gone, there remained a whiff of the most curious positivity about the place.
For 21 minutes of their relegation slug-out with Swansea City, they were on course for just their fourth win of the season, their second since August and the end of a nine-game losing streak. Even then, the three points would only have clawed them to within eight of safety with five games left, but it would have provided just a little glimmer of light.
In the end, they had to settle for their first point since January, with Tammy Abraham equalising after Jay Rodriguez had raised the dreams of the home crowd. While relegation is virtually assured, there was still a little hope inside the Hawthorns. If not for survival, for a little dignity in relegation, which isn't just an ephemeral thing.
To paraphrase Blackadder, West Brom's season started badly before tailing off in the middle and the less said about the end, the better. They have been spiralling since the third game of the season. The first two, which seem a very long time ago, ended in victories under Tony Pulis, but none more followed under his guidance before he was eventually replaced by Alan Pardew.
Pardew's appointment looked like a punt but became a disaster, a man with so little authority that he wasn't able to effectively discipline his club captain after he and others were caught stealing a taxi on a "team bonding" trip to Barcelona. Perhaps that had something to do with the manager himself losing his jacket, wallet and mobile phone, all of which had been stolen the previous evening.
The dismissal of Pardew -- which, if you recall, came after chairman John Williams and chief executive Martin Goodman were also sacked -- might have looked like a desperate move, too little too late, a Hail Mary pass. It might also be interpreted as an admission that relegation is inevitable but that doesn't necessarily have to be a negative.
Ultimately, acceptance of fate is the first step to making things right again.
Had West Brom allowed Pardew to continue and the poisonous atmosphere around the club to fester, much worse than mere relegation would have been ahead. Clubs can recover from relegation; it tends to take them much longer to bounce back from absolute calamity.
The appointment of club cult hero Darren Moore to shepherd the team through the past few weeks is a shrewd one, not necessarily because he might save them from the drop -- he won't -- but simply that he might make the place feel a little lighter again.
That was certainly the feeling in Saturday's game. The home fans sang with pride as if realising that the jig is almost certainly up was freeing. There was, odd as it might seem, a positive element to the atmosphere, hope that the worst is over. The vibes were so good that Swansea manager Carlos Carvahal commented on them after the game unprompted.
His own Swansea team are also a long way from being out of trouble. This point means they're four clear of the relegation zone, but they must face Manchester City and Chelsea before the end of the month and must play much better than this if they're to escape the drop with any comfort.
This was, objectively, not a good game. As an indication of its quality, when three minutes of added time were announced before the break, some fans booed; this was not the derision of a crowd denied the proper amount of time, but the irritation of people who wanted their half-time pie as soon as possible.
Neither should the relative upbeat attitudes in the stands mask how desperate West Brom have been, and still are. There was a moment in the first half when Rodriguez took down the ball on his chest around 40 yards from goal, spun to his right and assessed his options. As it turned out, all four of his attacking choices had gathered themselves into a 15-square-yard space to his left. If you wanted a neat summary of West Brom's season to date, that could well be it.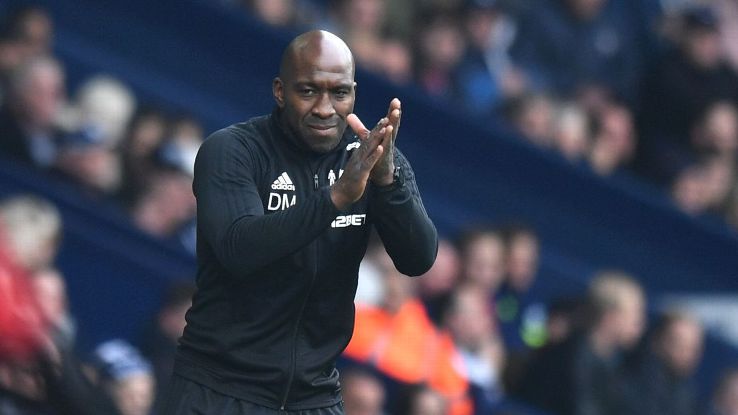 After Rodriguez scored, the singing in the stands started to feel like genuine enthusiasm. Abraham's equaliser kicked that in the pants, but even then, Moore was all about the positives. "It did bring a warmth in me to see how the players responded," he said. This was a performance with enough effort and heart to show these players don't want to go down with a whimper.
There's a point to which Moore isn't so much the leader of this team, but more the cheerleader. An affable, likeable character, perhaps a few weeks under his leadership is what they need to lift a little gloom.
"I'm absolutely delighted to stop the rot," he said afterward. "Hopefully, you saw a West Brom team setting out to be positive, playing on the front foot and take the game to Swansea. Today, I was proud to stand out there and represent this club. Everybody has come together for this game."
West Brom are going down. That much has been obvious for a while. The past few weeks of this season are less about escape and more about trying to avoid more long-term damage.
"Remember, hope is a good thing, maybe the best of things, and no good thing ever dies," Andy Dufresne replied to Red. Maybe there is a little hope for West Bromwich Albion.
Nick Miller is a writer for ESPN FC, covering Premier League and European football. Follow him on Twitter @NickMiller79.