Man United's Pogba problem was highlighted in defeat at Tottenham
LONDON -- Manchester United have a problem with Paul Pogba. He is the player they cannot do without, but also the one who makes life so difficult for Jose Mourinho's team when he is asked to do a job that he is simply not equipped to perform.
And so it proved against Tottenham Hotspur at Wembley on Wednesday when, after arguably his worst performance in a United shirt, Pogba was substituted after 62 minutes. His team was trailing 2-0 and being given the runaround by a vibrant Spurs team, for whom 11 players had roles that suited them, which led to the overall product of the home side being greater than the sum of its parts.

Tottenham Hotspur

Manchester United
Game Details
But back to Pogba, United's £89m midfielder and the man who makes them tick... when he is deployed in a position suited to his talents. At Wembley, he was one of two deep-lying midfielders -- playing alongside Nemanja Matic -- but, at 24, Pogba has yet to develop the defensive discipline to play that role successfully. Given that, when he does line up there, he becomes a liability, especially against better teams.
His determination to break forward is so irresistible that he inevitably does just that, leaving Matic isolated and United's back four exposed; so it proved against an attacking force as deadly at Tottenham's, who had the game won inside half an hour.
As a central midfielder of such calibre, Pogba should be able to concentrate long enough to be able to play a more defensive role when the occasion demands. But he cannot, so perhaps it is a case of more fool Mourinho for asking his star man to do it against the likes of Dele Alli and Christian Eriksen.
After watching Pogba try and fail to carry out his tactical instructions for just over an hour, the United manager did not attempt to suggest that anything else was behind his decision to substitute Pogba than a frustration with his performance.
"No. No," Mourinho said, when asked if Pogba's substitution was due to him being injured. "It was just a change for [Marouane] Fellaini. I wanted to try different qualities with different players."
Under Mourinho, some players are given greater protection than others and there are precious few examples of Pogba being subjected to even the mildest of public dressing downs, Wednesday was one of those moments.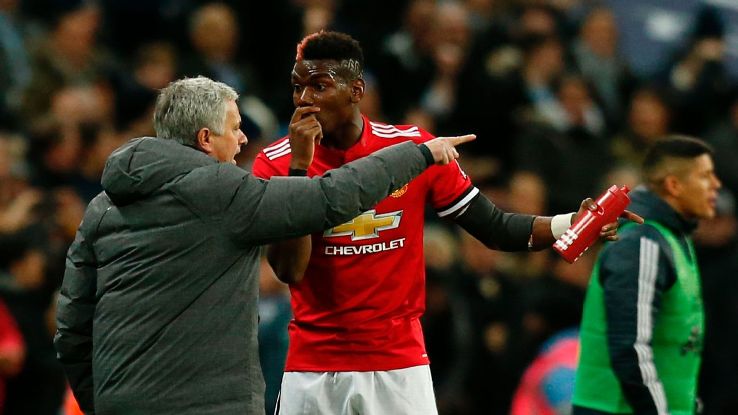 Being hauled off against Spurs with almost half an hour to play, which came after an animated discussion between manager and player in the first half, was a humiliation for Pogba and one to which he will not be accustomed. Indeed, since returning to United from Juventus in August 2016, it was only the fourth time that he had failed to finish a Premier League game he had started.
The first, against Crystal Palace last May, was a case of energy preservation three days prior to the Europa League final against Ajax. Pogba was spared the final 20 minutes of November's home win against Newcastle, having made his comeback in the game following a two-month injury lay-off, while he was sent off against Arsenal at the Emirates in December.
But there was no ulterior motive this time: Pogba's withdrawal against Spurs was purely down to his performance, about which Mourinho was right to be angered and alarmed. That said, United's manager is not blameless, either.
Had Mourinho selected Ander Herrera alongside Matic and used Pogba further forward, as against Everton last month when he produced a man-of-the-match performance in a 2-0 win at Goodison Park, the France international would have been in his best position, further forward and with less defensive responsibility.
But the signing of Alexis Sanchez, while making United a more formidable attacking force, has created a tactical dilemma and the attempt at solving it against Spurs failed miserably.
With Pogba playing deeper, Mourinho used Sanchez, Anthony Martial and Jesse Lingard behind centre-forward Romelu Lukaku. Martial and Lingard's recent form justified their selection, while Sanchez was always going to start, but the three cannot all be accommodated in the same team behind a striker.
For one thing, it takes Pogba away from the position in which he is most dangerous to the opposition, but it also leads to Mourinho asking him to do a job is simply isn't equipped to carry out. Pogba cannot tackle, his heading is poor and he does not sniff danger like a more naturally-defensive player. He also lacks the discipline to sit deep.
If, or when, Mourinho recruits a central midfielder as a long-term replacement for Michael Carrick to play alongside Matic, Pogba will be free to play where operates best. He stretches games and provides a crucial link from back to front, covering the middle third of the pitch and creating chances for teammates.
But this game served another reminder that he simply isn't a defensive midfielder and Mourinho made a mistake by selecting him for that role against Spurs. However, if United's manager is to take anything from a miserable night, it might be a final realisation that he cannot use Pogba in that position again.
Mark Ogden is a senior football writer for ESPN FC. Follow him @MarkOgden_