Michy Batshuayi fires reminder to Conte in Chelsea's FA Cup stroll
LONDON -- Three points on Chelsea 3-0 Newcastle in the FA Cup on Sunday afternoon.

Chelsea
Newcastle United
Game Details
1. Can the FA Cup be Chelsea's salvation?
If you ask Antonio Conte, this is a good season for Chelsea. The Italian has been attempting to manage expectations for several months now, ever since it became clear that Manchester City were setting an unmatchable standard at the top of the Premier League.
The cloud of negativity that has surrounded Stamford Bridge since last summer, however, suggests otherwise.
It is an atmosphere that Conte has contributed towards with his complaints about an unfavourable fixture schedule, pointed comments about a lack of input in Chelsea's transfer dealings and public jousting with Jose Mourinho -- and it has amplified every setback on the pitch.
Wednesday's limp defeat to Arsenal in the second leg of their Carabao Cup semifinal tie saw Conte's decisions and demeanour questioned like never before. It also clarified Chelsea's bar for success in the remainder of the season; with Barcelona favoured in the Champions League round-of-16, the FA Cup now presents by far the most realistic path towards silverware.
Conte's team selection against Newcastle -- just four changes from the Arsenal loss, with Eden Hazard starting and a Premier League feel to the XI -- suggested that he knew the stakes. He may claim that giving "120 percent" is enough for him and his players, but the true winners are satisfied only by trophies.
The wounds Arsenal had inflicted were evident in Chelsea's first half uncertainty, as Newcastle garnered more joy than they had a right to expect from the high pressing Rafa Benitez also employed in the Premier League clash at Stamford Bridge in December.
Many of Willy Caballero's most troubling moments were the result of his teammates' carelessness; Dwight Gayle and Matt Ritchie over-elaborated when Davide Zappacosta gifted them possession deep in the Chelsea half, and Jonjo Shelvey fired straight at the Argentine after picking Danny Drinkwater's pocket.
But it was Newcastle's lapses in concentration that proved more costly. Pedro Rodriguez was given too much space to clip a brilliant pass that sent Eden Hazard running in behind, and the Belgian duly gave Marcos Alonso the chance to square for Michy Batshuayi to tap in.
On the stroke of half time they faltered again, another Pedro pass freeing Hazard to slip in Batshuayi, whose low shot looped over Karl Darlow and in with the aid of a huge deflection off Jamaal Lascelles.
Chelsea's performances in recent weeks have never been as convincing as their best scorelines, and they are still giving up too many chances.
Not until the second half did Darlow's workload in the visiting goal exceed the number of saves that Caballero was required to make in the opening 45 minutes, and not until Marcos Alonso curled a trademark free kick into the top corner did this feel game truly over.
But overall this was a satisfying response for Conte, in the competition likeliest to provide the silver lining to an underwhelming Chelsea campaign.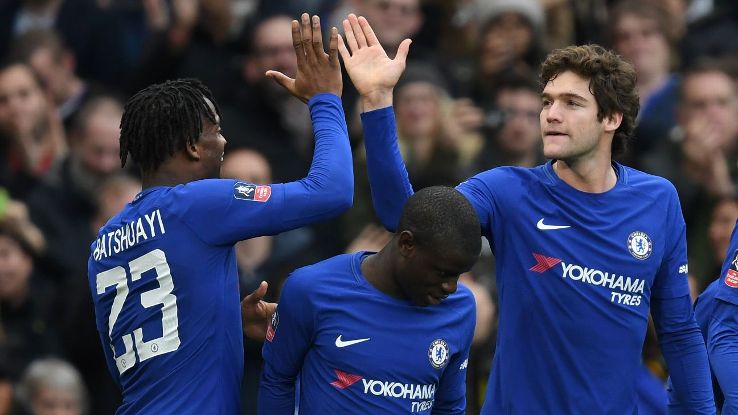 2. Batshuayi scoring amid the uncertainty
Conte's decision to omit Batshuayi from his starting XI against Arsenal, in the absence of Morata, felt like a red line in a player-coach relationship that never really took off. When the Belgian did finally come on in the 65th minute at the Emirates, his anaemic performance suggested he thought so too.
It's not really Batshuayi's fault. As his goal record -- 10 goals in 24 appearances, many from the bench -- in a fragmented season suggests he's clearly a talented finisher with natural instincts, even if Newcastle did not make him work terribly hard for his brace on Sunday.
But he is not the "point of reference" that Conte demands in his strikers. His hold-up game and ability to bring others into play is inconsistent, and he is too easily taken out of an attack by physical, committed centre-backs.
It is for this reason that Conte pushed for Chelsea to sign Fernando Llorente for the best part of a year and why, despite his public comments, he is playing an active role in the Blues' attempt to lure Edin Dzeko from Roma. Batshuayi, for his part, would like to go elsewhere to play more regularly.
These two storylines are likely to dominate the final days of the January transfer window for Chelsea, but Batshuayi's performance on Sunday at least underlined that if the Premier League champions cannot find a competent target man willing to sign on agreeable terms, there are worse scenarios than keeping the Belgian.
Chelsea's greatest need until Morata recovers the confidence of autumn is goals, and Batshuayi has shown repeatedly that whatever else his limitations, he can at least score at a reasonably reliable clip.
It might not be the January outcome that best pleases Conte, but leaning a little more heavily on him in the coming weeks is surely more desirable than bringing the likes of Peter Crouch or Ashley Barnes to Stamford Bridge.
3. Benitez hamstrung at Newcastle
This match in many ways played out similarly to Newcastle's visit to Stamford Bridge in December, when the visitors' bright start was undone by profligate finishing at one end and defensive deficiencies at the other.
Gayle gave them an early lead that day, but here their attacking limitations were even more apparent; Caballero would have expected a far more difficult afternoon against most Premier League opponents, given the sloppiness of those in front of him.
It was not all negative for the visitors. Shelvey was a lively presence in midfield, always looking to pick out incisive passes and pressing with intent. The general tactical structure Benitez has established makes sense, and he remains one of the best coaches around at making adjustments for specific opponents.
But the Spaniard needs more tools at his disposal, and a January transfer window that promised much with the rumoured Amanda Staveley takeover has instead descended into a very familiar brand of farce. Chelsea loanee Kenedy, ineligible for this match, will make a difference but he does not address the dire need for cutting edge in the final third.
Newcastle remain just a point above the Premier League relegation zone, an even more depressing reality for supporters than the cup drought that is now guaranteed to continue for another season. The chants for Mike Ashley to leave from the away end at Stamford Bridge underlined the desire for urgent change, but the mood was more one of hope than expectation.
Liam is ESPN FC's Chelsea correspondent. Follow him on Twitter: @Liam_Twomey.