Arsenal impress in Chelsea stalemate as Alvaro Morata shows promise
LONDON -- Three thoughts on Chelsea 0-0 Arsenal in the Premier League on Sunday afternoon.
1. Arsenal show their mettle to deny Chelsea
Arsene Wenger has faced Chelsea 59 times since arriving at Arsenal in 1996 -- more than any other club. The Blues have been responsible for some of his most miserable days, but at Stamford Bridge on Sunday there were further signs the dynamic of this rivalry is shifting slightly.
During the Gunners' FA Cup final win in May, Chelsea's 3-4-3 formation was effectively neutralised by Wenger's decision to match defensive systems. Arsenal did the same here, though it was their physicality that made the bigger impact.
Chelsea bullying Arsenal has long been a theme of these matches -- Marcos Alonso cleaning out Hector Bellerin with a thumping header in last season's corresponding fixture sticks in the mind -- but by half-time it was the Blues who were counting their bruises.
Victor Moses and Pedro both spent time receiving treatment after heavy collisions, while David Luiz made his way gingerly down the tunnel several minutes after his teammates at the interval as a result of being bundled into the advertising hoardings.
Arsenal backed up their intensity with a high press that made Chelsea look as uncertain as at any time since the opening day of the season against Burnley. They also successfully targeted Alonso with the pace of Bellerin, and exploited the spaces around Cesc Fabregas in central midfield.
Within the space of two first-half minutes, Bellerin twice raced to the byline to deliver dangerous crosses. The first was headed wide by Danny Welbeck, the second allowed Alexandre Lacazette to force a low save from Thibaut Courtois.
The high press carried its own risks, underlined in the 21st minute when a brilliant Fabregas through pass set Pedro racing clear behind the Arsenal defence. Petr Cech, embarrassed on this ground last season, stood tall to foil the winger's attempted dink.
Aaron Ramsey went even closer before half-time, hitting the post after a mazy dribble that confounded Cesar Azpilicueta and Luiz. Lacazette blazed the rebound over the bar, and the reaction of the Arsenal bench suggested they feared it might become another one of those days.
Antonio Conte's decision to replace Pedro with Tiemoue Bakayoko at half-time was a mark of respect for the visitors, who continued to push forward as Wenger introduced Alexis Sanchez and Olivier Giroud. Shkodran Mustafi sent the Arsenal fans into raptures when he headed in on 75 minutes, only to be correctly flagged offside. Chelsea were the ones who ended the game on the defensive, forced back by Luiz's senseless red card for a horrible lunge on Sead Kolasinac.
It was a performance that suggested Arsenal's problems in these fixtures are all too often borne out of deficiencies in attitude or application rather than capability, and should give hope to Gunners fans fearing life next season without Alexis Sanchez or Mesut Ozil -- given that neither started this match.
It also begs the question: Why don't they do this more often?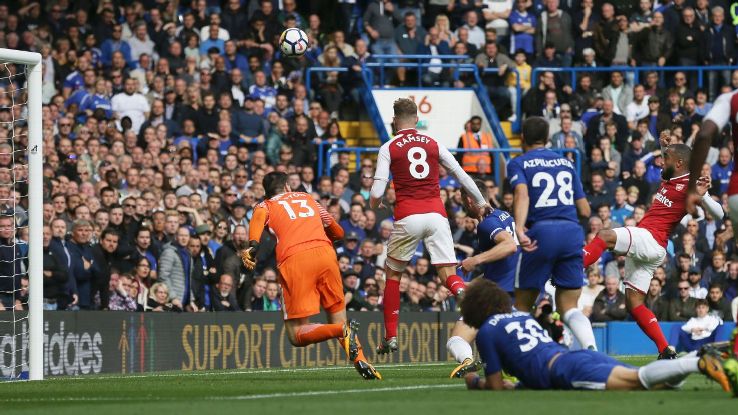 2. Morata a gem, but Blues need Hazard firing
In an interview with the Daily Mail this weekend, Alvaro Morata spoke of the pressure he felt on becoming Chelsea's club-record signing.
The reality, though, is that the Spain international has shown no sign of the £58 million burden on his shoulders since that missed penalty against Arsenal in the Community Shield. There was no fourth goal or third assist of the season here, but there was plenty of evidence to suggest Chelsea have replaced Diego Costa with a gem in the making.
Morata was sharp from the opening minute, expertly chesting a high ball into the path of Willian to ignite a Chelsea break. His link-up play throughout was only bettered by his work rate, chasing hopeful passes into the channels even as his teammates laboured behind him.
Arsenal's physical approach did not work on Chelsea's No. 9, who repeatedly put Mustafi and Laurent Koscielny under pressure despite a relative lack of service. When he performs like this, Conte will have no problem batting away endless questions about Costa until he joins Atletico Madrid in January.
But the other lesson here is that Morata is not yet ready to carry Chelsea in the manner that Costa did at times in the first half of last season. Willian and Pedro both faded from rather than grew into the match, and neither looked like stamping their authority on it in the way Eden Hazard can.
Hazard remains far less than fully fit, but in flashes after coming on in the 70th minute he showed by he must be regarded as Chelsea's most reliable match-winner as well as their most talented footballer. One jinking run and shot from the left flank almost lifted the roof off Stamford Bridge.
Chelsea can be optimistic about their Premier League title defence as long as Morata is leading the line, but they need Hazard back firing -- and soon.
3. Plenty still to go in the title race
This was a match that didn't invite easy conclusions for either team. Chelsea looked far from last season's imperious best, wayward up front, at times light in midfield and panicked in defence, but Hazard's return will transform their levels of belief as well as threat.
Similarly, Arsenal's reputation for mental softness and tactical laxity can't be forgotten because of one impressive performance against the Premier League champions, even if they did display the grit and cohesion that marks genuine contenders at Stamford Bridge.
Title statements can be made in a day, but title challenges require more diligence and determination. Wenger and his players will have to show they can bring this level of sharpness every single week in the Premier League if they want to return to that conversation, not simply against a team they clearly no longer fear.
We know Chelsea can stay the course and as this summer's signings continue to improve, they will grow in stature. But more than anything else, Sunday at Stamford Bridge suggested we should be looking to Manchester for this season's Premier League title favourites.
Liam is ESPN FC's Chelsea correspondent. Follow him on Twitter: @Liam_Twomey.