Argentina feel the pressure, lose second straight Copa America vs. Chile
EAST RUTHERFORD, New Jersey -- Just when it seemed the image of Brazilian football could get no lower, referee Heber Roberto Lopes was inflicted on an unsuspecting Copa America final. Six years ago, Howard Webb of England made a mess of the 2010 World Cup final because he tried too hard to keep everyone on the pitch and ended up letting too much go. Here, Lopes went way too far in the opposite direction and somewhat detracted from the game as a spectacle.
Sunday's game was always going to be an intense match, full of friction, and not just because it was a replay of last year's final. It also has to do with styles. Chile press relentlessly -- it's something Argentina have brought into their repertoire during this tournament -- so the action is condensed in midfield, with space opening up only after the first goal is scored. That is the way it was when these sides met June 6 in Santa Clara.
This time, of course, Lionel Messi was on the field, which added an extra dimension. He has shown in this competition his capacity to understand the game and go where he thinks he can cause most damage. This time, he went out right. It meant he was a long way from Ever Banega, his usual supply line, but Messi thought he could win the game in spurts. Against a side such as Chile that loves to throw the full-backs forward, he would have occasional chances to run at the opposing defence.
Argentina
Chile
Chile wins 4-2 on Penalty Kicks.
Game Details
The first time it happened, Chile's holding midfielder, Marcelo Diaz, was panicked into committing a bad foul and deservedly picked up a yellow card. The next time, Diaz was guilty of obstruction. It was a foul, but in truth, it would have been hard to get out of the way. Referee Lopes inexplicably reached for his card, and Diaz had to walk. Chile were down to 10 men, and the game was in clear trouble.
Lopes spent the rest of the half dealing with the consequences of his folly. If the second challenge of Diaz was worth a card, so was everything. He strutted around distributing cards like an upstart novice at a conference. Messi went to ground? Card. Argentina left-back Marcos Rojo went in with a vigorous tackle on Arturo Vidal? Red card. Ten against 10 before halftime meant there was plenty of space on the field, but no one was sure what the referee would do next. There were lots of tired, end-of-tournament bodies on the field as well.
As suspected, Argentina missed the intensity and quiet versatility of midfielder Augusto Fernandez. They missed him even more when his replacement, Lucas Biglia, stepped up to take his country's fourth penalty in the shootout and failed to beat Claudio Bravo. Argentina could not impose their possession game on the match, something coach Gerardo Martino acknowledged early in the second half, when he replaced Angel Di Maria with Matias Kranevitter.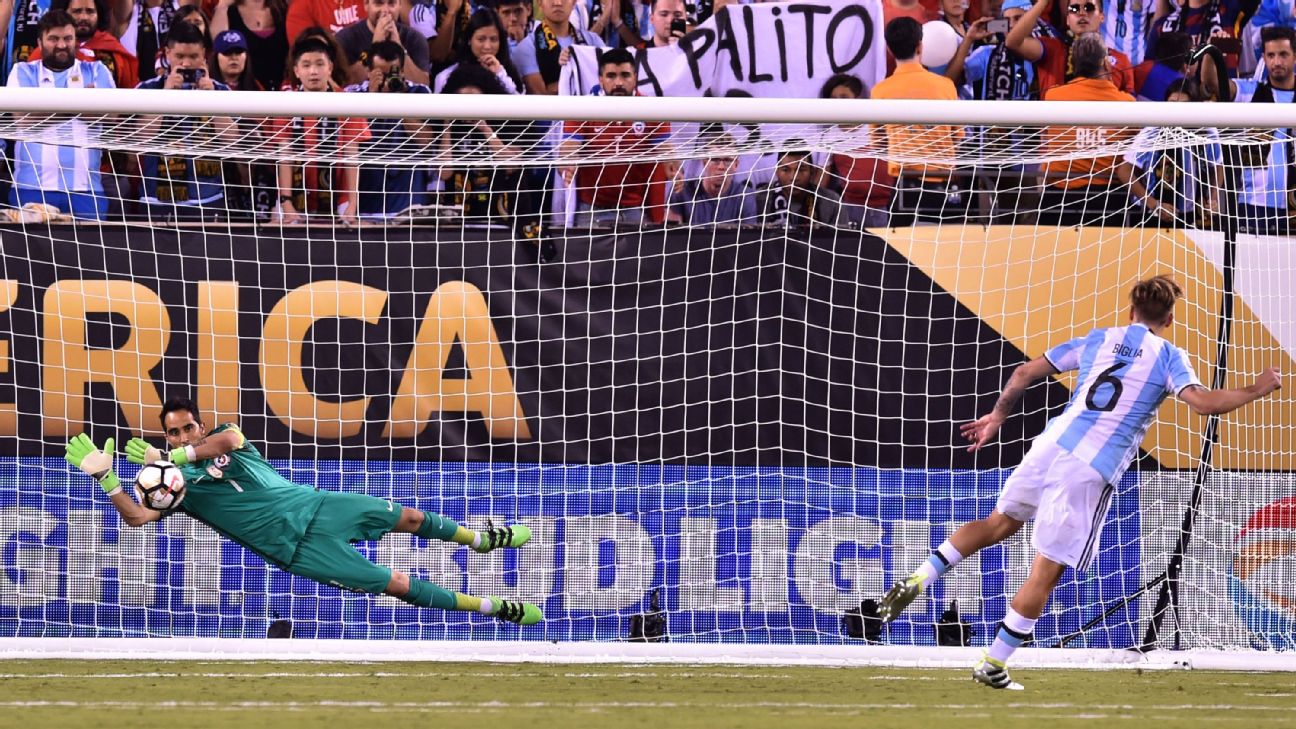 Di Maria gave an object lesson in the difference between fitness and match fitness. He looked sadly out of touch and had become a luxury. But Chile's possession was not resulting in chances, principally because of another excellent performance from Javier Mascherano. After Rojo was sent off, the Barcelona star dropped from central midfield into the defensive line. In both positions, he exhibited his extraordinary reading of the game and appeared to see the danger half an hour before anyone else.
The clearer chances, then, came at the other end. There was one in the first half. Gary Medel, otherwise so immaculate for Chile, was caught in possession, and Gonzalo Higuain was bearing down on goal. Higuain has been much criticised for missing clear chances in both the final of the 2014 World Cup and last year's Copa, when, to make matters worse, he sent his penalty in the shootout high over the crossbar. This season has seen a new Higuain, revitalised by a special diet, trimmer and hungrier. But one on one with keeper Claudio Bravo, it was the same old Higuain. He chipped his shot agonisingly wide of the far post.
Was it going to be the same old story for Argentina?
They played like men who thought so. With Messi taking every opportunity to run at the defence, there were times when a goal looked likely. But time and time again, they displayed one of the hallmarks of a nervous side: shooting too soon. Sergio Aguero (on for Higuain), Banega and Messi all pulled the trigger too early and shot wildly when there was a chance to pass their way through. The one time they got an effort on target, via Aguero's header from a Messi free kick, the much criticised Claudio Bravo produced a fine save by just managing to tip the ball over the crossbar.
The weight of tradition -- namely, all those years without a title -- weighed on Gerardo Martino's side. It certainly weighed on Messi when he blazed Argentina's first penalty over the bar and robbed the team of the momentum they could have gained after Sergio Romero saved Vidal's timid effort. Biglia missed, Francisco Silva scored, and a new tradition was established: Chile overcoming Argentina in the final of the Copa America.
Tim Vickery covers South American football for ESPN FC. Follow him on Twitter @Tim_Vickery.