England rally from 2-0 down to defeat Germany 3-2 in encouraging display
BERLIN, Germany -- Three quick thoughts from England's stunning, come-from-behind 3-2 win over Germany at the Olympic Stadium:
1. England rally from 2-0 down to win
England completed a stirring and exciting comeback to beat Germany 3-2 in Berlin, with second-half goals from Harry Kane, Jamie Vardy and Eric Dier sealing a repeat of their success in the Olympic Stadium back in 2008.
Talk will naturally turn to the European Championships in France following Saturday night's impressive win, and whether England can win or at least do well there. Such talk should perhaps be tempered, for this is England, but they aren't currently playing like England sides of the past. They have pace, verve, youth, enthusiasm, skill and apparently no shortage of nerve. They will at least make the summer's big tournament interesting.
Germany
England
Game Details
England were the better side in the opening exchanges, or perhaps that should say they had the most of the ball, fizzing passes around and forming triangles nicely but only actually managing to carve out a series of half-chances and shots from outside the area. Perhaps the clearest came from a Gary Cahill header that flashed behind Harry Kane from an early corner, but other than that, the Tottenham striker wasn't given a huge amount to work with.
Yet while they looked sharp in the Germany half, they always looked a little flimsy at the back. Sure enough, England should have been behind just after the half-hour mark when they were too easily sliced open by a Sami Khedira pass and Mario Gomez rolled the ball home, but it was incorrectly ruled out for offside. The linesman's flag only seemed to go up when the referee decided, for reasons best known to himself, to disallow the goal.
The hosts actually did take the lead in the closing moments of the first period as Toni Kroos was allowed too much time to shoot from long range past Jack Butland, who appeared hampered after suffering a seemingly innocuous injury a few minutes earlier while collecting a routine ball in his area. The Stoke keeper was clearly in some pain before the strike; one wonders why he didn't just go down and force the game to be stopped.
Yet Germany's second goal had little to do with an ailing goalie and much more to do with an England defence who had apparently filed marking under "optional extra." Gomez was allowed to pull away at the back post unchecked and when a regulation cross arrived, he was left with a relatively simple task of heading beyond Fraser Forster to get his name on the scoresheet half an hour after he should have.
The defence will cause Roy Hodgson some troubling moments, but the phalanx of attackers available to him is rather more encouraging. A few moments later England were back in the game with a goal you couldn't pin on poor defending. Kane collected the ball from a corner, performed a neat Cruyff turn and guided a slide-rule shot into the far corner, off the post. It was a superb piece of forward play, a lesson in the qualities required to be the centre-forward of a relevant international team.
As good as that goal was, it was perhaps eclipsed shortly afterwards by substitute Jamie Vardy. The in-form Leicester striker Jamie Vardy brilliantly backheeled past a sprawling Manuel Neuer at the near post -- his first international goal, no less -- to complete a terrific comeback.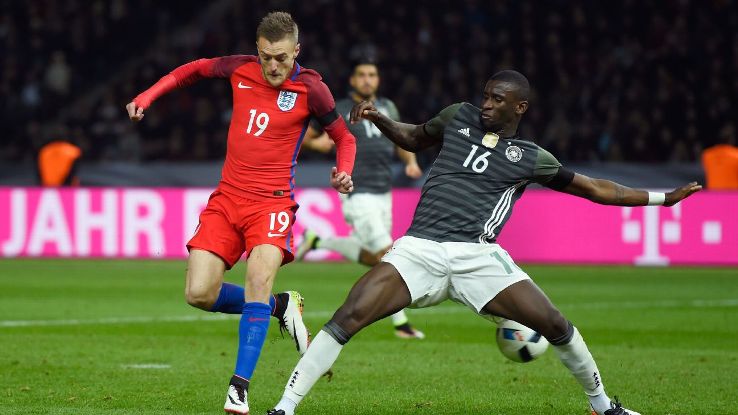 Dele Alli nearly sealed a victory 10 minutes from time but in injury time, his Tottenham teammate Eric Dier did finish the job, heading home from a corner to cap an excellent display from him, and the team as a whole. The England fans in the far corner celebrated as if this was a more significant result in France, with some justification too.
With no obvious or stronger defensive candidates to come in, that back line might mean that talk of winning the European Championships is fanciful, but at the very least this England team are extremely fun to watch.
2. Dele Alli a true gem for England
This is not news, per se, but England really do have something very special in Alli. The Tottenham midfielder looked absolutely at home when graduating to the Premier League, scored a brilliant goal after his international call-up against France and now, against the best team in the world, he was the best midfielder on the park. Oh, and it was a park that was supposed to feature Toni Kroos, Khedira and Mesut Ozil. Not bad at all.
Hodgson's pre-match comments comparing the 19-year-old to Bryan Robson might have seemed a touch excessive but with each passing game, it's tough to disagree with the England boss.
"He could do anything in that midfield position," Hodgson said on Friday. "I think he can be box-to-box, a No. 10, if you like to call it that, or a No. 6. He could be any of them because he has genuine all-round ability. He can challenge, he can run, he can fight for the ball, he can see a pass, he can score a goal."
That adaptability is the key key. Alli started the game just behind Kane in a 4-2-3-1 and then in the second period when Hodgson wanted to try a slightly different formation, adjusting to a midfield diamond with two forwards, Alli casually wandered over to the left of that midfield four and allowed Ross Barkley to take the more central role.
Alli's best work is probably done in that No.10 position, but his ability to play anywhere in that midfield also allows Barkley to be accommodated. In addition, a midfield four also means an easier path back into the team for Wayne Rooney when the skipper finally returns to fitness.
Looking at the way England's younger generation dovetailed superbly in Berlin, Rooney perhaps does not merit a place in the starting XI, but it would be a surprise if Hodgson leaves him out even if he's only half-fit.
3. Germany far from invincible
What to make of this game from a German perspective? In the first half, the world champions seemed as if they were in quiet control, playing in a very casual manner and treating this game exactly as it should be treated: a run-out, one that shouldn't be taken too seriously, but in which they should still perform in front of a big home crowd, with the European Championships looming relatively large.
But they were nonetheless ruthless, not quite toying with their opponents but always with a sense that they could pretty much score whenever they pleased. And score they did, twice with another wrongly disallowed, strolling to around the hour mark looking in complete control.
And then the substitutions happened and it all went a little wrong.
It's perhaps understandable and excusable that such swaps would disrupt the flow and cohesion of a hitherto slick team, but their susceptibility to anything approaching pace was not. Welbeck caused problems all night and when Vardy finally came on midway through the second half, he casually made defenders that won the World Cup two years ago look like terrified youngsters.
Jogi Loew's side were without perhaps their best defender in Jerome Boateng, but that was little excuse for looking so cowed against an England side with comparatively less experience at the international level. At the final whistle, the home players halfheartedly went to acknowledge their fans, only to be met with a chorus of whistles. It may only have been a friendly, but the way they collapsed was troubling.
Nick Miller is a writer for ESPN FC, covering Premier League and European football. Follow him on Twitter @NickMiller79.