Chelsea-Man United draw shows that each club has work to do
LONDON -- "If you want to get to fourth place, you must have your victories," Guus Hiddink said after his Chelsea side scored a late equaliser to earn a 1-1 draw against Manchester United on Sunday at Stamford Bridge, which leaves the two sides, respectively, in fifth and 13th.
Diego Costa's stoppage-time goal salvaged a point for Chelsea in a game the visiting team should have won after dominating most of the 90 minutes. Jesse Lingard's splendid turn and shot on the hour looked to be enough for Louis van Gaal's side, but a wasteful pass from Memphis Depay instigated a chain of injury-time mistakes that allowed the Chelsea striker to score from close range.

Chelsea

Manchester United
Game Details
A draw was perhaps appropriate for two clubs whose seasons sit locked in a holding pattern, each with a manager keeping the seat warm for a replacement. That was just about the only pattern on show, as both teams struggled to find a semblance of fluidity.
Hiddink readily accepted that his side were second-best for most of the game -- "They stretched us," Chelsea's caretaker manager said -- and it was true.
Van Gaal, meanwhile, has lurched from week to week this season, seemingly on the brink of the sack. United's performances have been dour overall and lacking any spark, but against Stoke last week and again against Chelsea, the Dutchman seemed to have let his players off the leash.
Wayne Rooney, Juan Mata, Anthony Martial and Lingard pushed deep into the Chelsea half, supplemented by Marouane Fellaini whenever the ball looked ripe for a cross.
It created the illusion of pressure, though in truth Thibaut Courtois had little to do. Martial found space in the inside left channel after 18 minutes and forced the Chelsea goalkeeper to tip over, but real alarms were rare for the home side.
The downside of United's gung-ho approach was the gap between attack and defence. Michael Carrick sat deep to help the back four, but when Chelsea broke with pace, they could exploit acres of running room in the middle of the park.
It took almost half an hour for Hiddink's side to claw their way into the game, but they began to have chances: Nemanja Matic's header was taken well by David De Gea and a smart interchange of passes between Oscar and Costa opened up room for the Spain striker to shoot wide.
As the minutes ticked down to half-time, it seemed the game had turned. Blue shirts flooded toward De Gea's goal, and it appeared to be a much more dangerous siege than United's at the other end. Just before the whistle for the break, John Terry fired the ball into Daley Blind's arm. The defender gestured that he was protecting his face and his limb was tight to his body, but Chelsea's appeals were loud and their disappointment voluble.
"It was going in," Terry said later. "It's difficult for the ref, but inside the box? Going in? For me it's got to be a penalty."
United were on top again after the break and Rooney showed some of his old vim. Acting more as a spearhead for the attack than occupying the deep-lying position he too often takes up, the United captain was a menace for the Chelsea defence.
In the first half, the England striker frequently found himself in the same congested No. 10 position as Mata. They often arrived in the same place before exchanging quizzical looks rather than passes. When Rooney pushed forward, this problem was eradicated.
Chelsea suffered a dreadful sequence of events just on the hour. Kurt Zouma, under no pressure, landed badly and his knee and ankle formed a grotesque shape. His cries of agony were audible on the sideline and the 21-year-old's face was creased with pain as he was carried down the tunnel.
Hiddink said that he hoped the injury was not season-ending but acknowledged there was scant hope for optimism: "It's very bad when you land with a hyperextended knee," he said.
Gary Cahill came on as a replacement but there was barely time to reorganise before United scored. Cameron Borthwick-Jackson whipped in a cross from the left, Rooney touched the ball back and Lingard spun and shot into the net. At this point, Chelsea appeared out of ideas.
"They had a beautiful goal," Hiddink said. "Without any resistance from us but beautiful control and a beautiful goal."
The introduction of Morgan Schneiderlin for Fellaini with 12 minutes left signalled a change of attitude by United, and Van Gaal seemed keener on protecting the lead than extending it. His side went deeper and deeper into a defensive shell, and while Chelsea did not seem to have the craft to unlock the packed defence, Costa had the blunt force to worry his opponents.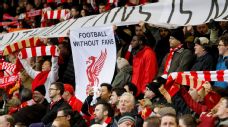 The home side took the initiative. When Branislav Ivanovic went down clutching his head near the touchline, Hiddink was at his side urging the defender to stand up and get forward.
"He's a tough guy," the Dutchman said. "He can cope with physical attacks. I said go on and get on the pitch and go for the equaliser."
Chelsea poured forward, and when Depay gave the ball away deep in Chelsea's half, the United defence looked like strangers. Blind stepped toward Terry 25 yards out without any thought for Costa behind him and Borthwick-Jackson was too late to see the danger, which allowed the Chelsea forward to round De Gea and bring the score level.
"Daley Blind was slipping," Van Gaal said. "It's frustrating. Not a big disappointment because we played a very good match until the last quarter."
Van Gaal also produced a bizarre rant at referee Michael Oliver for blowing the whistle for half- and full-time when United were counterattacking, and then, when asked about his future, he turned the question round on the journalist.
"Are you getting the sack?" the United manager asked. "You make this up. Have you spoken to Ed Woodward? Have you spoken to the Glazers?"
Van Gaal then suggested to another journalist that he look back at the history of Sir Alex Ferguson's early days at Old Trafford and "check the stats." Everyone except Van Gaal seemed bewildered.
It was a typically incoherent end to an incoherent day. Neither side will learn much from it, and both need to start planning now for next season.
Tony Evans has been a sports journalist for more than 20 years. He writes for ESPN FC on the Premier League. Twitter: @tonyevans92a.