Leicester stun Manchester City as Mahrez and co. take title initiative
MANCHESTER, England -- Three points from Manchester City 1-3 Leicester as Claudio Ranieri's men took a giant stride toward winning the title.
Manchester City

Leicester City
Game Details
1. Utterly incredible -- Leicester go clear
Yes, that just happened. The greatest shock in the history of English league football is on. Leicester's winning the Premier League would be bigger than promoted Nottingham Forest triumphing in 1978.
Leicester moved six points clear at the top of the Premier League with 13 games left to play and no other obligations at home or abroad. If they pull this off, it will transcend anything that has happened in the past. This sort of thing is not supposed to happen. There is so much money at the top of the game that it should barely even be possible for a club like Leicester to challenge for a place in the big four, let alone to do this. They should definitely not be able to do this.
They didn't just beat Manchester City at the Etihad -- they humiliated them. Manuel Pellegrini's men have all the resources any club could want, but Leicester just swept them aside.
A year ago, Leicester were bottom and would stay at there until April. In the summer, they appointed a manager in Ranieri whose abilities were doubted after a disastrous spell in charge of Greece. Expectations were low and reinforcements were relatively low-key. And now this has happened. Now they sit at the summit of English football, and they have every right to be there.
Admittedly, Leicester have not won the title yet, and you still wonder if the universe can allow such an astronomically unlikely event to occur without splitting down the seams and spilling red-hot quanta across the cosmos.
But, by thunder, they are there right now, there at the top of the table. And they must be as baffled as the rest of us.
2. Ranieri's men swarm all over City
City made four changes from their 1-0 victory over Sunderland in midweek, anxious to ensure that as many players as possible were fresh for the challenge. Leicester were afforded the respect they deserved yet it made not an iota of difference.
The visitors swung into the hosts from the first whistle. Even their kickoff was designed to put Pellegrini's side under pressure, a long punt for Jamie Vardy to chase. In the second minute, the mesmerising Riyad Mahrez evaded Fabian Delph, zipped past Aleksandar Kolarov and was hauled to the ground.
His free-kick, a simple low ball into the 6-yard box, was bundled home by Robert Huth. The goal was met with silence and then a sudden, distant cheer from the rafters of the Etihad extension, where the Leicester fans' brains caught up with the eyes. They were winning. They were winning away at Manchester City. They were, as it stood, six points clear at the top of the Premier League. And so, with great gusto and typically British understatement, they sang: "We are staying up, we are staying up!"
It took City until midway through the first half to wake up and realise they were in a title battle and that it really wasn't going very well. They might have had a penalty when Christian Fuchs clipped Pablo Zabaleta as he moved into the box, but referee Anthony Taylor awarded a free-kick. It appeared as though Zabaleta's toes were just on the line, which would have meant a penalty. So much for the big decisions always going to the big clubs. Again and again, the home side threatened, but there always seemed to be a Leicester boot or, in the case of Huth, a Leicester face in the way.
It was all too much. Even Wes Morgan was getting involved, the big centre-back going on a barnstorming run up the pitch and rather spoiling it all with a terrible short-range pass that ended the move. City recovered their composure and began to attack, but Leicester held out and trooped down the tunnel at half-time with a narrow lead. And then it got even better.
Leciester broke, as they do so well, with the tiny N'Golo Kante riding challenges before he slipped the ball to Mahrez and time seemed to slow down. Mahrez cut in, waved a leg over the ball and then smashed it into the near corner as Joe Hart looked on in utter helplessness.
On the hour, another goal. A corner played deep into the box. Huth rose and calmly bounced his header into the goal.
Three goals. Three goals away from home at the title favourites. The City fans were in shock. How had this happened? Some swore. Some walked out. Most just sat in silence, stunned at the inadequacies of their own team.
It was real; it was happening. Sergio Aguero's late header, marginally offside, brought a cheer but little consolation. They had stepped up to block Leicester's charge and Leicester had just run straight through them.
3. City's weaknesses laid bare
After a result like this, you suspect that Pellegrini would be toast if he hadn't already confirmed his departure.
This was a humiliation of extraordinary proportions. To be fair to Pellegrini, it wasn't as if he had taken Leicester for granted. He had a plan, and it was a sensible one. But for all their stars, for all the money that has been spent here, City never looked as though they wanted it as much as Leicester.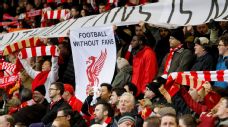 Yes, there was bad luck with the contentious decision not to award a first-half penalty, and City's injury list is long. Jesus Navas, Vincent Kompany, Eliaquim Mangala, Kevin De Bruyne, Samir Nasri and Wilfried Bony are all out. But in a season like this, with all the big teams underperforming, City should be storming the league. They should not be lying on the turf wondering what on earth just hit them.
It is time for a change, and you suspect that this time, Pep Guardiola will not walk into his new club wondering how he can possibly do better than win the treble.
Iain Macintosh covers the Premier League and Champions League for ESPN FC. Follow him on Twitter @IainMacintosh.