Watford dictate play as Chelsea draw 0-0 at Vicarage Road
WATFORD, England -- Three points from Watford's 0-0 draw Wednesday with Chelsea at Vicarage Road . . .
1. Chelsea show little in yet another draw
For the optimistic fan, there is still the Champions League. And given their record in recent years, they have every chance in the FA Cup. But this miserable Premier League season is ebbing away for Chelsea. Another draw, this one goal-less at Watford, causes little extra damage to that that was ruined anyway and they have certainly improved. They are not as poor as they were in the second half of 2015 but they are still miles away from the unstoppable form they showed in the second half of 2014.
Guus Hiddink remains unbeaten and Chelsea still haven't lost since that fateful night in Leicester when Roman Abramovich's patience with Jose Mourinho was finally exhausted. Wednesday's point makes it five wins and five draws for the admirably laid-back Dutchman, who neatly encapsulated his role as interim manager when he said this week that "generally I recommend what I think and people can do as they like."
And yet, there's a sense that the rest of this season (in the Premier League at least) is a form of prolonged purgatory. There's no intensity now and there's no sense that anyone has to prove themselves because there's no one to prove themselves to. Chelsea's response to John Terry's sudden intention to leave, roughly translated as "Steady on, old boy, we just said wait until we pick a new manager" is yet more proof that the club is in limbo.

Watford

Chelsea
Game Details
This sentiment contributes to their season, fading away with games like this. Games against newly promoted sides that would have been swept aside in seasons gone by have suddenly become evenly matched clashes. Players like Cesc Fabregas and Nemanja Matic, who looked one of the best midfield pairings in Europe last season, now look desperately average. Worse still, Diego Costa, who offered evidence of the very best that he can be against Arsenal, has fallen back into bad old habits.
It didn't take long for Costa's misbehaviour to begin. After just seven minutes at Vicarage Road, he put paid to a promising Chelsea attack by moving in on goal and giving Sebastian Prodl a heavy shove to the ground. Referee Mike Dean gave him a very long talking-to but no card. The Watford fans were furious but took every opportunity to goad the Chelsea striker, roaring with laughter at every misplaced pass.
Felled by Juan Carlos Paredes just before halftime made Costa crack: He stood up and marched toward the touchline to shout at the fourth official even as the game continued without him. When the game restarted, he saw an immediate opportunity for revenge and pushed Paredes over. Paredes, for his part, hit the deck hard, clutched his face, rolled and thrashed out spasmodically with his legs, the actions either of a man blinded by a bucket full of acid, or someone trying to get an opponent sent off.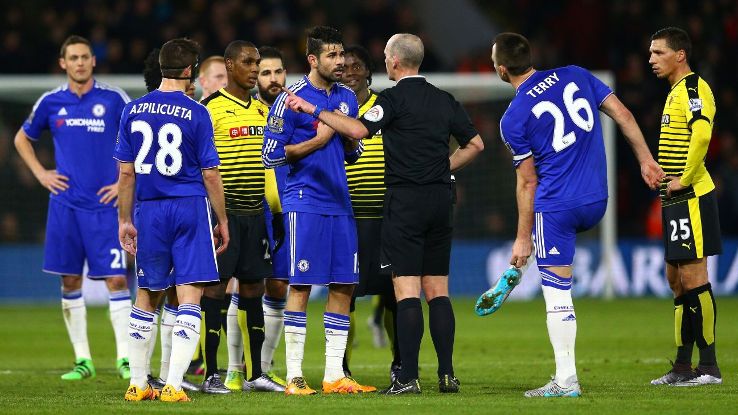 Etienne Capoue clearly believed it was the former and had to be held back by Prodl while Watford boss Quique Sanchez Flores sportingly (and rather touchingly) held Costa in an embrace, whispering calming nothings into his ear. Costa and Paredes were both booked and told in no uncertain terms to stop being so silly. It was sensible refereeing from Dean, though the Watford supporters did not concur.
Chelsea were better after the break and might have stolen all three points as they dominated the final minutes. A fine save by Heurelho Gomes from a late deflected Costa header proved crucial.
The problem wasn't that Chelsea drew with Watford. The problem was that it was an entirely fair result. Hiddink has certainly steadied the ship, but as for where it's going to sail next, no one seems to have any idea.
2. Watford prove they belong in the Premier League
Life is good for Watford supporters. They've returned to the Premier League, consolidated their position, dished out a few bloody noses and are enjoying themselves while the Pozzo family quietly shuffle their pack.
Initially, the Hornets looked a little over-awed by their guests and struggled to keep possession, but any respect they showed the champions was short-lived. Odion Ighalo began to lead the Chelsea defence a merry dance, jinking into the box, deftly pulling the ball away from his adversaries and apparently having far too much fun to consider "buying" a penalty. The Nigerian striker should have opened the scoring after 25 minutes but couldn't get decent contact on Jose Holebas' fine cross.
Two minutes later, Prodl got contact but sent his header straight into the hands of a grateful Thibaut Courtois. Playing at the tip of Watford's diamond, Jose Manuel Jurado took it upon himself to join in, ripping through the Blues and teeing up Capoue, only for Courtois to make a strong stop from his powerful shot.
Chelsea's only real effort came 10 minutes before the break when Costa turned on the edge of the box and slipped a shot past Gomes' post, with a slight deflection earning a corner that came to nothing.
It wasn't all plain sailing. Chelsea could have taken the lead early into the second half with something unthinkable: a John Obi Mikel goal. When Oscar's shot was partially cleared, it fell to Mikel amid half-joking cries of "Shooooot!" from the away fans. Their wish was his command and he sent in a wild effort that caught a Watford leg and looped high into the night sky, arcing down in a goalwards trajectory only to be tipped over by Gomes. Soon after, Costa gave Oscar a close range chance but that too was missed.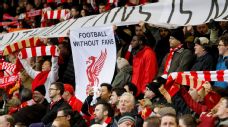 As good as those chances were, Watford had plenty of their own. Deeney slammed a snapshot wide and Holebas really should have done better when Capoue set him clear in the penalty area only for him to crash the ball into the side-netting. They didn't get the win but if their fans do need cheering up, they only need consider the doom-laden prophecies that greeted their arrival in the top flight. Make no mistake: Watford are very comfortable at this level.
3. Terry's praises sung in decent performance
There's no question as to where Chelsea supporters' loyalties lie. In the first match since he announced that he will leave the club at the end of the season, John Terry was saluted, celebrated and repeatedly serenaded by the away following.
Hiddink has been quite clear that "the door is not closed" to Terry, and the 35-year-old is certainly still worth his place on the team. While he chugs around the pitch like an old fishing boat, his ability to anticipate the flow of the game can still prove critical. His flexible block of a swift Troy Deeney through-ball was a case in point. Ighalo would have been clean through on goal had it not been for his actions.
This was Terry's 697th appearance for Chelsea and there could be a few more yet if the club decides not to call his bluff. The Chelsea fans made their feelings clear, singing "Sign him up!" on more than one occasion, but it's entirely possible that the club believes Terry has made their lives far easier. There won't be any need to awkwardly ease their captain out of the door if he's already walking through it himself.
Iain Macintosh covers the Premier League and Champions League for ESPN FC. Follow him on Twitter @IainMacintosh.