Southampton push Arsenal to the brink as Forster stars in 0-0 draw
LONDON -- Three points from Arsenal's 0-0 Premier League draw with Southampton at the Emirates Stadium on Tuesday.
1. Southampton push Arsenal to the brink
This was Arsenal's third goalless draw of the campaign, but none of the three has been boring. After an early-season point at home to Liverpool and a recent stalemate at Stoke, Southampton were the latest side to frustrate Arsenal.
In fairness, the Saints did more than that. Ronald Koeman's side started brightly and were on top for the first 20 minutes, albeit without creating any major opportunities. A stereotypical whipping, inswinging free kick from James Ward-Prowse forced Petr Cech to turn the ball around the post, while the goalkeeper later saved comfortably from Sadio Mane after Shane Long had flicked on a long ball.
Throughout the game, Oriol Romeu and Victor Wanyama sat deep, protecting the defence and forcing Arsenal to attack down the flanks rather than through the middle. Neither offers great creativity, but then Southampton manufactured decent chances on the break: before halftime, Dusan Tadic twisted and turned before curling the ball at Cech, while a long-range effort from Romeu dipped onto the top of the net.

Arsenal
Southampton
Game Details
Arsenal, meanwhile, started poorly but steadily increased the pressure. Arsene Wenger's side weren't at their free-flowing best, but they pushed forward in great numbers and created better opportunities as the game continued. There were no absolute sitters, but plenty of fine efforts were saved by Fraser Forster, the game's outstanding performer.
As Arsenal increasingly pushed forward, Southampton looked even livelier on the break, mainly through the absurdly pacy Mane. Three dangerous sprints had Arsenal worried; first he intercepted an under-hit Gabriel square ball, sprinted toward goal, but his weak shot was easily saved. Then he would have reached a long through-ball were he racing against anyone other than the even-quicker Hector Bellerin, before Gabriel was fortunate not to concede a penalty when diving in unnecessarily.
Both sets of supporters will feel they might have got more from this game, which suggests a point apiece was about right.
2. Saints rally around Forster
Koeman had played an unusual 3-4-2-1 shape in recent weeks, including for the impressive 1-0 victory at Old Trafford, but reverted to a simpler 4-2-3-1 system on Tuesday. Southampton are able to play the two hugely contrasting formations with great efficiency, demonstrating tactical flexibility few sides in the division can match.
That said, the main reason for their clean sheet was Forster, who made a series of outstanding saves.
He was given a gentle introduction, with a simple low save after Mesut Ozil's control and left-footed shot, but his second save from the German was more impressive: Bellerin's first cross of the game found the head of Olivier Giroud, whose header toward goal was flicked toward goal by Ozil, and Forster got a small touch to deflect the ball around the post.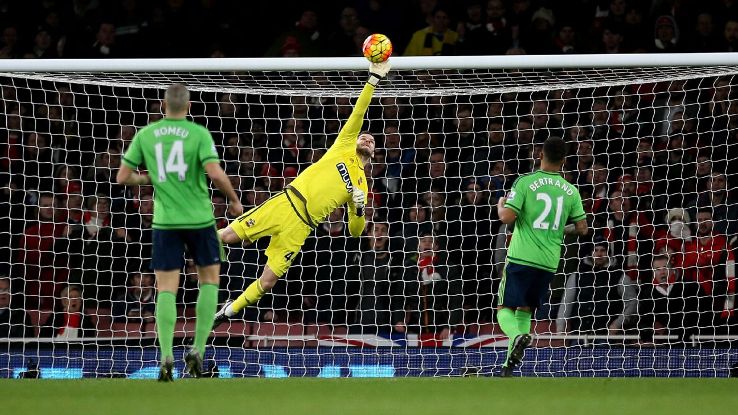 The English international made his third notable save just three minutes into the second period, when a quick Arsenal counterattack ended with Aaron Ramsey stabbing the ball into the path of Giroud, who took a rare right-footed shot and found Forster diving to his left -- but reaching out with his right hand to turn a rising shot away from goal.
From that moment, it seemed this was Forster's game. A double save from substitute Theo Walcott -- the first with his foot, the second with his hands -- midway through the second half was another fine contribution. In total, he made 10 saves.
"You need to have a goalkeeper who is magic," Koeman said of Forster. "He is one of the best goalkeepers in the Premier League, and maybe one of the best in Europe."
This is only Forster's fourth game of the 2015-16 campaign, having missed 10 months with a serious knee injury, and he's yet to concede a goal. It's no coincidence that Southampton's best spell of form has come since his return to the side.
3. Arsenal attack struggles vs. Saints
This was Arsenal's third consecutive Premier League game without scoring, after a 0-0 draw at Stoke and a 0-1 reverse against Chelsea at the Emirates a week ago. That isn't acceptable for a side seeking to be crowned champions in May.
Something felt missing on Tuesday, which was surprising considering Ozil and Alexis Sanchez were starting together for the first time since November. Indeed, Arsenal's best moments came from those two combining.
For Arsenal's first chance, Ozil controlled a huge Sanchez lob over the top of the opposition defence in a manner that brought to mind Dennis Bergkamp, before his side-footed shot was gathered by Forster. One moment at the start of the second half demonstrated their understanding: Sanchez's pinpoint through-ball found Ozil close to the byline, but his pull-back bisected Arsenal's other attackers. Arsenal's final major chance came from their quick one-two, which ended with Sanchez stabbing the ball at Forster.
Arsenal struggled to get a grip of the midfield, with Mathieu Flamini following Mane's bursts so carefully that he was rarely in a position to start attacks, while Ramsey simply isn't great in deeper positions, and depends on others to start passing moves so he can storm into the box and finish them off. Arsenal still miss Santi Cazorla, the man who makes the side tick, and against a superbly organised midfield they struggled to play through Southampton, generally having to go around them instead. Many of Arsenal's best chances came from crosses.
That's not entirely out of the ordinary among recent performances. Even over the Christmas period, when they collected victories they went ahead through set pieces, with Gabriel and Laurent Koscielny scoring against Bournemouth and Newcastle, respectively.
The creativity in this side, of course, is all about Ozil. This was his fourth consecutive league game without an assist, and while that's clearly not evidence of poor performances, it's a drop from his assist-a-game stats in the first half of the campaign. Realistically, that was unsustainable over the course of the entire season, and explosive playmakers often fall away after Christmas.
The fault isn't Ozil's, of course. Other Arsenal players must step up and deliver. Here, aside from Sanchez, there wasn't too much to shout about.
Michael Cox is the editor of zonalmarking.net and a contributor to ESPN FC. Follow him on Twitter @Zonal_Marking.