Barcelona prevail against Atletico Madrid but show signs of fatigue
BARCELONA, Spain -- It's extraordinarily rare for a team to beat their nearest rivals at the top of the league when the opposition end with nine men and those nine press the leaders -- and defending champions -- to within an inch of their lives.
But that's one of the inescapable conclusions after an absolutely fascinating 2-1 Camp Nou win for Barcelona over Atletico Madrid, which posed as many questions as it answered. The conclusion is that the result doesn't tell the story.
Barcelona

Atletico Madrid
Game Details
This victory on Saturday, at least initially, fitted perfectly into the context of Barcelona's most recent matches.
Before even looking at how they won or the fact that they looked far from clinical against nine men for nearly 28 minutes, there are bouquets of flowers to hand to them.
I remember with crystal clarity the moment that Xavi told me, almost looking over his shoulder to check whether anyone was listening in to his confession, that when teams went 1-0 up against the Barca of Pep Guardiola, it left them jumpy, faulty and nervous.
Xavi expressed that a setback like that, home or away, made the team sigh, just as it did the fans. The sigh came with the world-weary feeling of "here we go again."
The long slog, the mental discipline, the confidence, the need for wafer-thin margins for critical passes to be met successfully -- all of those factors were made more difficult by seeing an opposition side, who would then re-double their pressing and re-park their bus, go 1-0 up.
Consider that that comment came from the greatest ever Spanish outfield player, talking at a time when it usually needed something major to go wrong -- like a volcano in 2010 -- for the pack to stop Barcelona winning everything.
Well, in the past week three teams have tried to press and harass Luis Enrique's Barcelona and not only lost each time, but lost when two of the three took a 1-0 lead at the Camp Nou.
The first side in this list is Malaga, who began this three-match chain of sides thinking: "Instead of parking the bus we'll let the dogs loose."
I mean no disrespect with that phrase; it's just that over seven days Malaga, Athletic Bilbao and now Atletico have each tried to hound Barcelona in their own third of the pitch and it has been absolutely fascinating.
The Spanish and European champions have looked uncomfortable each time -- but have won each time.
Playing at home, Malaga created a plethora of chances and really should have earned a point but in the end lost 2-1.
Four days later, Athletic not only mimicked Malaga's tactics but did so at the Camp Nou.
That's much, much more daunting, but thanks to a moment of brilliance from Aritz Aduriz and ice-cold calm from Inaki Williams, they took the lead and played as if they fully expected to outwork, outplay and outthink the treble holders, though they eventually lost 3-1.
On Saturday, Atleti joined that band of adventurers.
For the first 20 minutes, they not only harried and pressed and worried Barcelona in the home third of the pitch, but they held the ball and did things with it.
By the time Saul Niguez's superb work on the right exposed the fact that Ivan Rakitic, who had a turbulent night against Athletic, had failed to track Koke's run, Atleti deserved to be 1-0 up having utterly controlled the game.
For neutrals it was just sublime to watch the brains, the bustle, the unity, the confidence, the dash and the elan with which the 2013-14 champions played.
But then came the period between hell and halftime, during which Xavi's words came echoing back.
This Barca are less reliant on passing systems. Though from the same mould as Guardiola's side, this Barca are a cousin and not a twin.
The ball moves faster, the elaboration is different and the urgency to get the ball forward without waiting for relentless systematic passing to tear opposition marking schemes to shreds is greater. There are no nerves when trailing by the opening goal.
And this time, that proved the right antidote.
Down 1-0, Barca showed not a flicker of emotion and no "more haste, less speed." There was no "Oh no! We're 1-0 down."
They just kept knocking on the door, and as it was when they were level in Malaga and as it was when they trailed Athletic, the door was answered.
But how it happened told a big story, because Barcelona were pressing so high and so hard that Atleti's defence were almost dizzy.
On the half-hour, they breathed and Barcelona pounced.
To hack the ball clear might have seemed sufficient to Atleti's Augusto Fernandez but it wasn't. Not even close, for even the tiniest relaxation against this Barcelona can prove your downfall.
Javier Mascherano, who once told me that his passing was the one thing he most had to adapt when he joined Barcelona from Liverpool, took the ball on the volley near the half way line and drove a heat-seeking pass to Neymar.
Jordi Alba already knew what might happen and was, as they say, two moves ahead of everyone.
He'd overlapped so sharply that Neymar had him as his "extra" man. The Catalan's dummy sold Jose Gimenez to the ground and, from his sweet inside pass, Lionel Messi made it 1-1.
Sheer, utter brilliance -- if football in the future is ever played with more intelligence or speed, I'll eat my hat and yours.
What Atleti proved is that they had the anti-Barcelona potion. But also that it lasted 20 minutes. From then on they tired, ceded territory and made fewer good decisions. They let a born predator sniff blood.
The winning goal was like time travel. Just as in last season's Camp Nou Clasico, Dani Alves' long ball down the inside right channel found Luis Suarez and the Uruguayan showed brains, brawn, technique and ice-cold veins to hold off opponents and finesse the ball into the net.
Gimenez was a millimetre or two short from a positional point of view. That's a millimetre or two too many, son.
But there, to be brutal, ends much of the praise for the home side.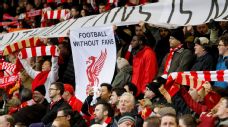 Referee Alberto Undiano Mallenco had no option but to show a red card to both Filipe Luis or Diego Godin for their offences that were, respectively, a high challenge on Messi and a second yellow card-earning lunge on Suarez.
Diego Simeone has beaten Barcelona just once in 15 games as Atleti coach and this was the second time in a year his side has finished with nine men against Luis Enrique's side.
Thus, for just short of half an hour on Saturday, the European champions were at full strength against nine men and up 2-1.
However, starting with Luis Enrique not deciding immediately to add "superiority" in midfield by taking off a defender -- which in turn meant his team did not encircle Atleti in their own box -- there followed a period of slackness and sloppiness that meant Diego Simeone's side were never truly out of this match.
No Atleti fan, player or staff member will forget the absolutely extraordinary save, 10 minutes into the second half, that Claudio Bravo made with the toe of his boot on the shot from Antoine Griezmann -- still to score against Barcelona for Atleti -- when the Frenchman took Yannick Ferreira Carrasco's cross on the volley.
For Barca, wrong choices were taken repeatedly, opponents were let off the hook and -- whisper it -- a late free kick that Koke curled into the box held the apparently unbelievable prospect of winning the nine men band of brothers a point.
Xavi's Barcelona may have feared going 1-0 down. This one doesn't. But against a well-drilled nine-man team, oh how this Barcelona side could have done with their former midfield maestro's lock-picking skills.
Barcelona are the best in Europe -- there's unequivocal proof of that, but they spend their lives wearing other teams down. On this evidence it has, for the moment, worn them down just a tad.
For Luis Enrique, with Valencia in town for the Copa del Rey semifinal first leg on Wednesday and an unprecedented double-treble not impossible, the challenge is to somehow find the right way to sharpen his own decision-making and thus freshen up an absolutely brilliant, but human, team of competitive, hungry but battle-fatigued super-talents.
Graham Hunter covers Spain for ESPN FC and Sky Sports. Author of "Barca: The Making of the Greatest Team in the World." Twitter: @BumperGraham.