Liverpool beat Stoke on penalties to book Capital One Cup final spot
LIVERPOOL, England -- Three points from Liverpool's 6-5 win on penalties over Stoke that put the club in the Capital One Cup final for a record 12th time.
1. Penalties send shaky Reds to Wembley
Liverpool had never lost a cup tie to Stoke, and Jurgen Klopp had never lost a semifinal as a manager. The team's luck and his luck continued in a 6-5 victory on penalties after a fraught contest went to extra time.
Adam Lallana, Christian Benteke, Roberto Firmino and James Milner scored for the hosts, and Jonathan Walters, Glenn Whelan, Ibrahim Afellay and Xherdan Shaqiri did so for Stoke. Peter Crouch's effort was saved by Simon Mignolet, and Emre Can pinged the outside of the post immediately after. But when Marc Muniesa missed in sudden death, Joe Allen sent his side into the final.
Regardless of the safe though nervous passage to a cup final via the randomness of a shootout, Liverpool will reflect on another flawed performance. They were inhibited in the first half, scared stiff in the second and frustrated in extra time. Klopp's side declined from the first minute on; they were sharp and sprightly from the kickoff, but any impetus seized by committed pressing soon dissipated.
Can was forced wide in dribbling from the left wing almost all the way to the right before he was shepherded out of play. He went closer with a rasping effort half an hour in, before Jordan Henderson sent a hopeful attempt of his own wide of Jack Butland's goal.
Aside from Walters' whipped shot from a narrow angle, the first half passed without much worry for Kolo Toure and Mamadou Sakho in Liverpool's defence, but the calm was rudely interrupted on the stroke of halftime. Bojan Krkic broke clear down Alberto Moreno's left flank and squared for Marko Arnautovic, a shade offside when the ball was played, to put the Potters 1-0 in front. That sent a hail of boos circling around Anfield.
The sense of injustice in the Kop was compounded when the second half began, as Milner was felled exactly where Bojan had played the pass for the game's only goal -- and no foul or penalty was given. The jitters the Kop's denizens have witnessed in Liverpool all season were creeping in as they went to pieces at the back.

Liverpool
Stoke City
Leg 2
Aggregate: 1 - 1
Liverpool wins 6-5 on Penalty Kicks.
Game Details
Although Firmino's poke toward goal forced a save from Butland, Liverpool quickly became the self-fulfilling prophesy manager Klopp had bemoaned three days earlier at Norwich. Mignolet had to hack clear when Walters burst through, and the Belgian goalkeeper was living on his nerves again when grasping at and missing a corner. He was not helped by some dithering moments earlier between Sakho and Toure as they dealt (or didn't deal) with a ball lofted forward just before the hour mark.
The entrance of Benteke helped turn the tide without parting it. He played a diagonal pass to Milner, whose path to goal was blocked, then half-connected with a cross that fell to Jon Flanagan, who could not get a shot away.
Benteke had replaced Henderson, and when Toure made way for a midfielder in Allen, it left a softer centre for Stoke to expose. As Klopp said Saturday, "If you don't create chances, we will do it for you." Amid often needless panic at one end, Benteke teed up Firmino for a shot at the other and was surrounded by defenders when receiving Lallana's cross-field pass 18 yards from goal. It would take penalties to get Liverpool close to the Stoke goal.
A vital save by Mignolet to deny substitute Marco van Ginkel with five minutes left preceded a blaze over by Jordon Ibe, all of which sent the game to its decisive spot-kicks.
2. Klopp's side still poor at both ends
Tuesday's cup clash was a night for Liverpool to show they could tighten up at the back. That the eight-time League Cup winners seemed to struggle as much with scoring a goal at the other end as they did with preventing them was partly a sign of what they were sacrificing to compensate in defence.
An attacking unit for Stoke that often included four forwards was positioned to distract and manipulate. Walters roamed on the right and Arnautovic the left, joining Bojan and Crouch. Recent matches suggested Walters would make mischief on Moreno's flank; in fact, with Lallana working his socks off to shuttle between Moreno and Firmino ahead of him, that threat was largely closed down -- but at what cost?
Under the microscope were Toure and Sakho in the centre. The previous Saturday's heart-stopping 5-4 win at Norwich had featured some set-piece defending that Klopp described as the "biggest rubbish ever." Tuesday's efforts were cagier but every bit as chaotic. The "intensive" discussions aimed at stamping out their dead-ball problems seemed to have some impact, with a 14th-minute corner an early marker.
All of Stoke's available outfield players piled forward bar centre-half Muniesa, with the other eight in the 18-yard box, except holding midfielder Whelan and right-back Glen Johnson, who were stationed on the edge. In response, Liverpool had every player parked around Mignolet. That is what it took to bolt the door shut.
What also failed to survive the post-mortem of that flawed performance at Carrow Road was the verve that had produced five goals. Firmino often had only Milner for company in the attacking third, until Benteke joined the fray an hour in, with the Reds looking as uninspired as Stoke were well-organized.
With the more direct Benteke in harness, Liverpool offered more of a presence but little end product.
3. Stoke's progress nearly bears fruit
The eye-catching results with which Mark Hughes' team have signposted their progress have been about more than victories. The style in which Chelsea, Manchester City and Manchester United had been put to the sword at the Britannia Stadium was not that of the Stoke of old. Tony Pulis' direct template had been discarded entirely in favour of the cultured likes of Bojan, Shaqiri and Arnautovic.
In the first leg, Liverpool had not gone the way of Chelsea, City and United, as they capably contained Stoke's attacking fulcrums even while losing Dejan Lovren to injury. Yet Klopp's men had spent the previous few months showing the world why the "Old Stoke" would be their worst nightmare and Hughes tried to take advantage.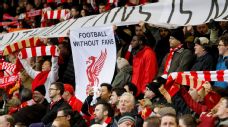 In place of Shaqiri at Anfield came Crouch in an effort to make Toure, Sakho & Co. think twice, with the awkward but inventive Walters never far from his 6-foot-7 teammate. The pair were kept in check until Bojan and Arnautovic (who had been anonymous for most of the first half) combined to level the tie on aggregate.
The goal began Liverpool's creeping unease, but in matching Hughes' forwards numerically, a toothless Reds side were unable to put them away. Stoke's first win at Anfield since 1959 was secured on the night, but it came in vain, with Klopp's men instead through to the final on Feb. 28.
Tom is ESPN FC's Liverpool correspondent. Follow him on Twitter @writertombell.