Perceptions differ for Arsenal and Chelsea after Hiddink bests Wenger
LONDON -- While Chelsea's 1-0 win over Arsenal might be the type of result we've become accustomed to in recent fixtures between the two sides, beaten manager Arsene Wenger initially claimed that this time was different.
The Arsenal boss felt the nature of his side's "resilient" response to Per Mertesacker's first-half red card meant his players "can even more believe" in themselves and that there is nothing to really worry about.

Arsenal

Chelsea
Game Details
The wonder, though, is whether he actually believed himself, because there were a few giveaways in what else he said.
It's usually easy to tell that Wenger is frustrated because he snaps back to questions in his news conferences. On Sunday, when he was asked about the home crowd's disquiet over his substitution of Olivier Giroud following Mertesacker's sending off, he initially wondered what the question was and then asked whether there should be a poll for every decision.
He was visibly agitated, despite his notionally calm words. But what, exactly, was at the root of his agitation?
Was it the red card, which saw his German defender dismissed for a foul on Diego Costa (Wenger admitted he hadn't watched a replay of the incident)? Was it the series of individual errors that led to Costa turning in Branislav Ivanovic's brilliant cross for the winning goal? Was it Arsenal's overall performance?
Or was it something deeper, which goes beyond this result?
Much has been made of how this loss continues a long-term trend of Arsenal losing to Chelsea -- Wenger's side has not even scored against them in 572 minutes of league play -- but what it also extended was a recent run of dropping points.
Since the Dec. 21 win over Manchester City which, at the time, was hailed as a landmark victory over a title rival, Arsenal have only taken eight points from six league games, with just two wins against Bournemouth and Newcastle.
More worryingly, they have not won in their last three and that loss of rhythm could be as damaging as the impact of again losing to Chelsea. That's because it adds to a sense that they're stepping back to what has been seen several times since their last league win in 2003: A flirtation with the title, as opposed to serious contention.
And so, after a huge psychological lift, Arsenal have not kicked on. They haven't been able to take the next step.
They couldn't even claim a draw against Chelsea which, at least, would have kept a sense of status quo and suggested they are still on track. A win would have further propelled them but, having been beaten, they must now try and recover what they had a few weeks ago.
Looking at this game individually, though, Wenger was right that there were differences between this defeat and previous ones against Arsenal's rivals from across London.
For one, the reason for Mertesacker's red card was not a moment of madness, or a Chelsea player getting into the head of one of Wenger's side, as has happened so often, most recently when the two sides met in September and Gabriel Paulista was sent off after a clash with Costa.
"It's not a confrontational situation like at Chelsea. It's a fact of the game [a normal passage of play]," said Wenger.
And so while Arsenal dwell on their recent struggles, Chelsea are feeling more positive, are unbeaten since Jose Mourinho left the club and Guus Hiddink took over as manager.
They have actually only won two league games in that time -- the same as Arsenal -- but they're coming from a drastically different situation to the Gunners. If it's all about perceptions, this win might just have changed them.
Chelsea didn't just stay unbeaten. They looked like a proper team on an unbeaten run, with midfield leader Cesc Fabregas going to a hostile opposition ground and taking charge. The ex-Arsenal captain made things happen, hitting the pass that led to the red card and being right in the thick of the action when his side was under pressure.
No player on either side made more tackles than Fabregas' six and that in-game resilience led to more defiance after it from John Terry. He claimed Chelsea can still get into the Champions League places, even though they are 13th, 14 points off behind fourth-place Tottenham.
If Terry's claim was bold, Hiddink nevertheless cracked a few jokes about it: "Well, if the captain says yes, we follow the captain!"
It is also a subject that will be brought up after every Chelsea win. And, naturally, the answer will be dictated by how often they can win.
Is it actually realistic? 65 points would have been enough to finish fourth last season. To reach that mark, Chelsea must take 37 from the remaining 45 available. Of course, it remains to be seen whether such a high total will be needed in this most unpredictable of seasons.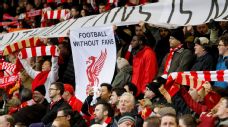 Things might start to even out, with the league's so-called elite clubs beginning to win more consistently, although the nature of this chaotic weekend did not suggest that will be the case, as Hiddink himself pointed out:
"If you see results in the Premier League and how competitive all teams are, whether you're down or high in the ranking; Norwich-Liverpool, beautiful game for the spectators, unpredictable until the last dying seconds and that means all teams can beat all teams," said the Dutchman. "With the gap, it's difficult to go top four but when the captain is saying that ..."
When the captain is saying that, it will imbue a spirit in the Chelsea team and offer a rallying call, which will be given proper substance by this latest result.
While the defending champions chase fourth, Arsenal need to rediscover their own substance in order to maintain their title challenge. They need to win a game again. They need some of Wenger's agitation to be released, or those same old questions will continue to be asked.
Miguel Delaney covers the Premier League and Champions League for ESPN FC. Twitter: @MiguelDelaney.