Diego Costa torments Arsenal as Per Mertesacker sees red in Chelsea win
LONDON -- Three points from Chelsea's 1-0 victory over Arsenal as Per Mertesacker was sent off and Diego Costa sealed the points for Guus Hiddink's men.

Arsenal

Chelsea
Game Details
1. Yet more questions over Arsenal's staying power
Arsenal once again lost to Chelsea and in the most familiar manner possible, right down to the identity of the key scorer: Costa.
It is precisely because they succumbed to so many of the same old failings that this was so bad for Arsenal, and it's hard to think how this could have been worse for Arsene Wenger, other than maybe if Jose Mourinho were involved.
Arsenal have won just four times in competitive matches against Chelsea in 11 years and yet again they had a player sent off against their London rivals. Mertesacker became their seventh player to receive a red in this fixture, for a 20th-minute lunge when Costa was through. The fact that the Spanish striker seemed to exaggerate the contact was just another example of his dark arts altering the dynamics of the fixture. He tormented Gabriel in Chelsea's 2-0 win over Arsenal in September and once again proved decisive here, damaging Wenger's title hopes in the process.
The Frenchman was forced to alter his team in the wake of the red card, only to make the strange tactical decision that ultimately cost them, as Olivier Giroud was hauled off for Gabriel. It meant that when Arsenal finally found a way through Chelsea just before half-time, Mathieu Flamini was there to volley over an Aaron Ramsey cross rather than Giroud being there to head it.
Before that, Costa had yet again scored against Arsenal to make it 1-0. Branislav Ivanovic played a supreme ball, but the quality of that was matched by Costa's run and he slid the ball past Petr Cech.
Once Costa celebrated his winner, there was a visible transformation in the sides. Chelsea looked like they were the assertive team leading the table. Arsenal looked like they were floundering.
The deepest issue is that winning this game would have been such a sign of their title credentials. It would not have been about sending out messages or anything like that, it would have been about the team proving they could make a key psychological step in their hunt for the title.
They didn't even come close to winning this game and the wonder is what effect it will have on their season.
2. Wenger's men wilt after Mertesacker red
There was no greater sign of the great shift in this game than a moment in midfield just before half-time. Mesut Ozil had the ball just inside the Chelsea half but rather than pierce forward in the intense manner this game demanded, he was easily brushed off the ball by Oscar, of all people. Indeed, it wasn't just that Ozil, who barely got a look-in at all, was dispossessed. It's that he was humiliatingly sent to the turf.
It was not the only incident that brought questions of Arsenal's mental fortitude. That question might be so wearisome by now but it must be asked considering Wenger's side keep losing to Chelsea like this.
Before this game, former Arsenal left-back Nigel Winterburn told ESPN FC that it was going to be key for Arsenal to keep their discipline and not get anyone sent off. That didn't happen. It's also not just about the Mertesacker's red card itself. It's about the reaction.
Some champions are galvanised when decisions go against them. It fosters that siege mentality crucial to winners and it characterised Wenger's teams from 1997 to 2004. Yet Arsenal wilted again.
They were wildly swinging at chances in the box and there was a sense they were over-anxious. Joel Campbell and substitute Alexis Sanchez were particularly guilty and Wenger's men suffered a familiar fate against familiar foes.
3. Fabregas personifies Chelsea defiance
In one of the rare moments of the game when Arsenal exerted pressure, the ball came to Fabregas at the edge of his own box. Rather than rush the ball away in panic, he showed presence of mind beyond anyone on the pitch. He took a fine touch towards his own goal, all in the knowledge that it would draw a desperate foul from Campbell.
That showed how Chelsea were thinking two steps ahead of Arsenal and how Fabregas was revelling in this game. The boos from the home crowd against his old club seemed to embolden him.
He threw himself into challenges in the second half, embarrassed Campbell with a turn and personified the way that Chelsea grew into the game. He was also allowed into it by the amount of space afforded him by a fragile midfield axis of Flamini and Aaron Ramsey.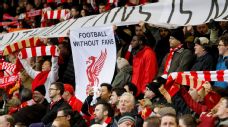 Fabregas and Chelsea were defiant, exemplified when Kurt Zouma went strongly through Gabriel just when the centre-half seemed set for a shot.
It's premature to say what this can do for Chelsea's season, though, with Hiddink's men still 14 points off the top four and the Champions League places. They just found their old initiative at the right time.
Or, maybe, it was just the right fixture for them.
Miguel Delaney covers the Premier League and Champions League for ESPN FC. Twitter: @MiguelDelaney.