Stoke and Arsenal battle to 0-0 draw in which both goalkeepers put on a show
STOKE, England -- Three points from the Britannia Stadium as Stoke and Arsenal played out a 0-0 draw:
1. Goalkeepers star in scoreless draw
In biting, near-zero temperatures and at a ground they never enjoy visiting, Arsenal failed to find the victory they required to go clear at the top of the Premier League. With Stoke goalkeeper Jack Butland outstanding and winning a personal duel with Olivier Giroud, a single goal always seemed the most likely route to victory -- but it never arrived.
Though that went for either side, as Stoke City, especially in the period that followed the start of the second half, were often the dominant team. Stoke boss Mark Hughes will regret his team's failure to get the ball past Gunners goalkeeper Petr Cech, who was equally outstanding. This was most definitely a match where the veteran secured his team a point, even if Arsene Wenger and Co. might have fancied all three to take them two clear of Leicester and three of Manchester City.
Stoke City

Arsenal
Game Details
Perhaps, though, Arsenal might come to recognise this as a point gained at a stadium where they were defeated last season. Without the injured Mesut Ozil in their line-up, Arsenal clearly lacked their master craftsman, the supplier of 16 assists so far this season. And when Cech made a 57th minute double save, denying a fierce Joselu shot and then scrambling Bojan's rebound attempt to safety, it was a reminder of the knife edge on which Wenger's team operate without their leading creative force.
Being pegged back to 3-3 in the last minute at Liverpool on Wednesday and this scoreless result has somewhat stalled their challenge for a first title since 2004. Two points from six is a somewhat disappointing return. That said, Wenger's team had won just once at the Britannia since Stoke became a Premier League club in 2008 and that win came in January 2010, a 3-1 game remembered for the broken leg that Arsenal midfielder Aaron Ramsey sustained after a reckless tackle from Ryan Shawcross.
Both players were present in Sunday's game, almost six years later, and the source of considerable needle between the two sets of fans in an encounter that will not be recalled as a classic.
2. Arsenal sorely miss Mesut Ozil
The absence of Ozil was a distress signal for Arsenal. Though not quite at his best at Anfield in midweek, the German's genius has clearly driven their title challenge forward. The official line from the club was that a minor foot injury in training had ruled him out and with Alexis Sanchez still not back from the muscle injury sustained in November, the starting quartet in support of Giroud was Theo Walcott, Alex Oxlade-Chamberlain, Joel Campbell and Ramsey.
Pace rather than guile would have to be Arsenal's chief weapon against a Stoke defence hardly brimming with speed, though Campbell's 21st minute pass to Giroud would have been worthy of Ozil. Giroud, though, could not get the ball past the onrushing Butland.
In excellent form this season, the England goalkeeper soon made another fine save, denying an Oxlade-Chamberlain drive from the edge of the box on the half hour as Arsenal began to build momentum and carve out chances. At the same time, a stretching of the game gave rise to some decent Stoke opportunities, with Bojan dragging a shot wide of Cech and Joselu's header lacking the power to get in.
Giroud has had a season that should stuff the catcalls of his many doubters back down their throats but he looked rather bereft without Ozil around. Six of the Frenchman's 12 goals so far in the Premier League this season had come from Ozil assists; on Sunday, Giroud never appeared on quite the same wavelength as the rotating cast behind him.
Ramsey was usually the furthest forward central player behind Giroud with Oxlade-Chamberlain dropping back alongside Mathieu Flamini in midfield in a far more withdrawn role than normal. The Englishman was noticeably busy in midfield and certainly a more significant force in the game than Walcott, who was subbed off on 72 minutes having struggled to contribute.
3. Stoke keep things hostile
Stoke and their supporters continue to fully embrace their status as being one of the trips that Arsenal dread most. They are happy to be the team that loves to hate Arsenal -- and be hated, too. On Friday, Wenger even admitted he found visits to the Potteries more hostile than to neighbours Tottenham.
The home fans cheered club captain Shawcross to the rafters before the match while the away contingent booed in angry response. And in turn, the early touches that Arsenal players had were jeered by a loud contingent on the Boothen End before all but the 2,700 away fans united in a chorus of "Stand Up If You Hate Arsenal." The aim was to rile Arsenal and Wenger himself was soon targeted individually -- so too, somewhat unnecessarily, was Ramsey.
Under previous manager Tony Pulis, Stoke would happily bludgeon their way through Arsenal but Hughes' approach is a little more multi-dimensional. The presence of Ibrahim Afellay in central midfield reflected a belief in passing football even if it didn't quite work that way. Starting from the right, Jon Walters was often a target for long, diagonal balls, Bojan and Arnautovic were expected to weave some magic once the knockdown had reached them and Joselu roamed as a central striker.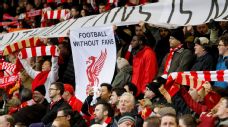 Afellay, who made his name as a winger or attacking midfielder at PSV and Barcelona, is hardly the most physical player, which placed a great deal of onus on Glenn Whelan, an unsung workhorse for club and his country, Ireland. It was the Dutchman, though, his withdrawn position lending him space to run into, who had Stoke's first genuine effort, a 20th minute shot that sailed past the posts with Cech probably beaten.
At right-back, Glen Johnson is also allowed by Hughes to indulge his natural attacking instincts and was his team's most regular attacking outlet on that flank. Such a freewheeling approach, however, didn't yield a victory over the opponents Stoke arguably enjoy beating most of all.
John Brewin is a staff writer for ESPN FC. Follow him on Twitter @JohnBrewinESPN.