Liverpool's attacking woes on full display in Man United defeat
LIVERPOOL, England -- Beaten 1-0 at home by a barely average Manchester United side, punished by Wayne Rooney with his side's only shot on target, gleefully mocked by the travelling support and horribly aware that better finishing would have delivered a win, this was almost as bad as it gets for Liverpool supporters. Truly, if it hadn't have been for John Terry's late equaliser against neighbours Everton on Saturday, this weekend would have been intolerable.
The defensive deficiencies that led to Rooney's winning goal are well known. They sit high on manager Jurgen Klopp's to-do list and you might think that the inadequacies of the front line are of equal concern. But the Liverpool manager was swift to reject that theory after the game. Asked whether he felt he lacked "a proper centre-forward", Klopp screwed his face up in distaste and shook his head.
"The smallest of our problems was centre-forward," he said. "It is too easy to say, 'if we had a player in this position.' [Roberto] Firmino can play this position. He played well today. He is a real centre-forward."
On Wednesday against Arsenal, that view was vindicated with two goals. But there were no goals this time and Firmino certainly didn't look like a real centre-forward in the last minute when the former Hoffenheim star had a golden opportunity to rescue the game, but seemed unaware that he was onside. Haplessly, he scooped the ball over the bar and then held his head in his hands when he realised his error.

Liverpool

Manchester United
Game Details
In fairness to Firmino, this late mistake should not detract from what was an otherwise agreeable performance. But he excelled as a creator more than a finisher. His deftness of touch and speed of thought could have led to two goals in the first half: one delicious lofted pass that sat up with backspin and awaited the arrival of James Milner; another critical touch in a rare flowing move that ended with Jordan Henderson driving the ball just wide. After an unconvincing start to the season, Firmino has started to show off his abilities, but it's still hard to concur with Klopp that he is the answer to the problems up front.
Christian Benteke was supposed to be the answer, and a very expensive answer at that. Sadly, his performances have been so fitful that he doesn't deserve to be in the starting lineup, a view reinforced by his lack of impact when he eventually did enter the fray with 10 minutes to go. There was nothing to suggest that Klopp's judgement had been wrong. The Belgian remains a curiosity at Anfield; signed for a fortune by a manager who didn't generally use players of his type. Former Aston Villa manager Tim Sherwood questioned why his star striker was leaving for a team that didn't suit his style and Benteke should have listened.
Of course, a confused transfer strategy isn't the only reason that Klopp is reduced to throwing QPR centre-back Steven Caulker up front for two games in succession. Injuries haven't helped either. Divock Origi is out, Daniel Sturridge's continued problems are unavoidable and the loss of Danny Ings, the sort of feisty, problematic, pain-in-the-neck front man that Klopp would love to use, is a great shame. But only Sturridge would lift this team into the top four, and there's no guarantee that he'll ever be back to the level he reached in 2013-14. If Klopp is granted money next summer, he should spend it up front.
Once again, there were aspects of Liverpool's play that should give encouragement for the future. This will be a long process, but as long as the team can maintain the sort of intensity they showed for large sections of this game, improvement seems inevitable. Lucas Leiva was excellent in the centre of the pitch, snapping into tackles in a manner that would have made Sunderland's renowned tough man Lee Cattermole feel like a shrinking violet. Henderson was excellent too, powering up and down the pitch, desperately trying to be all things in both defence and attack. Unfortunately for Liverpool, he did not bring his shooting boots.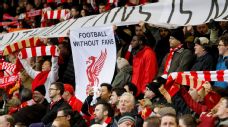 Manchester United manager Louis van Gaal was in little doubt that his team were fortunate to go in at half-time with the game scoreless.
"I have to admit that we have survived the first half," he said. "Liverpool was more aggressive. We didn't get the ball in the first half, so we couldn't create anything."
But for all of the possession that Liverpool had, there was no finishing touch. Shots were routinely fired high and wide or, when Henderson was presented with a chance on the edge of the box, he blasted straight down United goalkeeper David De Gea's throat.
When it was put to Van Gaal that De Gea's saves had been the difference, the Dutchman refused to agree, saying that his goalkeeper did only that which was expected of him. While it seemed a little harsh, you can see the logic. Only the second half save from Emre Can, a fine one-handed stop, was out of the ordinary. The rest of Liverpool's efforts were eminently stoppable.
Klopp has lots of work to do this summer, but then he always knew that anyway. Cast your mind back to the way he howled with laughter when a journalist asked him if a title challenge was imminent. He knew well that this club have conceded too many goals in recent seasons. There are reasons for optimism amid the poor results, there are signs that Liverpool are slowly developing. But on the evidence of this, reconstructive surgery is required at the front of the team as well as the back.
Iain Macintosh covers the Premier League and Champions League for ESPN FC. Follow him on Twitter @IainMacintosh.