Leicester's solid foundation secures vital win, makes Spurs look pretenders
LONDON -- Three thoughts from Leicester's late 1-0 win over Tottenham in the Premier League on Wednesday at White Hart Lane.
1. Leicester make aspiring Spurs look pretenders
Robert Huth rose above the Tottenham Hotspur defence, and there is still no sign of Leicester City dropping down this table.
Claudio Ranieri's side went back level with Arsenal on points at the top of the table, after the defender scored a brilliant 82nd-minute header to claim a hugely credible 1-0 win at White Hart Lane.
The time of the goal, the nature of the win and the quality of the opposition meant it was already impressive. The fact that Leicester claimed it after the recent underwhelming run they were on, however, meant it deserves huge respect; they showed impressive resilience.
Prior to this game, the Foxes had not won in four and hadn't scored in that time either, as they went on a goal drought that ultimately went past six hours.

Tottenham Hotspur

Leicester City
Game Details
Those stats gave the sense that this match was something of a false title clash, given the expectation that both teams would fall away. By the end, it was only Tottenham that looked like pretenders, as their undermanned team wasted another opportunity after missing a series of chances in the game.
Leicester did have some fortune, given the saves that Kasper Schmeichel had to produce, but then they did what all good teams do and actually made the best of that luck. Just when their drought looked set to stretch past another full game, Huth jumped to meet a set piece and beat Hugo Lloris to send Leicester back to the top.
Jamie Vardy's form might have leveled out, but that's not happening with his team's form yet.
They instead leveled the aspirations of Tottenham, who now must seriously look at doing January business -- especially up front. Leicester, meanwhile, are front-runners again.
2. Leicester's solid foundation delivers
After all else failed, Leicester returned to the basics. Ranieri's side finally ended a six-hour goal drought in the Premier League by scoring in the most functional way imaginable: a set piece. Huth did what Vardy, Shinji Okazaki and Riyad Mahrez couldn't and powered in a header.
The identity of the scorer was also somewhat fitting, given how they won this game as a whole: solid defence and a little luck.
Because, despite some natural concerns about whether their attacking play requires fresh idea, they still have the most solid of foundations. On the other side of things, Leicester have now gone five hours without conceding in the league.
Although they had to ride their luck a little to pull that off -- and Schmeichel still had to pull off some brilliant saves, not least from Toby Alderweireld in the first half -- it was still a canny away performance, never better illustrated than how Leicester's defence marshalled Harry Kane so well.
That yielded another fine win this season, but it shouldn't mean they rest on that result. The Foxes should look to build on it, to learn from the lessons of these past few games.
There are legitimate issues with their attack and it is a concern that, any time Vardy was presented with a chance in which he might have been expected to hit the target, he snatched at it.
Much of the talk in this season so far has been whether they could keep him in January, but Ranieri might have to start thinking about that in another way. The Italian should look to bring in someone to aid Vardy because, now that his scoring run has leveled out, it's hard not to think he looks exactly what he is: a decent striker with some good qualities, but never someone who was on the world-class level he suggested in the first few months of the season.
That's what might be required to properly propel Leicester from a result like this, because so much else about them is still so good.
3. Kane needs help up front
It was the 80th minute when Mauricio Pochettino finally decided to take matters into his own hands regarding his misfiring forward line, and at last add to it, by bringing on Heung-Min Son for Tom Carroll. The only problem is that it took place just before the point at which Leicester scored, so the damage was done just before the Korean could inflict any of his own.
No one could really question Pochettino's brilliant management in the long term, but in regard to this game, it's fair to wonder whether he should have acted earlier. From early in the first half, it became clear that Kane could do with some help up front. There were several occasions when Spurs tried to play a through ball to make the best use of his pace, only for Leicester's backline to so easily shuttle him wide where he could do little damage.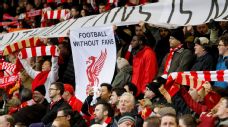 Kane could badly have done with someone to take the attention off him, to just give that bit more space. When he did finally get some room, Schmeichel did what he has been doing for most of the season, and offered an excellent reaction save to force the ball onto the bar.
Excellent as Pochettino is, it's fair to wonder whether he reacted quickly enough to the dynamic of this game and this problem, given that it's such a longstanding issue for Spurs. It's something they should be looking at in the short term.
Miguel Delaney covers the Premier League and Champions League for ESPN FC. Twitter: @MiguelDelaney.