Tim Howard, Everton hold out vs. Manchester City as late penalty denied
MANCHESTER, England -- Three points from Manchester City's 0-0 draw with Everton at the Etihad on Wednesday.
1. City denied last-minute penalty
Spectators in Etihad stadium held their breath as they looked to referee Roger East. And there were celebrations when he pointed his arm toward the penalty area.
But then there came jeers from Manchester City fans and cheers from the Everton contingent when they realised that East had awarded a goal kick after what looked a clear foul by a sliding John Stones on Raheem Sterling. No penalty had been given, and the final whistle was blown within seconds. A draw was little use to City in their hunt for the Premier League title.
East will take the headlines for what looked a clear mistake, but City's lack of attacking quality and some fine defending from Everton were also leading factors in the stalemate.
Manchester City

Everton
Game Details
The first half saw City supply the type of lacklustre display that keeps a squad of such talent back in third place in the Premier League. Indeed, the best chance of that half went to Everton when Leon Osman volleyed just wide. The second half, though, was a different story.
City put the afterburners on, piling forward in waves of attacks that had Roberto Martinez's team pinned back in their 18-yard box. It would require some last-ditch defending and goalkeeper Tim Howard excelling through the 90 minutes to stop Manuel Pellegrini's men from forcing the goal that an impatient home support was baying for.
The crowd too had been slow to play its part in the proceedings. In the spirit of national mourning for the dear departed rock legend, the teams arrived to the sound of David Bowie's anthem "Heroes" but to a half-empty stadium. Traffic chaos on the ring roads that surround Manchester and one unpopular motorist choosing to park his car on the tramline that services the Etihad Campus had delayed the arrival of many fans on a windy, sodden evening, and it made for a distinctly subdued atmosphere in the early stages.
And City were running into heavy traffic of their own as they struggled to deal with a resolute Everton effort in defence and the threat of Romelu Lukaku, a striker who brims with the confidence he currently shows off. City's defensive pairing of Martin Demichelis and Nicolas Otamendi has hardly been a cast-iron combination this season, and the Belgian was ably supported by Gerard Deulofeu and Ross Barkley bursting from midfield to join him in counterattacks.
That, though, became an increasing rarity as Deulofeu was subbed off while Barkley and Lukaku withdrew to play their part in a defensive effort in which former City midfielder Gareth Barry was playing almost as a third centre-back.
Howard made a number of saves that solidified his reputation as one of the best shot-stoppers in the game. Yaya Toure, Sergio Aguero (twice) and Raheem Sterling had all seemed certain to score but were denied.
And East, too, would deny City at the last.
2. Everton tighten up defence
This was the second of a January miniseries that will conclude in a fortnight with the second leg of the Capital One Cup semi. Everton holds a 2-1 advantage after last week's match at Goodison. That match had been a tremendous, pulsating encounter in which Lukaku's dominance of City's defence finally secured that narrow lead for Martinez's team.
It was also a night for some classic hyperbole from Martinez, who labelled the likes of Stones, Barkley, Deulofeu and Lukaku as "the best young players in Europe" and called Barry "one of the best English players ever."
However, Everton, including the Premier League's joint-top scorer in Lukaku, began the night in 11th place. A total of 36 goals scored had only been surpassed by Leicester (39) and City (37), yet a goal difference of a mere +7 told the story. Perhaps the return of captain Phil Jagielka, making his first Premier League start since October, could change things.
And good defending was key to a fine result for Everton. Their chances of grabbing a goal lay in clearing the lines and hoping for a breakaway strike. That almost arrived on the half hour when Lukaku's rampage down the right won him space to cross the ball for Osman to strike. The veteran hit the ball true, but was left with his head in hands when his shot spun just wide of the post.
Jagielka's return was part of a reshuffle that pushed Stones, England's starting centre-half at Euro 2016 for many people, out to right-back; Seamus Coleman, a Martinez mainstay in that position, was absent.
Howard, much maligned by Everton fans in recent months, began his night of resurgence by saving a goal-bound header from Toure in the 18th minute. The Ivorian had been left unmarked by Jagielka and partner Ramiro Funes Mori, but the American came to the rescue.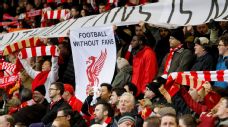 3. City struggle for rhythm
With Silva on the bench as he recovered from a setback in his recuperation from an ankle problem, De Bruyne was handed the centre stage again. At times, the Belgian and the Spaniard have found themselves at cross-purposes when fielded together, and this was especially evident at Goodison the previous week.
Sterling, unused on Merseyside, began played as a fast-moving central attacker behind Aguero with De Bruyne cutting in from the left and Jesus Navas ploughing his usual narrow furrow down the right flank.
City played the first half in hugely bitty fashion, desperately struggling to find the final ball to unpick Everton's defence. Though an Aguero surge left Jagielka on the seat of his pants, the Argentinian found himself outnumbered and without an ally as he reached the opponents' 18-yard box.
When the second half began, despite City's greater purpose, the pieces were still not fitting together. Sterling, pushed out left with De Bruyne now in the centre, was especially lively but wasted two decent chances in that surge of power, with one shot so wayward it would have gone for a throw-in had Leighton Baines not controlled the ball on the opposite touchline.
De Bruyne, who had turned in one his most anonymous displays for City, was replaced by Silva with just over fifteen minutes to play. The Spaniard, such an inspiration since arriving in 2010, was handed the creative responsibility and was probing in his usual style. But this time, he could not find the angles as Aguero, who tired as the night drew on, was marked out of the game.
John Brewin is a staff writer for ESPN FC. Follow him on Twitter @JohnBrewinESPN.