Jordon Ibe earns Liverpool a 1-0 win at Stoke in league cup semi
STOKE-ON-TRENT, England -- Three thoughts from Liverpool's 1-0 semifinal first-leg win against Stoke in the Capital One Cup on Tuesday night.
1. Ibe puts injury-hit Liverpool a step closer to Wembley
When Jurgen Klopp was tempted to become Liverpool manager in October, fans hoped he might return excitement to a club that had lost its way. And on Tuesday, a highly professional and gritty semifinal first-leg performance at Stoke has his team within touching distance of Wembley and a League Cup final.
Vastly improved from their dreadful 2-0 defeat to West Ham on Saturday, Liverpool came out at great speed and had the home side on the back foot for the greater majority of the first half. They then held firm against a wave of attacks from an increasingly ragged Stoke in the second while hitting on the counter.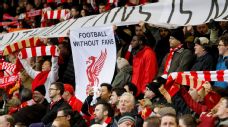 Jordon Ibe's 37th-minute strike was just reward for that first-period pairing of hard work and high-speed attacking play to which Mark Hughes' team found little answer. The promise of Wembley and silverware appeared to lift Liverpool from the malaise they have often found in the Premier League, where they languish in eighth place. They now have a manager who knows how to get such tasks completed. Klopp had a prolific semifinal record as Borussia Dortmund manager, winning all four ties he was involved in.
Yet the new manager will regret the failure of his team to add to Ibe's goal, with both the youngster and Roberto Firmino guilty of some wasteful shooting after Liverpool's second-half counterattacks. Also, the extension of what was already a long injury list is a concern.
Liverpool will likely negotiate the second leg without playmaker Philippe Coutinho, who pulled up with an early hamstring after 18 minutes, as well as defender Dejan Lovren who suffered a similar injury on the half hour. The latter's departure left Liverpool fielding a highly unfamiliar centre-back partnership of Kolo Toure and Lucas Leiva. Klopp had already begun the night without Mamadou Sakho, who had succumbed to a knee problem in training, but Lovren's distress made it six hamstring injuries (along with Jordan Rossiter, Divock Origi, Martin Skrtel, Daniel Sturridge and Coutinho) from Liverpool's squad.
At the final whistle, Toure, the veteran who had led the rearguard effort as Stoke piled on late pressure, also left the field holding his hamstring. Victory had come at a painful cost.
2. Liverpool look better without Benteke
Christian Benteke's goals against Leicester and Sunderland did not save him from being dropped to the bench after West Ham, where the post-match stats revealed he had run less than his colleagues while also appearing to be on an utterly different wavelength. Not that Firmino, subbed off on the hour at Upton Park, had been any more productive. In the Brazilian's favour, though, was his stellar performance during Liverpool's 4-1 win at Manchester City in early November, which remains the overriding highlight of Klopp's reign thus far.
Klopp reunited the Brazilian with compatriot Coutinho and Adam Lallana, players of similar styles. As Liverpool began their evening with that trio pushing up against Stoke's defence, there could not have been greater contrast to the sloth of Saturday. Four minutes in, home fans and Hughes were imploring a home team that could not get out of its own half to make better use of possession. Lallana's 25-yard shot forced Stoke goalkeeper Jack Butland into a fine full-length save in the eighth minute, but the triumvirate did not last much longer as Coutinho was forced to limp off the field in visible distress.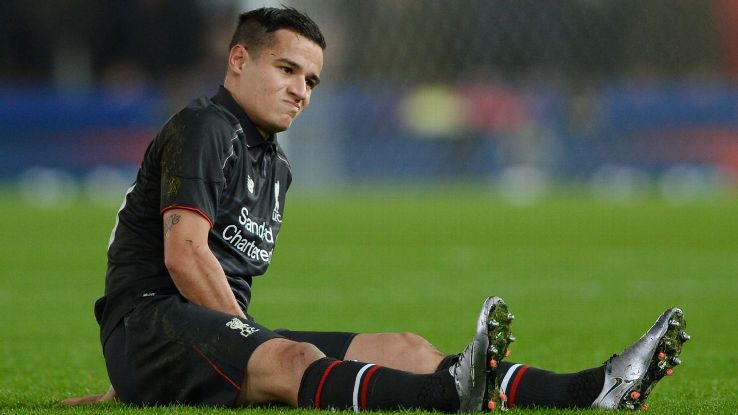 The arrival of Ibe for Coutinho signalled that there would be immediate reprieve for Benteke, and the youngster's arrival proved crucial. Joe Allen, who had impressed in snapping into tackles and playing intelligent passes to the creative types ahead of him, also made it his business to support the front players. He played inadvertent supplier for Ibe's goal when making a hash of a Lallana cross from the byline. The ball landed perfectly for Ibe to slash it past an exposed Butland.
With Firmino lively but erratic throughout, Lallana supplying an assist and Ibe a crucial goal, Benteke -- a 79th minute sub on Tuesday night -- might now fear for his Liverpool prospects.
3. Stoke fluff their lines
Any club in English football might covet Stoke's front four of Xherdan Shaqiri, Ibrahim Afellay and Marko Arnautovic behind Bojan, but 10th place in the Premier League and a goal difference of zero reflects the inconsistency of Hughes' team. On a night when they struggled to make much impression on the game, the quartet's lack of defensive capability left an awful lot of work for Glenn Whelan and Geoff Cameron to get through in central midfield.
Stoke's aim was a first trip to the League Cup final since 1972, when the club won the only major trophy in its entire history. That weight of history appeared to weigh heavy on Hughes' men, who started sluggishly and struggled for coherence. Meanwhile, the home crowd, so often the 12th man, also seemed to be living on their nerves. The soggy night air was instead dominated by the sound of the travelling Liverpool fans.
There was audible agony when an unmarked Bojan fell over the ball rather than fire in what had been a well-worked corner from Shaqiri in the 26th minute. It was by far the closest Stoke came in a first half after which they were lucky to enter the dressing room only a single goal down. On an increasingly wet evening, there was steam coming off a most heated Hughes on the sideline.
By withdrawing Cameron for Jon Walters at the break, Hughes attempted to add muscle to a forward line that had been too gentle against an opposing defence that proved vulnerable against West Ham and Watford. Bojan left the field on 69 minutes having been little more than a passenger.
Walters' addition worked far better than the not-so-fab four had, with Stoke at last gaining territory, though it was Walters who missed a late chance to level matters. Losing at home leaves Stoke a minor mountain to climb in the return leg at Anfield on Jan. 26.
John Brewin is a staff writer for ESPN FC. Follow him on Twitter @JohnBrewinESPN.