Laurent Koscielny's goal gives Arsenal a laboured victory over Newcastle
LONDON -- Three thoughts from Arsenal's 1-0 victory over Newcastle in the Premier League.
1. Arsenal earn a scrappy win
It was a forgettable game and an unexciting result, but this is the type of unspectacular victory that Arsenal need if they're to become champions. On a Saturday afternoon when Leicester City surprisingly dropped points at home to Bournemouth, three points ensured Arsenal became the Premier League's outright leaders.
This was far from vintage Arsenal, who struggled to produce clear-cut chances in open play and, for the second consecutive game, required a centre-back to give them the lead. After Gabriel headed home against Bournemouth in Arsenal's last game of 2015, against Newcastle Laurent Koscielny volleyed in from close range on 72 minutes to give the Gunners a lead they didn't entirely deserve.

Arsenal
Newcastle United
Game Details
The goal itself was scrappy, in keeping with the game -- the ball was bouncing around in the box in the aftermath of a corner -- though it featured two excellent pieces of play. Olivier Giroud's leap to rise above Fabricio Coloccini and win a high ball was impressive, while Koscielny's calm finish was that of a clinical striker and the only bright moment in a flat Arsenal performance.
"Our legs were a bit heavy today, overall we were tested against a team who has technical quality and our fluency was not there, our movement was not there," said Wenger after the game. "Let's stick together and try to win the game how we can, and that's what we did; it was more the mental aspect of our team that was tested today and our defensive solidity."
English football fans love the traditional busy Christmas period, but it tends to leave players exhausted, and January is surely the bleakest period for the Premier League. Inventive attackers lack their usual burst of speed, and the division's goals-per-game rate also tends to dip noticeably at this point.
Exciting, open games are often described as "a good advert for the Premier League". This, however, was a good advert for a winter break.
2. Are Arsenal Ozil-dependent?
Arsenal started the game extremely quickly, spreading the ball out wide to the overlapping Hector Bellerin, a constant force down the right flank.
The Spaniard sent in three dangerous crosses in the opening 15 minutes: A good ball across the face of goal, followed by a clipped cutback that Alex Oxlade-Chamberlain diverted wide on the stretch and a deeper cross headed behind by Daryl Janmaat.
In open play, this was as good as things got in terms of creativity for the home side and, once the game settled down, Arsenal's tempo dropped alarmingly and they struggled to create chances. With Mesut Ozil tracked closely by Cheick Tiote, the German playmaker contributed some neat touches but few clinical passes.
The only downside of Ozil's recent tremendous form is that Arsenal have come to rely upon him. Amazingly, this was the first time in their 2015-16 league campaign that the Gunners have found the net in a game in which he has started but didn't score or get an assist.
The German wasn't particularly poor here, he was simply marked tightly. That will happen consistently throughout the second half of the campaign and his teammates must learn to make the most of the space he creates.
Arsenal badly needed inspiration from elsewhere, but their two English wide players, Oxlade-Chamberlain and Theo Walcott, were both extremely poor and failed to help move from midfield to attack smoothly.
Oxlade-Chamberlain has been out of form for a while, lacking confidence and not setting off on his usual direct dribbles while, for the second consecutive game, Walcott's first touch was terrible.
Three times he miscontrolled a simple pass when found in a decent position on the edge of the penalty area; on the third occasion, he received a stern glare from Aaron Ramsey, who believed he had weighted his pass perfectly. Shortly before half-time, Walcott hit a dreadful square ball straight to an opponent, bringing moans from the home support.
3. Newcastle's impressive game plan
Newcastle manager Steve McClaren chose two strikers -- Ayoze Perez and Aleksandar Mitrovic -- in his starting XI but actually deployed a cautious, counter-attacking 4-5-1 formation, with Perez on the left flank, and Georginio Wijnaldum playing as the No. 10.
After a nervous first 15 minutes, when Perez struggled to cope with Bellerin's overlapping, Newcastle stifled Arsenal excellently. Tiote marked Ozil admirably, while Coloccini matched Giroud's bursts toward the near post and Jack Colback was on hand to watch Ramsey's powerful midfield runs.
The middle of the first half was extremely flat and then, either side of the break, Newcastle had the game's best chances and should really have taken the lead.
Their first serious opportunity came when Tiote drifted out to the right and swung in a decent delivery for Wijnaldum, whose header forced a save from Petr Cech. Later the home goalkeeper was forced into a near-post stop after a loose ball bounced his way. Cech, more than anyone else, was responsible for Arsenal's winning this game.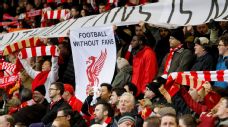 The pattern continued at the start of the second half. A dangerous, low right-wing cross from Sissoko evaded everyone and, shortly afterward, Wijnaldum had yet another golden opportunity. The lively Perez drifted inside from the left and played a wonderful through ball but, after the Dutch midfielder took a touch and steadied himself, Cech rushed out and made a fine one-on-one save.
Two minutes later Newcastle had another fine opportunity when Sissoko crossed to Perez. He volleyed the ball into the 6-yard box but Mitrovic awkwardly deflected the ball over the bar with his thigh.
This type of counter-attacking performance earned Newcastle surprise recent victories over Liverpool and Tottenham, while Arsene Wenger opined in his programme column that Newcastle are better away from home because they don't feel pressure to dominate the game.
"I'm scratching my head how we didn't get anything from that game," said McClaren after the game. "Not many teams will come here and do that to Arsenal, what we did today, without getting something out of the game.
"I couldn't fault what we tried to do. The players were excellent: great spirit, they did tremendous jobs, defended well. It was the complete performance without finding the result."
McClaren will be hugely disappointed with the result but will find many reasons to be positive.
Michael Cox is the editor of zonalmarking.net and a contributor to ESPN FC. Follow him on Twitter @Zonal_Marking.