Guus Hiddink and Chelsea start their revival at Crystal Palace
LONDON -- Three thoughts from Chelsea's 3-0 win over Crystal Palace in the Premier League, as Guus Hiddink claimed his first victory back in his second spell as interim manager.

Crystal Palace

Chelsea
Game Details
1. Chelsea revival starts here
Chelsea looked much more imaginative going forward. There have been signs of a more released and relaxed attack since Jose Mourinho was sacked and while it would be a huge exaggeration to say it all clicked at Selhurst Park, it was a big step forward.
It remains difficult to say how far Chelsea can stride up the table after this win, though. Their fans were sarcastically singing about how they're "going to win the league," but more performances like this will bring a much more healthy looking position.
"This was the Chelsea of last year, I think," said captain John Terry afterwards. "The football was first class. Maybe it's a new start but we need to keep winning games.
"[Hiddink] has been great since he came in. Like he did last time, he has picked everyone up."
It wasn't just that Chelsea opened up Palace, but how easy they made it all look.
This was starkly different to the match between these sides back in August, when Alan Pardew's men won 2-1 at Stamford Bridge. The nature of Chelsea's second defeat in four matches at the start of the campaign led to the first real alarms about how bad things were getting under Mourinho. Palace sensed a weakness and really went for it, in the way the champions repeatedly did to Pardew's side at Selhurst.
By the 29th minute, an impressive Cesc Fabregas had spotted how poorly Damien Delaney was playing and exposed him with a brilliant through ball. Diego Costa ran on to it before squaring for Oscar to finish. It was the type of exquisite interchange that had been missing for most of the past year.
From that, Chelsea only grew in confidence. Willian exemplified their new-found belief when he tried a first-time shot that flew into the roof of the net on the hour, before his run and shot allowed Costa to make it 3-0 six minutes later. The variety of the scorers and variation to the play was so conspicuous and encouraging.
Terry, though non-committal on his side's hopes of finishing in the Champions League places, added: "If we can put a good run of games together, who knows? Hopefully we can go a long way."
2. Hiddink releases the shackles from his attack
The imagination of Chelsea's performance was all the more striking because it came largely without their best and most imaginative player. A lonely looking Eden Hazard trudged off injured on 17 minutes but it didn't diminish them in the slightest.
Chelsea went on to play to a level they haven't been playing since January 2015, when the Belgian was at his best. Even if you take out Mourinho's miserable last few months and skipped from when they won the title in May to here, a display like this would have been almost impossible to imagine without their No.10.
He was so central to everything they did in attack. That in itself, however, probably says an awful lot about how they were set up and some of the fundamental problems with Mourinho's approach.
Training ground sources say that for all the sophistication of the Portuguese's general coaching, his attacking ideas were fairly basic. They revolved around getting the ball to the best players, especially Hazard, and trusting them. It worked well when those players were all on form as in the first few months of 2014-15 but not so much when there were issues. You need greater direction and planning.
It was why they looked so short of ideas and that wasn't helped by the inherent caution of Mourinho's approach and how one of his main demands of attacking players was to contribute defensively.
It led to so many games when there were no runs, angles or ideas. The likes of Willian had to burst forward to try and make things happen and Costa aimlessly ran down the channels for passes that were never going to arrive. That was not the case here, as was so perfectly displayed by that opening goal. Costa made his run and Fabregas was afforded the space to spot him.
The nature of the interchange suggested there was either a greater design to Chelsea's play or perhaps just a greater confidence.
Their forwards made runs they weren't doing in the last few months under Mourinho. Right now, it's difficult to say whether that's down to Hiddink's coaching or a more relaxed and open mind.
3. Palace undermined by absences
This was a reality check for Crystal Palace. Shorn of the injured Yohan Cabaye and Yannick Bolasie, their pre-Christmas talk of the top six gave way to a poor defeat.
"Fabregas ran the show in the second half. We couldn't get near him," Pardew said afterwards, adding: "We had so many players out today. They got us at a good time."
This was the first time in a while they looked like what they were expected to be; a solid midtable side that will occasionally get brushed aside by the wealthiest.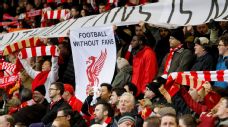 It also emphasised a deeper point about all the discussion regarding the new broadcast money flooding into the Premier League and whether it's creating a new competitiveness. If the middle tier teams like Palace can buy better players than ever before, they can't yet match the depth of the better sides.
It was not just that the absence of Cabaye and Bolasie took away from their attack. It was the greater pressure that put on their defence, and how fragile it made them look.
This is not to suggest any great concerns over what should still be a good season for Palace, but it may require a slight recalibration of their expectations.
Miguel Delaney covers the Premier League and Champions League for ESPN FC. Twitter: @MiguelDelaney.